Add Oglebay Institute's Towngate Theatre to your list of Wheeling First Friday stops! Enjoy art, classic Japanese Action TV and Improv at Towngate for First Friday Jan. 5
Dust off that post-Holiday funk this Friday, January 5 and join us at Towngate Theatre when we kick of the first Friday of the new year.  Experience engaging new art, fun Japanese action TV and improv, too! Doors open at 5:30pm for an evening that is exciting and completely free.
Japanese Art from a Local Artist
The newest exhibit at The Gallery at Towngate features the art of Hiromi Katayama.
A native of Ibarki, Japan, Hiromi is a professional artist currently working from her studio in Houston, Pennsylvania. She creates her work using "Nihonga," Japanese Traditional Painting with subject matter centered around cherry blossoms, brightening the surroundings through vivid colors and imagery. Nihonga is created using traditional, Japanese hand-crushed pigments and techniques while utilizing traditional methods and materials.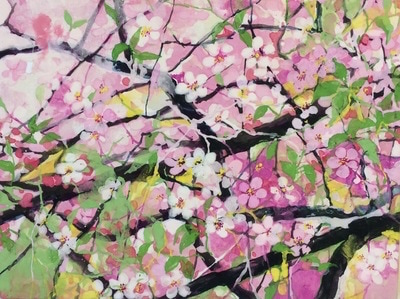 Hiromi's imagery is founded in her belief of cultural foundations in nature. Through her work, Hiromi hopes to share her culture and a little bit of herself with her audience.
Japanese Sci-Fi Superhero Action on the Big Screen
After you have perused the beauty of Hiromi's art, head over to the concessions window and have a drink on us. Order wine or a craft beer and snack on some light foods as well.
Enjoy your drink and head upstairs to the theater to watch episodes of the 1960s' Japanese television series, "Ultraman" on the Towngate big screen.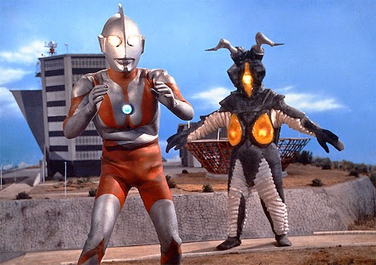 "Ultraman" takes place in a world threatened by alien invaders and giant prehistoric monsters. To deal with these threats, an ultra-sophisticated police force equipped with high-tech weaponry and space crafts is formed. Led by Captain Muramatsu, the team defends the planet from the unknown. When their weaponry can't stop their foes, one of their members, Hayata, transforms into the giant superhero from nebula M713…Ultraman!
It's a fun, kitschy show that is certain to entertain.
Improv with the Left of Center Players
Following the "Ultraman" episodes, at 8 pm, Towngate's Left of Centre Players take the stage with their adult improv style, which will certainly make you laugh.
All events this Friday are free and open to the public, and it's a great way to start your evening. Come to Towngate, see some great art by a local artist, watch some exciting and fun 1960s' Japanese Sci-Fi and finish it out with a free improv performance. The first drink is on the house!
Stay for 30 minutes or all evening. All the events are finished by 9pm. Perfect for early birds (who can get home at an earlier hour) or for night owls who want to make it their first stop before hitting other First Friday events, bars, and concerts taking place in Centre Market.
Main Street Bank sponsors Towngate First Friday events.