Forbidden passions! Lovely damsels in distress! Melodrama and laughs! This is what you can expect when you come to see Towngate Theatre's production of "The Shaughraun."
Written by Irish playwright and actor Dion Boucicault, "The Shaughraun" is set in County Sligo, Ireland, in the late 1800s. The story centers on a convict who has escaped from Australia and sneaked back into Ireland. While searching for the convict, an English officer falls for the convict's sister…and the story goes on from there.
Directed by P.D. Gregg, "The Shaughraun" continues the tradition of having an Irish play on the stage.
"While the Towngate frequently includes Irish plays in our season, I felt it was particularly important to do one this year with the passing of our founder and mentor, Hal O'Leary," Gregg said.
Gregg said the play was chosen for several reasons.
"I wanted to expose our audience to a writer and style that is, in some ways, almost forgotten," he said.
"Working on the show has given me a fresh perspective on some of the comic bits we have taken for granted. I hope the audience will be willing to let themselves be caught up in what I feel is a fantastic comic ride."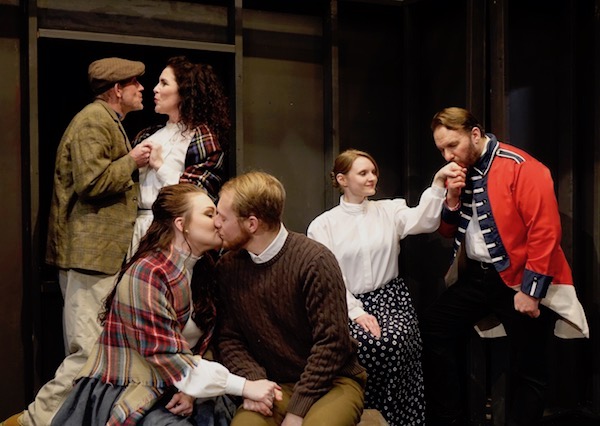 The cast comprises Towngate veterans and newer actors including Kathy Burley, Jon Coffield, Eric Dutton, Bethany Fernbaugh, Pete Fernbaugh, Dee Gregg, Noah Hilton, Emily Hores, Karissa Martin, Wayne McCord, Arlene Merryman, Bailey Ramsay, Brendan Sheehan, Jim Showalter, Marion Stolz, Zachary Thompson and Walt Warren.
Get Tickets
Towngate Theatre presents "The Shaughraun" by Dion Boucicault March 15, 16, 17, 22 & 23. Curtain is at 8pm Fridays and Saturdays. A 3pm matinee takes place Sunday, March 17.
Admission is $12.50/$11 OI members. Purchase tickets online or call 304-242-7700.
Sponsored by Unified Bank.
Join Us for St. Patrick's Day Dinner & Drink
Celebrate St. Patrick's Day with a traditional Irish dinner catered by Ye Olde Alpha and a selection of Irish beer. Ticket price includes dinner, wine, beer and soft drinks.  The event takes place from 6-8:30pm following the Sunday, March 17 matinee performance of "The Shaughraun." Cost is $30 per person.
Menu includes: corned beef, grilled salmon with fresh dill, roasted carrots, grilled cabbage, leek risotto, colcannon potatoes, bread and honey butter.
Proceeds benefit the Friends of the Towngate, which supports the creative work of the theatre, as well as projects to preserve the historic building.
Advance reservations required. Register online or call 304-242-7700.