By Laura Jackson Roberts
My favorite blog assignments are the ones that involve food. I covered a wine tasting at the Stifel Fine Arts Center that included hors d'oeuvres, and many Oglebay Institute events offer an accompanying dessert and fermented-grape type of beverage. I'm bound to show up at any OI function where food is being served. Recently, I attended the ultimate foodie event: the tapas tasting.
What Are Tapas?
Tapas are appetizers. In Spanish cuisine, tapas generally take the form of small snacks served in a restaurant or bar. A dining party may order many courses of tapas, and the idea is to make the meal a social event. Rather than focusing on a glorious main course, tasters converse and drink, and the smaller plates come and go throughout the evening, offering less of a distraction from conversation. Tapas are social. The food may be hot or cold, and in Spain tapas often include cheese or olives or something fried, like squid. I recently went to a tapas restaurant in the Caribbean and almost everything had a slice of bacon wrapped around it.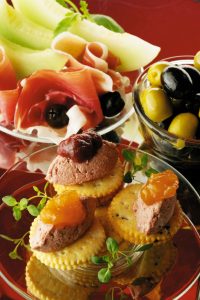 Here in Wheeling, the idea of the tapas bar hasn't quite taken hold yet, though you can find them in Pittsburgh. Fortunately, Oglebay Institute offers a series of Friday night tapas tasting events throughout the year for anyone who isn't sure they want to drive to a city for such a different kind of dining experience. Sometimes it's good to get your feet wet close to home.
Traditional Spanish tapas don't appeal to everyone; my husband hated our tapas meal on vacation. This meal, however, was designed and crafted by chef Charlie Schlegel of Ye Olde Alpha fame, and somehow he managed to combine richness of taste and exotic flavor with ingredients that we in the Ohio Valley know and love.
Five Courses Delight the Taste Buds
The first course was a sweet potato and black bean soup. I've had black bean soup before but this was the first one flavored with toasted coconut. Chef Charlie warned the crowd that it was a weird combination, and while he seemed unsure about the choice, we loved the soup and applauded him heartily.
Our second course—grilled eggplant with roasted red peppers, goat cheese, and walnuts—carried a special significance: the eggplants and peppers came from Grow Ohio Valley's final fall vegetable harvest. Chef Charlie was so pleased to be able to incorporate local produce.
"When people shop local, they eat better," he told us, and encouraged everyone to become familiar with the wonderful things done at Grow Ohio Valley.
It was so heartwarming to see three organizations—Oglebay Institute, Ye Olde Alpha, and Grow Ohio Valley—come together in a Venn diagram, the middle of which embodied the wonderful spirit of our area.
Tapas Dining Encourages Conversation
We talked with our tablemates as we worked through the tapas courses, just as the evening is intended to play out. They were former St. Clairsvillians who now live in McMurray, but OI events still draw them to Wheeling from time to time. A bottle of red and a bottle of white wine carried us through our chat, and we compared tales of travel and ancestry. We were doing it right.
Course three was kale salad with feta, sweet onions, dried cranberries, and goat cheese.
"Of everything tonight, this one is my favorite," Chef Charlie told us. He explained that the kale had been sitting in the vinegar for over twenty-four hours and that the acidity broke down the tough fibers in the greens. The cranberries and onions added sweetness while the cheese brought a strong flavor.
"It's one of my favorite things," he said. "I hope you enjoy it!"
The fourth and biggest course was chicken saltimbocca with lemon risotto and asparagus, and Chef Charlie assured us that it was going to be great. What is saltimbocca, you ask? It's chicken or veal wrapped in prosciutto, and it means "jumps in the mouth" in Italian. It did. Chef Charlie explained that this course was a bit heavier than a traditional tapas course might be, but he was very proud of it, and it was phenomenal.
Don't Forget Dessert
As the last course came out—chocolate pumpkin cake—he took his deserved bows.
"You think about great places to live," he said, referencing Wheeling. "Food matters, and it brings people together." He was right. By the end of the evening we were invested in our new friends' family reunion in Lithuania. We knew they met on e-Harmony and had just gotten married. They knew that our Irish Setter used to jump in the Stifel fish pond. We were friends.
OI Brings People Together
Oglebay Institute excels at bringing people together. Wine tastings, beer tastings, tapas…even nature hikes and rain-barrel building programs draw a crowd of community members. As I went home to write some thoughts, it occurred to me how deeply divided we are right now. Friends don't agree; families are split. This too shall pass, but it reminded me how important it is to find our place in our community and to connect with one another over the things that make us human, the things that make it worthwhile to be human. Good food and good friends: these are the reasons we live among one another, the reasons many of us remain in this familiar little town.
Join Us!
Property Maintenance Services, Inc. serves as the corporate sponsor for OI's Tapas series. The next Tapas Tasting event takes place Friday, February 24 and features Chef Joseph Elliot of Oglebay Resort. Cost is $30/$25.50 OI members. Register online or call 304-242-7700.

Soak Up the Atmosphere
The 100-year-old Stifel Mansion is the former home of one of Wheeling's most prominent families and is  listed on the National Register of Historic Places.
As you dine in the historic mansion, you will marvel at the stained glass windows, grand central staircase, marble floors and the majestic fireplace in the formal living room. During warm weather, stroll through the gardens.  You can also view the art on display in the gallery.