By Laura Jackson Roberts
It's difficult, sometimes, to keep track of all the art in the average household. While we may buy a formal piece of art—a painting or a sculpture, perhaps—only once every few years, we bring home many other things that fall under the artistic umbrella.
In my family, we collect maps on vacation and oil paintings of our dogs. The kids' school portraits come home every year, too, and if you're like me, by the time the fourth-grade photo finally goes up on the wall, that child has his driver's license. Far more profuse than photos are the children's art projects. Each is, of course, a masterpiece, but real estate on the refrigerator disappears quickly. That's when it's time to start looking at the walls.
Not everything belongs on a wall, but the things that do are going to be there for a while, and the best way to protect them is in a frame. And while you can go to the dollar store and find a cheap one, your most beloved art and images will fare better in the long run if they're framed by a professional. Proper framing will protect the piece from the fading effects of the sun and from dust, which can easily work its way between the piece and the mat or glass. Plus, it just looks so much better.
Lonely Painting Seeks Frame for Companionship
A year ago, I picked up two watercolor paintings. They both depict Dolly Sods, a wilderness area in the high eastern mountains of West Virginia near Canaan Valley. It's one of my favorite spots, and the artist's work caught my eye in a gallery in the town of Davis.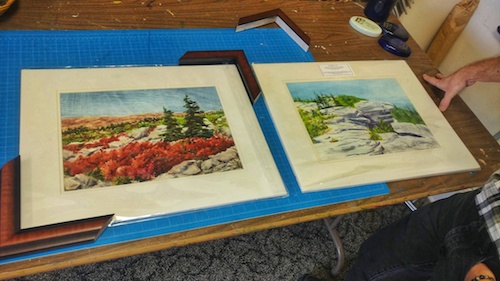 For the last 13 months, the two plastic-wrapped paintings have sat upon my mantle, where they've been safe from Nerf guns and wagging tails and spilled drinks. I hadn't gotten around to framing them, so when I learned Oglebay Institute had a frame shop at its Stifel Fine Arts Center, I knew it was time to put those pieces under glass, finally.
Frame Shop at OI's Stifel Fine Arts Center
Brad Johnson works at Oglebay Institute's Stifel Fine Arts Center as the director of education. Among the many hats he wears, one is that of picture framer. (I admit, I thought there might be a fancier word for the job.) In a former life, he owned Art, Etc., a frame shop in Wheeling, so he's got experience. That's a good thing, because while some folks know exactly what they're looking for in a frame, many of us—including me—have no idea where to start. So, I went over to the Stifel, paintings in hand, and looked helpless.
Expert Advice
Johnson got me started with some basic advice on framing. "If you want a good frame, it shouldn't be made out of plastic," he said. "It should be real wood or metal, and if you're an artist, it all depends on what you're framing. The frame has to complement the art but not overbear it. You don't want a spartan landscape framed by a super ornate gold frame. You want something that makes it look good."
I asked Johnson what makes a piece look good. Again, the answer relates to the art and its future home.
"It depends on where you going to put it," he said. "If you're a framing for a show, there's a difference, because in exhibitions, a single white mat is the standard, with a plain, wood frame. Galleries want to focus on the artwork itself and not the framing. If you're hanging it in your house or your office, then you want to try to complement something that's in the décor as well."
I hadn't considered that artists themselves might avail him of his services, but he told me that many find themselves unsure what to do with a piece after it's complete and ready for a show. Framing can make the difference between placing in an art show and going home empty-handed.
Narrowing It Down
Luckily, I didn't have so much riding on my watercolors. That said, I still wanted them to look professional, and I also wanted them to match the décor of the room where I was going to hang them, my living room. So we went to the wall of frames, where dozens of samples hung, floor to ceiling. I felt overwhelmed by my choices, so Johnson asked me about the living room. What style was the house? Color of the walls? What about the woodwork? I told him I live in an old Victorian home with dark, carved wood. The living room has a lead glass window and sage green walls.
"The other thing that you want to look at is the style of the painting," he said. "These are watercolors and they have a really nice, basic, painterly style to them. It's almost impressionistic, so I wouldn't go super fancy."
We looked at darker wood samples until I found the approximate shade of my woodwork, and then we decided to focus on simple, clean lines. I still had more than I could deal with, though, so Johnson narrowed down my choices for me.
He pulled out four different frames and laid them out on the paintings to give me a clear visual. One frame had red undertones and a curved surface. One was the color of dark chocolate, and the wood was pitted to look rustic. One was a deep frame, meaning that the paintings would stick out from the wall about an inch to accommodate the thickness of the wood.
Consider Your Lifestyle, Too.
I liked the look of the deep frame, but Johnson reminded me to consider where the paintings would hang. I planned to put them just above my sofa, and the more I thought about the two boys at home, the more I decided I didn't want anything sticking out into the room where it could serve as a target for a foam dart. Ultimately, I went with a simple frame, and I asked Johnson for his opinion, too.
More Decisions: Mats & Glass
My paintings came already matted in white when I bought them, but choosing a mat for your work can be part of the process. Johnson often looks for the secondary colors in a piece when choosing a mat for art that will be displayed at home. Once the mat is chosen, it's time to pick the glass. There's plain glass, anti-glare glass, UV glass that protects a piece from sunlight, museum glass, acrylic glass…you've got a multitude of choices.
An artist will go with the cheapest option for a show, Johnson said. It's understandable. Aside from dollars and cents, a piece that hangs in the safety of a gallery doesn't have to face the glare of the sun or the abuse of a rowdy family. I had lots of choices, but in the end, chose regular glass, too, to keep the project within a modest budget. You can spend as much or as little as you want or need to. Along those lines, artists who have their own work framed at Stifel receive a 20% discount.
Free Matting Workshops for Student Artists
If you're a high school art student and don't have the resources to have your work framed for a show such as the annual Oglebay Institute Regional Student Art Exhibition, Johnson and OI offer free matting instruction. Not only does it help students with their show pieces, but it can also help them when the time comes to apply to college.
"We try to teach them how to mat a piece to show. There are several high school competitions in the area and we have ours, of course," Johnson said. "We teach them how to cut your basic white, standard, two, two-and-a-half inch mat that goes with whatever they have done for their high school project. But what that also does is get them free entry into our high school show, and matting it and mounting it gives them a leg up sometimes. Bettering your presentation is to better the chance that your piece gets looked at, especially if they're going to go major in art of any kind or when they submit a portfolio for college review to get into an art program. This is going to give them a professional look and a more mature look sharpen to their art."
Regional Student Art Show
The Regional Student Art Show is more than a local competition; winners can receive scholarships to art school. In the past few years, Johnson said, WVU has offered full, four-year art scholarships. These aren't easy to come by, so any advantage is valuable.
"The reality is that life is competitive," he said. "Any skill that they can learn that gives them a leg up is good."
Interested art teachers can contact Johnson at the Stifel Fine Arts Center. Up to twelve students at a time can utilize the framing space, and he is there to instruct, demonstrate, and supervise.
Finished Product
I learned that a good artist will keep the mat and framing clean and classic. I stuck with white mats, and I picked a simple, dark wood frame. Johnson called me about a week later when the paintings were ready, and they looked exactly as I'd hoped: simple and classic.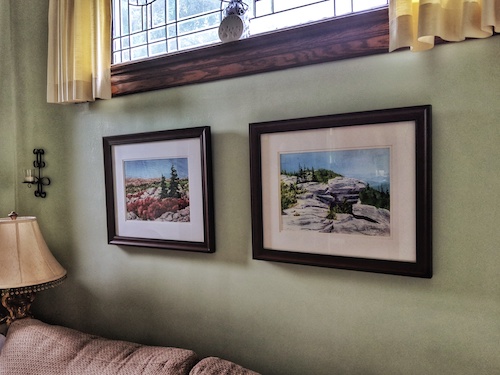 The frames match my woodwork, and they accent the paintings without overpowering them. Honestly, the hardest part of the whole process was just trying to get them level. That may take a while.
Learn More
If you are interested in framing services, contact Johnson at the Stifel Fine Arts Center at 304-242-7700.
About the Stifel Fine Arts Center
Housed in the historic Edemar Mansion, the Stifel Fine Arts Center is a treasure trove for artistic expression and personal fulfillment. As a public arts center, the community can enjoy our galleries, classrooms and performance spaces. Artists, art lovers, students, educators and families gather here to connect and engage in creative pursuits.
Tour our art galleries and see the work of local, regional and national artists. You can take a class in painting, pottery, jewelry making and more. Our classes and workshops provide knowledge and tools to explore the visual arts.
Attend a jazz concert, wine tasting or craft beer event. The elegant setting is ideal for date nights and evenings out with friends.