Hip Hop at Oglebay Institute's School of Dance
By Laura Jackson Roberts
Until I began the research for this blog, I had only vague notions of hip hop. I knew it was a modern style of dance unlike ballet or jazz, but this was the extent of my hip hop knowledge. When I write for Oglebay Institute, I often do so after an immersive experience like a wine tasting or an art workshop. I'm rarely knowledgeable about the classes I take, but I learn through participation. This time, however, I studied my subject as an observer, and sometimes that's a valuable way to learn.
I'm an outsider to the dance world. What I do know comes to me from the media and other parents. Some of the stories I hear disturb me: fights between young dancers, aggressive moms, and heavy competition. Moreover, while many talented young men dance, my sons do not. Thus, the entire culture remains shrouded in mystery to me.
Instructor Arianne Wade Brings Passion & Experience to OI Hip Hop Dance Program
Arianne Wade lifted that veil. She's been teaching hip hop at Oglebay Institute's School of Dance for nine years. In fact, she started the program. She grew up attending a dance studio in Marshall County and began with OI as a parent.
"I came to a Mommy & Me class with my daughter," she said. "I started the [OI hip hop] program the following fall and it skyrocketed. We have seasoned students that take other classes and we have students that come just for hip hop. It's something I'm really passionate about. It's ever-growing, it's ever-changing."
To show me what she meant, Wade invited me to observe her Wednesday night class, Hip Hop 4.0. Some of the girls in the class started with her when they were very little. As I waited in the lobby of the dance studio, a diverse group of moms and kids were milling about. The atmosphere was casual and friendly. Adults talked, kids giggled. I detected no tension—an immediate relief.
As the girls filed in, the happy atmosphere persisted through warmups. They stretched and twisted and performed a full three minutes of ab-crunching. This class isn't going to be easy, I thought. These young ladies are here to work.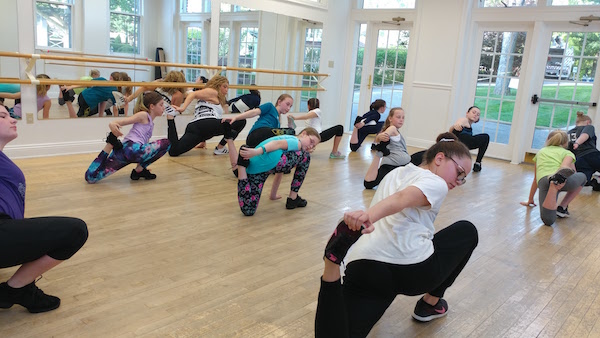 This last week in April, the girls were preparing for the spring recital. They did several run-throughs as Wade tweaked the routine, offering suggestions and instruction. During a water break, some of the students approached her to discuss their costumes. One student described basketball pants, another a sparkly top with long sleeves.
When I think of dance costumes, I think expense. There's often an element of pageantry in dance. And sometimes, I can't help but notice that young girls' costumes make them look far more grown up than they really are. But here at OI, Wade has given her students a chance to express themselves in their own way, with age-appropriate costumes.
Teaching Self-Respect Along With Technique
Wade said, "I am letting the kids for the recital this year come up with their own hip hop outfit. I wanted them to be able to express themselves as who they are. I am so proud of them. No one even thought to come to me with something that would have been inappropriate. They all look like individuals and they all respect themselves." Teaching her students self-respect is exceedingly important to Wade.
In that vein, she chooses music that is equally suited to pre-adolescents. "They're not training to be in a rap video. They're concentrating on technique. It's about free spirit and freestyle and making something your own."
Non-Competitive Environment for Kids and Parents
Parents appreciate this professionalism, and they're also pleased that School of Dance students are not required to purchase expensive costumes, nor are they committed to dance pictures or extreme schedules. Wade told me, simply, that they don't put that kind of pressure on kids or parents. Students get out of it what they want to get out of it. And as for competition, it's non-existent here. Wade doesn't want her students pitted against one another. One person's success is everyone's success.
"We go in as a class and we come out as a class," she said. "We teach our dancers to be encouraging to the other dancers. When another dancer [succeeds], the students are encouraged to clap, say good job, rather than competing against each other."
Students Can Study with Guest Artists, Too.
OI dancers also have the opportunity to study with master teachers from around the globe. Internationally traveled master instructor Nijawwon Matthews visited the studio in February to teach a hip-hop workshop. Matthews is a resident teacher and choreographer for The Joffrey Ballet School in New York City as well as a teacher and dancer for TOKYOtheCOMPANY.
Everyone Is An Equal
In lieu of a competition, the semester ends with the low-key recital, which itself is optional. Most girls want to be in the recital, Wade told me, but not everyone wants to stand in the front row. And that's okay. Hip hop classes are about expression, about feeling comfortable. Everyone is an equal.
As I sat and watched the girls practice, I waited to see if some students would stand out above the others—perhaps class favorites would emerge. None did because there are no favorites. All the Hip hop dancers had a chance to take center stage; they all spent some time in the background, too. And though pre-adolescent girls don't always get along, I saw nothing but camaraderie. Yes, the girls worked hard—Wade asked them to give one-hundred percent. But they did so as she assured me they would: as a class.
Maintaining the bonds of supportive friendship takes work, and it's not always easy being a young person these days, as Wade reminded me. "They're influenced by so many things right now in society," she said. "Reality TV. The Kardashians. I just want to be able to teach them to be young women, to set an example, to be role models. Our older girls are just a wonderful group. I couldn't have asked for a better group of young women. It's all about setting an example for young children, for other dancers, for society itself."
As the girls laughed and encouraged each other, shouting goodbyes as they left for the evening, I could see that the hip hop students at the School of Dance are doing just that.