Today is International Read to Me Day. It is observed in recognition of the role that reading to children plays in their ultimate literacy. It is a day you can easily celebrate– just grab a book and a kid and read! (If you are far away or social distancing yourself from the little ones in your life, you can participate via a video chat platform like Skype or FaceTime.)
Children's literature encompasses a wide range of works. You can find a topic of interest for every child in your life. Like literacy, creative thinking and expression are also key elements in every child's future success, so we recommend incorporating some books about the arts into your children's library.
As Pablo Picasso famously said, "All children are artists. The problem is how to stay an artist when the child grows up." It is very easy for kids to give up on their own artistic abilities with age. Fortunately, many fantastic authors and illustrators have created children's books designed to cultivate a lifelong relationship with creativity. We have put together a list of books that illustrate how art is an exciting and essential aspect of life.
Visual Arts
Frida Kahlo and Her Animalitos
Written by: Monica Brown
Illustrated by: John Parra
Recommended Ages: 4–8 years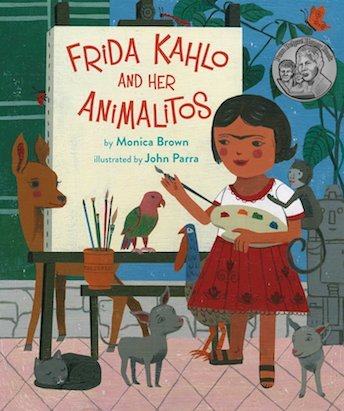 Frida Kahlo and Her Animalitos is based on the life of one of the world's most influential painters, Frida Kahlo, and the animals that inspired her art and life. From monkeys, birds, dogs and a black cat, the creatures symbolize some of the artist's greatest characteristics.
The fascinating Mexican artist Frida Kahlo is remembered for her self-portraits, her dramatic works featuring bold and vibrant colors. Her work brought attention to Mexican and indigenous culture and she is also renowned for her works celebrating the female form.
Kid Artists: True Tales of Childhood From Creative Legends
Written by: David Stabler
Illustrated by: Doogie Horner
Recommended Ages: 9-12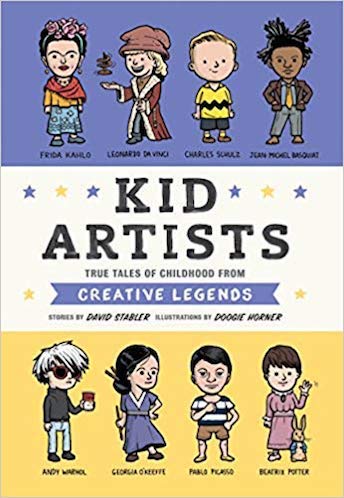 Hilarious childhood biographies and full-color illustrations reveal how Leonardo da Vinci, Beatrix Potter, Keith Haring and other great artists in history coped with regular-kid problems.
Every great artist started out as a kid. Forget the awards, the sold-out museum exhibitions, and the timeless masterpieces. When the world's most celebrated artists were growing up, they had regular-kid problems. Jackson Pollock's family moved constantly—he lived in eight different cities before he was sixteen years old. Georgia O'Keeffe lived in the shadow of her "perfect" older brother Francis. And Jean-Michel Basquiat triumphed over poverty to become one of the world's most influential artists. Kid Artists tells their stories and more with full-color cartoon illustrations on nearly every page. Other subjects include Claude Monet, Jacob Lawrence, Leonardo da Vinci, Vincent van Gogh, Pablo Picasso, Frida Kahlo, Beatrix Potter, Yoko Ono, Dr. Seuss, Emily Carr, Keith Haring, Charles Schulz, and Louise Nevelson.
Theater
Drama
Written & Illustrated by: Raina Telgemeier
Recommended Ages: 10-14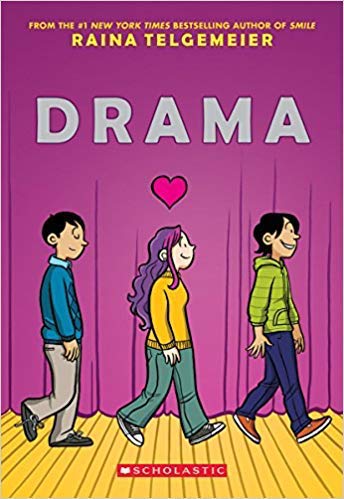 Drama is a graphic novel that follows a girl who takes on the backstage role of set designer for her middle school production. Callie loves theater. And while she would totally try out for her middle school's production of Moon over Mississippi, she can't really sing. Instead she's the set designer for the drama department's stage crew, and this year she's determined to create a set worthy of Broadway on a middle-school budget. But how can she, when she doesn't know much about carpentry, ticket sales are down and the crewmembers are having trouble working together? Callie deals with tween hardship, including confusing crushes, budding friendships and typical middle school drama. It is a coming-of-age story that explores themes of friendship, teamwork, inclusion and determination through Callie and her relationship with the people around her.
Rifka Takes a Bow
Written by: Betty Rosenberg Perlov
Illustrated by: Cosei Kawa
Recommended Ages: 5-9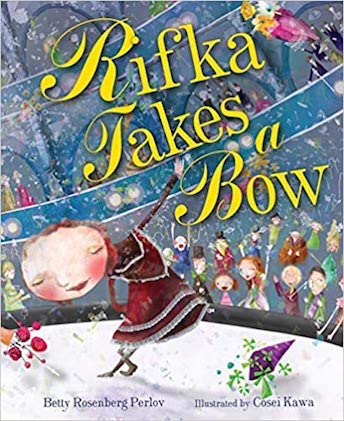 In 1915, Rifka's parents are actors in a Yiddish theater on 2nd Avenue in New York City. Rifka describes the experience of traveling with them to the theater, hanging out with the actors as they prepare and watching the action from backstage. Being among the hustle and bustle of a group of people getting ready for a performance is just as magical as being on stage. Even if your child has never had the privilege of "treading the boards" or "watching from the wings" he or she will want to jump right in after reading about Rifka. An endnote gives historical background on the importance of Yiddish theater in America. This is a unique book about a vanished time that is made real through the telling of the true-life story of the 96-year-old author as a little girl.
Dance
Swan: The Life and Dance of Anna Pavlova
Written by: Laurel Snyder
Illustrated by: Julie Morstad
Recommend Ages: 6-9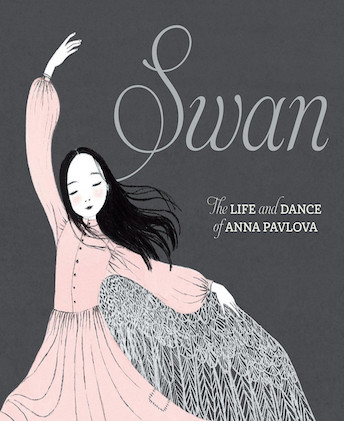 One night, young Anna's mother takes her to the ballet and everything is changed. So begins the journey of a girl who will one day grow up to be the most famous prima ballerina of all time, inspiring legions of dancers after her: the brave, the generous, the transcendently gifted Anna Pavlova. Swan: The Life and Dance of Anna Pavlova is a heartbreakingly beautiful picture book biography perfect for aspiring ballerinas of all ages.
Firebird
Written by: Misty Copeland
Illustrated by: Christopher Myers
Recommended Age: 5 – 9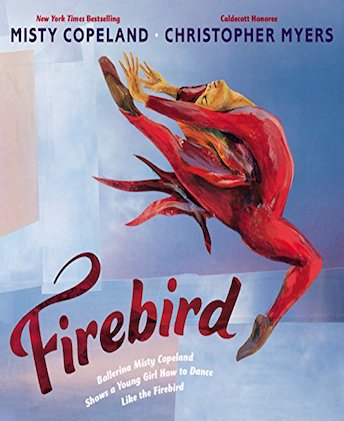 In her debut picture book, Misty Copeland tells the story of a young girl—an every girl—whose confidence is fragile and who is questioning her own ability to reach the heights that Misty has reached. Misty encourages this young girl's faith in herself and shows her exactly how, through hard work and dedication, she too can become Firebird. Copeland's lyrical text is dreamy and poetic, while Christopher Myers' vivid and dynamic illustrations capture the combination of power and serenity in ballet. The book includes an author's note about Copeland's ballet journey, as well as her desire to provide diverse role models for girls.
OI Director Picks
We reached out to OI staff members to get their recommendations. Here are their selections.
Brad Johnson, OI Director of Art Education
Stan Lee's How to Draw Comics the Marvel Way
One of the first and still one of the best, How to Draw Comics the Marvel Way has been the primary resource for any and all who want to master the art of illustrating comic books and graphic novels.
Stan Lee, the Mighty Man from Marvel, and John Buscema, active and adventuresome artist behind the Silver Surfer, Conan the Barbarian, the Mighty Thor and Spider-Man, have collaborated on this comics compendium: an encyclopedia of information for creating your own superhero comic strips.
Christin Byrum, Director of the Museums of Oglebay Institute
From the Mixed-up Files of Mrs. Basil E. Frankweiler by E.L. Konigsburg
Claudia knew that she could never pull off the old-fashioned kind of running away…so she decided to run not from somewhere but to somewhere. That was how Claudia and her brother, Jamie, ended up living in the Metropolitan Museum of Art—and right in the middle of a mystery that made headlines.
Micah Underwood, OI Director of Development
Press Here by Hervé Tullet
Press the yellow dot on the cover of this book, follow the instructions within, and embark upon a magical journey! Each page of this surprising book instructs the reader to press the dots, shake the pages, tilt the book, and who knows what will happen next! Children and adults alike will giggle with delight as the dots multiply, change direction, and grow in size! This unique picture book about the power of imagination and interactivity will provide read aloud fun for all ages!
The Adventures of PhilAnThropy by Linda Wise McNay, Del Martin, and Ailena Parramore
This book introduces readers to young friends Phil, An and Thropy as they embark on an adventure in philanthropy upon realizing their new friend needs a special chairlift to enjoy the neighborhood pool. When their combined allowances and birthday money are not enough, they launch a kid-friendly fundraising campaign with the support of friends, family and neighbors. During their journey, the friends learn that while each may only be able to contribute a little, they can make a big impact when combining their time, talents and treasure.
Rick Morgan, Director of the Stifel Fine Arts Center
When Pigasso Met Mootisse by Nina Laden
When Pigasso met Mootisse, what begins as a neighborly overture escalates into a mess. Before you can say paint-by-numbers, the two artists become fierce rivals, calling each other names and ultimately building a fence between them. But when the two painters paint opposite sides of the fence that divides them, they unknowingly create a modern art masterpiece, and learn it is their friendship that is the true work of art.
Tim Thompson, OI Director of Performing Arts
Truth in Comedy: The Manual for Improvisation by Charna Halpern
Want to learn the improv techniques that helped Mike Myers, Chris Farley, John Belushi, and many others along the road to TV and film stardom? Then let two esteemed founders of long-form improvisational theatre, Del Close and Charna Halpern, teach you the "Harold." This groundbreaking acting exercise emphasizes pattern recognition and subversion of the audience's expectations, which are important factors for making people laugh without ever telling a joke.
Giraffes Can't Dance by Giles Andreae
Giraffes Can't Dance is a touching tale of Gerald the giraffe, who wants nothing more than to dance. With crooked knees and thin legs, it's harder for a giraffe than you would think. Gerald is finally able to dance to his own tune when he gets some encouraging words from an unlikely friend. With light-footed rhymes and high-stepping illustrations, this tale is gentle inspiration for every child with dreams of greatness.
Cheryl Pompeo, OI Director of Dance
Because by Mikhail Baryshnikov
Beautifully illustrated children's picture book written by world famous ballet dancer Mikhail Baryshnikov about a grandmother's joy of dancing just "Because," even if she embarrasses her grandson.
The Silver Slippers by Elizabeth Koda-Callan
What does it take to become the prima ballerina? For one little girl who is always out of step, it seems an impossible goal, no matter how hard she tries. And then her mother brings home a special present: a pair of tiny silver ballet slippers on a silver necklace. They shimmer and sparkle beautifully whenever she moves and they teach her never to give up on her dreams.