Oglebay Institute Hosts Student Art Show
Oglebay Institute fosters and celebrates the talent and creativity of young artists. The annual Regional High School Student Art Exhibition opened last week with a public reception and awards ceremony at OI's Stifel Fine Arts Center. Several students received cash prizes for their work, and one area student was awarded a full tuition scholarship to West Virginia University. Others received scholarships to West Liberty University.
The Regional Student Art Exhibit provides high school students the opportunity to display their artwork in a professional gallery, see what other students are doing in the world of art and collaborate and get feedback from art teachers, college professors and other students from throughout the region. The show is part of Oglebay Institute's art exhibition season, which is sponsored by United Bank.
Students Receive College Scholarships
For the past five years, West Virginia University's School of Art and Design has offered a four-year, full-tuition scholarship to one student artist participating in OI's Regional Student Art Show. Braden Robinson of Union Local High School is the 2018 scholarship recipient. Dr. Teri Giobbia, art education coordinator at WVU, selected Robinson as the winner on behalf of WVU's College of Creative Arts.
Robinson along with Antonia Sigmon from Olney Friends School also received scholarship offers in the amount of $1500 to attend West Liberty University. Brian Fencl, professor of art at WLU, selected the recipients and presented the scholarship offers in conjunction with the show.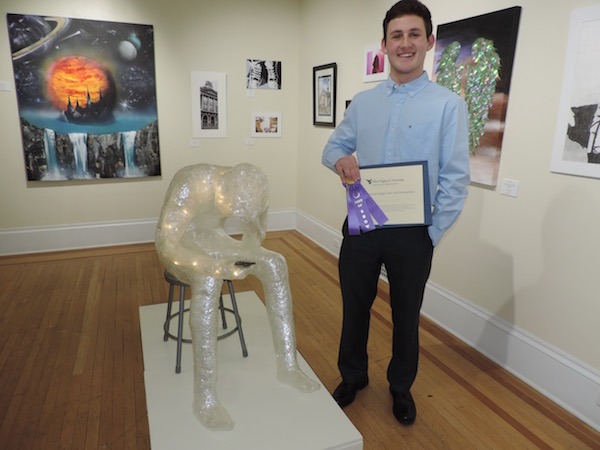 The Regional Student Art Show is in its 29th year. 230 pieces were submitted and 123 were selected for the exhibit after being juried by contemporary artist Kyle Ethan Fischer. Fischer is a member of the Studio Mechanics Union IATSE 489. He has completed more than 20 feature films and television productions as a scenic artist and sculptor, most recently finishing the critically acclaimed film adaptation of August Wilson's "Fences," "Where'd You go Bernadette," starring Cate Blanchett, and the WGN network television hit "Outsiders." Fischer has exhibited his work at the State Museum of Pennsylvania, the Westmoreland Museum of Art as well as being shown in Toronto, New York, the Aqua Art Fair at Art Basel in Miami, Florida and the LA Art Show.
Dozens of students representing 13 high schools in Ohio and West Virginia are featured in the show. Participating high schools include: Bridgeport, Martins Ferry, Buckeye Local, Union Local, Wheeling Park, Linsly, St. Clairsville, Bellaire, Wheeling Central, River, Olney Friends School, Monroe Central and Spiero Academy.
The annual Regional Student Art Exhibit is open to students in grades 9-12 within a 50-mile radius of Wheeling.
Prizes were awarded for Best of Show and to the top three students in four categories – painting, photography, drawing and 3-D/mixed media. Four students received honorable mentions.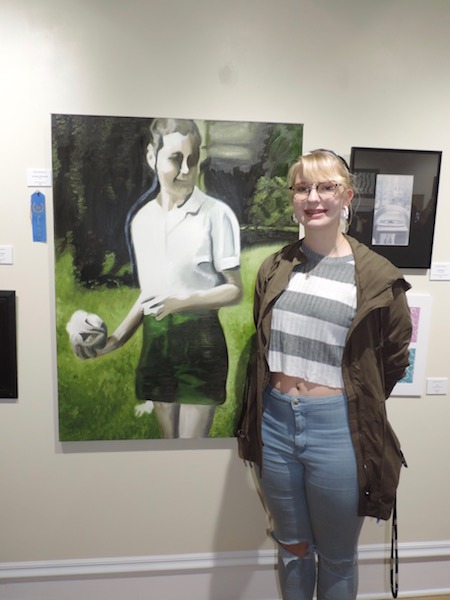 Award Winners
Best of Show: Braden Robinson, Union Local High School
Drawing: first place, Hannah Kemp, Union Local High School; second place, Jenna Piatt, Union Local High School; third place, Erin McChesney, The Linsly School
Painting: first place, Katie Neumann, The Linsly School; second place, Sara Hirayama, Olney Friends School; third place, Antonia Sigmon, Olney Friends School
Photography: first place, Rachel Smith, Olney Friends School; second place, Lilli Liskanich, Union Local High School; third place, Sara Hirayama Olney Friends School
3-D/mixed media: first place, Noah Murr, Bridgeport High School; second place, Jimmy Nalley, Monroe Central High School; third place, Morgan Anderson, River High School
Honorable mentions: Alexandria Moeller, Union Local High School; Nicole McCorkle, Bellaire High School; Aman Jimbo, Olney Friends School and Kristen Yost, River High School.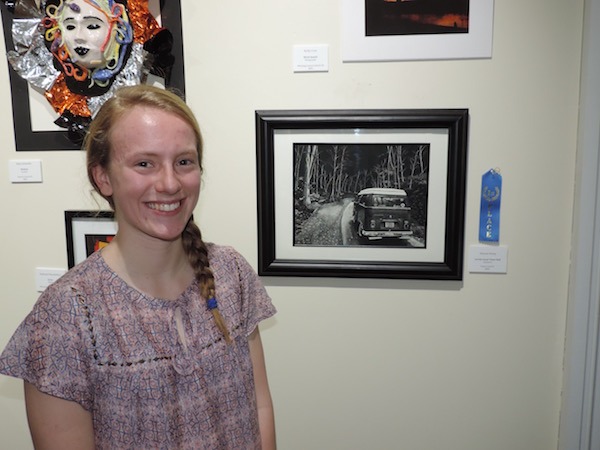 View the Exhibit
The show can be viewed free of charge now through February 16 at Oglebay Institute's Stifel Fine Arts Center, 1330 National Road, Wheeling. Hours are 9 a.m. to 5 p.m. Monday through Friday and 10 a.m.- 4 p.m. Saturdays. Evening hours are dependent of classes and special events taking place. For more information, visit www.oionline.com or call 304-242-7700.