One of most amazing aspects of community theater is that volunteer actors give their talent and time so that audiences can be entertained, moved and inspired. Oglebay Institute's Towngate Theatre is fortunate to have a large number of these talented people who share their creative skills. Some of these actors are new to the stage, entering the realm of acting with a fresh face and vigor. Others are veterans who have honed their skills and bring a polished craft to their performances. Arlene Merryman is just such a veteran, having acted on the stage at Towngate Theatre for more than 45 years.
A TOWNGATE VETERAN
Born in Bellaire, Ohio, Arlene was a school teacher there for 35 years. She first acted at Towngate in the 1972 performance of William Shakespeare's "As You Like It."
Since then, Arlene has performed in 40 productions at Towngate. Some of her favorite performances at Towngate have been in "Steel Magnolias," "Private Lives" and "The Beauty Queen of Leenane." Arlene said that acting at Towngate has been a large part of her life.
"Towngate holds many wonderful memories for me," she said. "Directors like Towngate founder and friend, Hal O'Leary, Claude Colvin, David Judy, and others shaped me into the actress I am today. Before Towngate, I had only been in musicals, but I learned to be an actress at Towngate."
HER RETURN TO TOWNGATE
A current resident of Squirrel Hill in Pittsburgh, Arlene returns to the Towngate in her first performance here since 2010. She is playing Mammy in the upcoming Towngate Theatre production of "The Cripple of Inishmaan."
There are multiple reasons she wanted to be a part of this production.
"It's a chance to do another McDonagh play and work again with veterans Dee Gregg, P.D. Gregg and Vince Marshall, with whom I worked in 'The Beauty Queen of Leenane,'" she said.
"I loved McDonagh the playwright before he became fashionable as McDonagh the director and screenwriter. I've seen all of his plays in New York or Ireland. While I was in Ireland touring with the PICT Classic Theatre production of 'Major Barbara,' I took a trip to the Aran Islands."
Arlene said that audiences are certain to like "The Cripple of Inishmaan" as much as she does.
"It's an incredibly funny script with wonderful characters and a perfect balance of comedy and tragedy," she said. "Not to mention it has an incredible cast with old friends and talented new ones."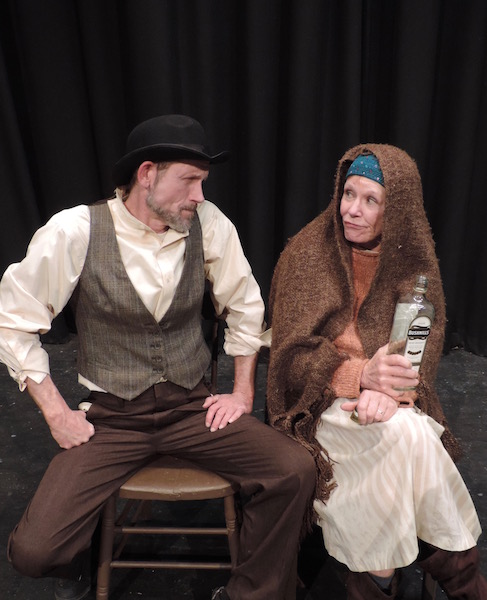 When she is not performing, Arlene said she likes to travel "with my soul mate and our faithful dog, Toby."
"I also like spending time with my two daughters and four granddaughters in Cincinnati and Athens, and sharing all my adventures on Facebook. Isn't that what seniors do?"
ABOUT THE PLAY
On the drab island of Inishmaan, off the coast of Ireland, a physically disabled young boy, Billy, is eager to leave. When a Hollywood film crew arrives, Billy sees his chance to escape. He goes with the film crew back to the United States, only to learn that it is not everything he dreamed it would be.
GET TICKETS AND SEE THE SHOW
Towngate Theater presents "The Cripple of Inishmaan" by Martin McDonagh March 16-18 & 23-24. Curtain is at 8pm Fridays and Saturdays. A 3pm matinee takes place Sunday, March 18.
Admission is $12.50/$11 OI members. Purchase tickets for this show or any Towngate show in advance at www.oionline.com, by calling 304-242-7700, or at the door, if available.
JOIN US FOR A PUB NIGHT AFTER THE SHOW
The Friends of Towngate present two "Pub Nights" in conjunction with Towngate's production of The Cripple of Inishmaan.
Join us in The Gallery at Towngate immediately following the March 16 and March 23 performances, from approximately 10pm to midnight.
Enjoy Irish food provided by Ye Olde Alpha, beer provided by Carenbauer Distributing and Wheeling Brewing Company and live Celtic music. Gallowglass and The Troubadour with Karissa Martin will perform on March 16 and Matt Smith and The Troubadour will perform on March 23.
Get your Irish on and support Towngate Theatre at one of these popular Pub Nights at Towngate. Admission is $25 per person and does NOT include show ticket. Purchase online, call 304-242-7700 or contact a member of the Friends of Towngate. Space is limited at each event.