Oglebay Institute's Towngate Theatre continues its 50th season of community theater with Thornton Wilder's Pulitzer Prize-winning masterpiece "Our Town," considered by many to be the greatest American play ever written.
You can see the show two weekends –May 3, 4 and 5 and May 10 and 11.
With its poetic beauty and simplicity, "Our Town" illuminates the powerful bonds that hold communities together through everyday life and moments of crisis.
With humor, wit and powerful storytelling, the play follows two ordinary families–the Gibbs and the Webbs–through life, love and loss in the fictional small village of Grover's Corners.
Told as a "play within a play," the stage manager narrates as we follow the residents of Grover's Corners through 12 years of life changes–from the mundane in Act I, "Daily Life," to the romantic in Act II, "Love and Marriage," to the devastating in Act III, "Death and Eternity."
"Our Town" Remains Relevant Today
Although written in 1938, "Our Town" remains relevant today, director Tim Thompson said, because it delivers "universal truths about what it means to be human."
Thornton Wilder said, "I regard the theatre as the greatest of all art forms, the most immediate way in which a human being can share with another the sense of what it is to be a human being."
Thompson said "Our Town" embodies this quote. "Human beings perform the show for human beings about human beings– about who we are and what makes our lives significant. It is about our daily lives–our ups and downs, ebbs and flows, good times and bad. Audiences will closely identify with this story, its characters and its message."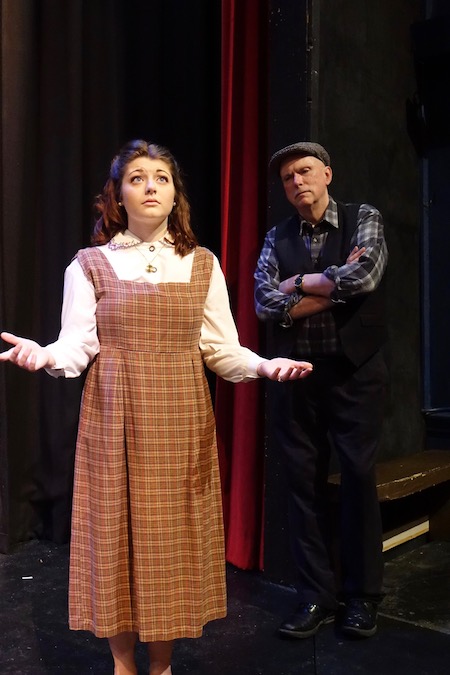 The play is performed without a set on a mostly bare stage. With a few exceptions, the actors mime actions without the use of props. Thompson said the minimalist surroundings inspire the imagination.
"The narration by the stage manager describes what things look like and the audience is engaged by trying to picture the places in their minds-eye. These can be different for each individual and possibly even remind them of their own homes. Also, it's part of the theme that the most important aspects of life aren't house or things."
A Stellar Cast
John Reilly plays the part of the Stage Manager, who guides the audience through the town and introduces its inhabitants. Aimee Kefauver and Noah Hilton play Emily and George, the two young people who grow up together over the course of the play. Vincent Marshall and Rachel Thompson play Emily's parents, Mr. and Mrs. Webb. Justin Swoyer and Dee Gregg have the roles of George's parents, Dr. and Mrs. Gibbs.
Eric Dutton plays the town choirmaster. Joe Heatherington plays the part of the town's milkman, Howie Newsome. Playing the part of the town's constable is Jim Weekly. Kristin Seibert appears as the town gossip Mrs. Soames and Robert Gaudio is Professor Willard. Grace Thompson plays the part of Rebecca Gibbs, George's younger, starry-eyed sister. Alex Fabrizio plays Emily's younger brother.
Rounding out the ensemble are: Isaac Swoyer, Rob DeSantis, Karissa Martin, Pete Fernbaugh, Marie McKelvey, Aidan Kosol and Colin Roose.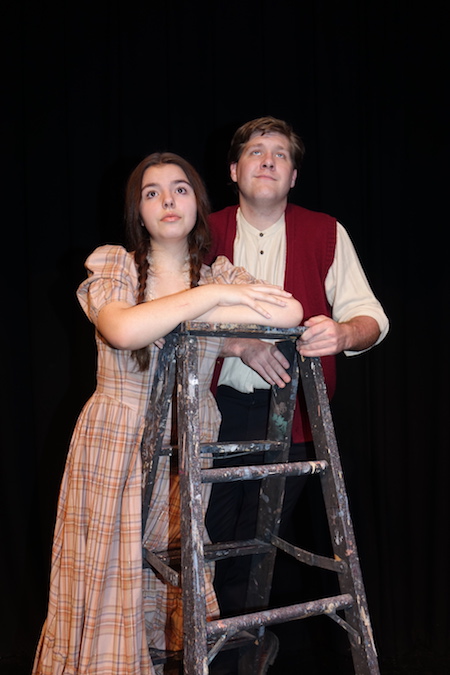 "We have a stellar cast and crew," Thompson said. "The Ohio Valley is chock-full of talented actors and this show has some of the best. Also, they are all doing many backstage facets of production, along with our seasoned technical crew. It is a true community effort. I am very fortunate as a director to be able to work with this elite cast and crew."
This is the final play in Towngate's 50th season, which is sponsored by Unified Bank.
About Towngate
Towngate is the premiere venue for community theater in Wheeling, providing an intimate theater experience with talented local actors performing in a variety of though-provoking, heartwarming, comedic and historically significant works from renowned playwrights and talented newcomers.
A church-turned-theater, Towngate is located in Wheeling's historic Centre Market District and serves as an entertainment destination for residents of Wheeling, the Upper Ohio Valley and beyond. In addition to community theater, Towngate also offers poetry and spoken word performances, children's theater, ballet, improvisational comedy and live music. Towngate is also home to the Wheeling Film Society and features changing art exhibitions in The Gallery at Towngate. Theater classes for children and adults are also offered year-round.
Get Tickets
Evening performances of "Our Town" take place at 8 p.m. May 3, 4, 10 and 11. A matinee performance takes place at 3 p.m. Sunday, May 5.
Purchase tickets online in advance or by calling 304-242-7700. You can purchase tickets at the door, if available. Box office opens one hour prior to curtain.