by Pete Fernbaugh
The following interview is part of an ongoing series about the history of Oglebay Institute's Towngate Theatre & Cinema. Our thanks to Katie Crosbie for sharing her memories with us.
Spotlight: Katie Crosbie, actor and former director of performing arts, Oglebay Institute's Towngate Theatre & Cinema (Part 1 of 2)
Before she was director of performing arts at Oglebay Institute, Katie Crosbie was another creative soul seeking an outlet for artistic self-expression. One day in 1971, she was flipping through the newspaper and saw an advertisement for auditions at Towngate Theatre.
The show was Plaza Suite by Neil Simon, and the director was Towngate founder Harold O'Leary.
"I couldn't make the evening auditions, so Hal agreed to see me in the afternoon," Katie recalled. "We stood at the counter in the kitchen, which is now the ladies' dressing room, and after I read, he said, 'Can you do this?' And I said, 'Yeah, I can.' And that began a wonderful friendship and a wonderful collaboration."
Plaza Suite would be the first of many Towngate productions in which Katie would be cast.
"I played opposite Marvin Franklin, whom Hal knew from theatre productions in the Valley before Towngate came to be," Katie said. "Marvin and I did the second act of Plaza Suite, called 'Visitor from Hollywood.' He played the handsome Hollywood producer returning to his hometown and I played Muriel, his high school sweetheart. I enjoyed the process immensely."
"We Were All Kids"
At the time, Katie was a teacher at Madison Elementary School. Marriage had brought her back to the area after a brief departure following her graduation from Bethany College in 1968.
"By the time I came on the scene, the theatre was a very new place," she said. "It was just in its infancy."
During the 1972-1973 season, Katie played Dorine the maid in Tartuffe by Moliere, her first collaboration with actor-director Bill Cornforth who would go on to be the speech and drama coach at Wheeling Park High School. Later that same season, she was directed by future Bethany theatre professor David Judy in a production of The Threepenny Opera by Bertolt Brecht, which featured a cast of future Towngate luminaries.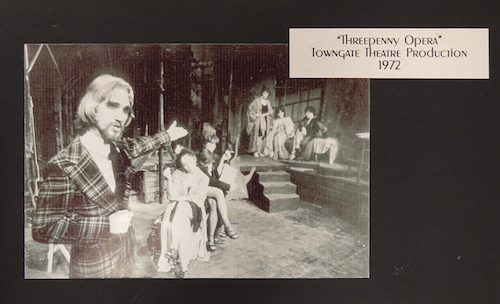 "Of course, we were all kids," Katie said. "Paul Criswell, Arlene Merryman, Kathleen Lancione, who became Kathleen Gurley, and Hal's son, Sean, who was in high school, I think. It was pretty amazing."
Today, Katie marvels at the breadth of their output during this time.
"A Schedule That Would Choke a Horse"
At one point, she recalled, Towngate staged five shows between September and May. During the summer, they would do five more plays.
"Plus, we did a tour and a musical in the amphitheater," Katie said. "They were marvelous. The musicals would have casts of up to 100, depending on the show. So we actually did 12 plays a year. It was a schedule that would choke a horse."
In addition to the long hours, the theatre had very few resources, and Hal would save every nail and every piece of wood to use again on the set, leading to quite the assortment of carpentry underneath the stage.
"We didn't have a lot of money so we had to earn it," Katie said. "We had coffee-can lights. The workbench was the old altar Zion Lutheran Church had left behind when Towngate moved in. And the pastor's study…oh, my, my, my. It was supposedly the electrical room, but there was electricity in that room often."
"Sow the Seeds of Theatre"
There were also unique opportunities for those whose calling was in the creative arts. Bill Cornforth and future Marshall County Schools educator Jack Lee were hired by the West Virginia Penitentiary to teach a variety of classes, a connection that came in handy when Hal was attempting to cast Show Boat by Jerome Kern and Oscar Hammerstein II.
"He didn't have enough men, and of course, we needed Stevedores," Katie recalled. "We needed more men for most of our shows than we usually had audition. Bill wondered if some of his students at the Pen could join the cast, and a plan to explore that option began."
This led to prisoners being cast in Show Boat and other plays for several years.
"Hal and I even took a Parcel Players show down to the prison, and we performed The Fourposter [by Jan de Hartog] there, if you can imagine. Somehow, one of our props, a Jack Daniels bottle filled with iced tea, disappeared."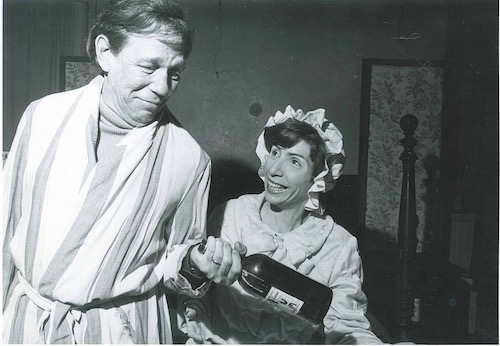 The program came to an end following the infamous January 1, 1986, prison riot. But, Katie said, it's an example of how their band of theatrical vagabonds, led by Hal, was always looking for creative ways in which to "sow the seeds of theatre."
"Unbelievable the Plays We Did"
"If you look at the book for the first 10 years of Towngate, it was unbelievable the plays we did," Katie said. "Light Up the Sky [by Moss Hart] may have been the first play before the Towngate was the Towngate. And one of the other plays we did early on was Uncle Vanya [by Anton Chekhov]."
There was a great deal of thinking that went into each season, she added.
"We wanted to appeal to a broad base, so we included comedies like those of Neil Simon, but at the same time we did Threepenny Opera and Company [by Stephen Sondheim and George Furth], Waltz of the Toreadors [by Jean Anouilh], Long Day's Journey into Night [by Eugene O'Neill] with Terry Gurley and Kathleen Holland, and Arthur Miller's Death of a Salesman. Hal always thought we needed to expose people to the best dramatic literature."
Katie said they stayed away from performing Shakespeare, partly because of the cast size and the stage size, which was smaller then. The Towngate stage wouldn't be expanded until the late 1980s.
"We did do Macbeth and Two Gentlemen of Verona, but we did the musical version of it. And we did The Time of Your Life [by William Saroyan] and a lot of zany comedies, along with something thought-provoking. In those days, we did seven performances, but then royalties went up and you had to adjust."
"More Fun Than Christmas"
The play that means the most to Katie is A Man for All Seasons by Robert Bolt. She had performed in the show while a student at Bethany, and in 1976, she had the opportunity to direct Hal in Towngate's production.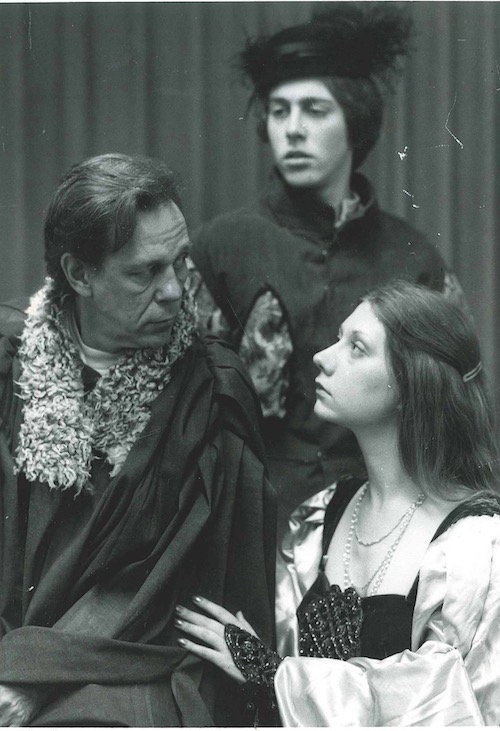 "You always have the plays that mean a lot to you and that's one for me," she said. "I saw the play as an Aristotelian tragedy with rich characters whose journeys are introduced and moved forward by the ever-changing persona of the Common Man. It is a story told with such beautiful language and imagery of a not-so-beautiful time in England where leaders were willing to compromise their values to curry favors from the king. There is a universality about the play, told so profoundly that it has stayed with me for 54 years."
She also has fond memories of performing in the comedy Noises Off by Michael Frayn.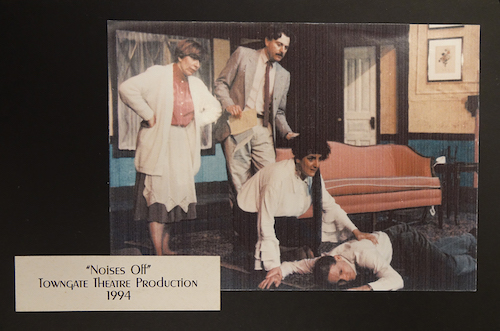 "Bill Cornforth directed the show, and he is a master of physical comedy. I color-coded my script in three colors, but it was more fun than Christmas in performance."
"Towngate is a Good Place"
In 2014, Katie gave her final performance on the Towngate stage, starring in And Miss Reardon Drinks a Little by Paul Zindel. She wasn't necessarily looking for a capstone on her acting career, especially one so different from her usual role.
"I wanted to do a show, I didn't know what kind of a show, and I always kind of thought, even after I retired, I would do shows. But the opportunity to do that play came along and it was very against type," Katie said.
She often played eccentric personalities or characters in the vein of Eleanor of Aquitaine or Mame.
"When we decided to do the play, I thought, 'Hmm. I'd like to do that.' The play did require some of that zany business, but there was also a lot of pain and ethos that you can't just phone in, and I knew I'd have the energy to do it."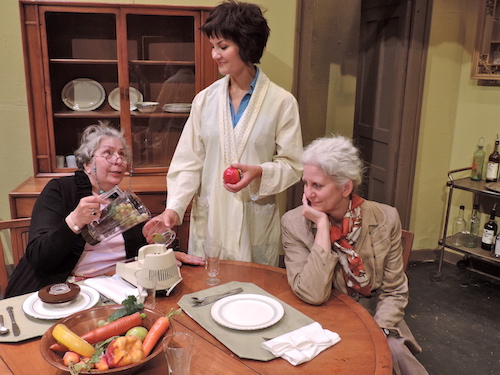 As she reflects on her four decades with Oglebay Institute and Towngate, Katie feels a sense of achievement over her contributions and pride in her successor, Tim Thompson.
"Towngate Theatre is such a haven. It's such a good place. We all needed an outlet back then, and people still need an outlet," she said. "I'm so excited about the leadership Tim has given. When you leave something, you don't want it to fall apart. I knew he was the right person to move the program forward and make it better and stronger."