Towngate is happy to bring to the community our production of Eugene O'Neill's Ah, Wilderness! A staple in American community theater, this comedic coming of age story offers a tender retrospective of small town family values, teenage growing pains and young love.
The show closes Towngate's 2016-17 season of community theater and will be staged May 12, 13, 14, 19 and 20.
Eugene O'Neill – A Master Playwright Born Into Theater
One of the greatest playwrights in American history, Eugene O'Neill wrote experimental and emotionally probing dramas, which also showed his contempt for the commercial realities of the theater world.
Born in a hotel on Broadway in 1888, O'Neill spent the first seven years of his life touring with his father's theater company. O'Neill then attended strict Catholic school before attending a private secular school in Connecticut. He attended Princeton University but dropped out before finishing his first year. Then, he enrolled in a short class in playwriting at Harvard, but this was the end of his formal education.
O'Neill spent years working primarily on one-act plays, and, in 1920, his play Beyond the Horizon won him the first of three Pulitzer Prizes. Throughout the years, he wrote many plays. Even during his later years, in failing health, he wrote two of the greatest works the American stage has ever seen, The Iceman Cometh and Long Day's Journey into Night.
Ah, Wilderness! At Towngate
O'Neill penned Ah, Wilderness! in a single month in 1932. A break from his typically psychological intense work, O'Neill wrote an unexpectedly warm portrayal of middle-class family life in large small-town America. Subtitled "A nostalgic comedy of the Ancient Days when Youth was Young, and Right was Right, and life was a wicked opportunity," O'Neill described Ah, Wilderness! as "a sort of wishing out loud. It is the way I would have liked my childhood to have been."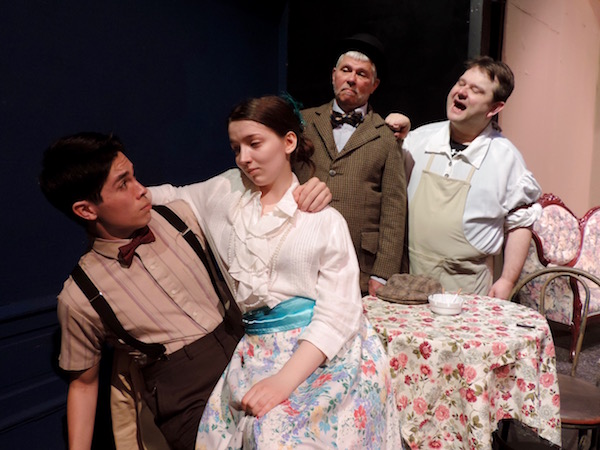 Ah, Wilderness! became one of O'Neill's greatest triumphs, and Towngate Theatre's production will show you why. Directed by Luke Hardt, Towngate's production will feel to some like a sentimental trip back to their childhood, while others may find themselves longing for a childhood they never had.
Cast members are: Rob Garrison, Kristin Seibert, Michael Wylie, Daniel Loh, Clare Seibert, Isaac Swoyer, Justin Swoyer, Mary Elizabeth Rupiah, Wayne McCord, Abbey Delk, Evan Oslund, Mary Prather, Kacie Craig, Jon J. Coffield and Walt Warren.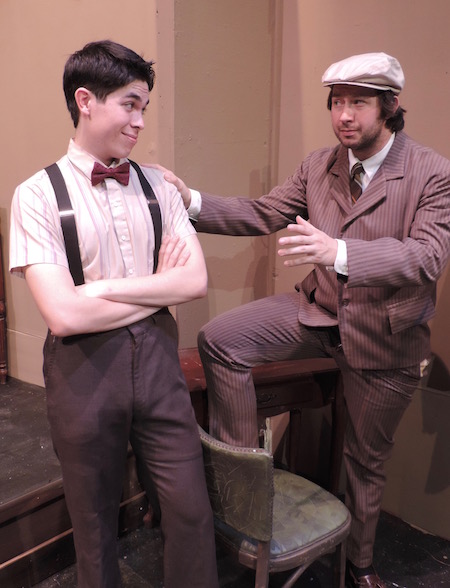 Get Tickets
Evening performances of Ah Wilderness! take place at 8 p.m. May 12, 13, 19 and 20. A matinee performance takes place at 3 p.m. May 14.
Purchase tickets in advance at OIonline.com or call 304-242-7700. You can buy tickets at the door, too. Admission is $12.50/$11 OI members.
Experience the magic of art onstage…
Towngate is the premiere venue for community theater in Wheeling.  Enjoy an intimate theater experience. Marvel at and applaud the talent of local actors. Experience a variety of though-provoking, heartwarming, comedic and historically significant works from renowned playwrights and talented newcomers. When watching a stage production, you are transported into a different world. Escape from reality and feel the energy created by sharing an intimate space with actors and fellow theatergoers.  Live action happens right before your eyes. There's no app for that!  Furthermore, theater is a social experience meant to be shared with one another. So, bring your family and friends and meet new friends, too. And, most importantly, support your local actors, directors, stage managers, set and costume designers. They spend months working to bring characters and stories to life. Their efforts produce amazing art time and time again.

Keeping the Community in Community Theater in Wheeling. . .
Towngate is a cornerstone of creative life in Wheeling and serves as an entertainment destination for residents of the Ohio Valley and beyond. People of all ages and backgrounds gather here to create and experience art onstage. Most of all, Towngate celebrates the essential power of theater to illuminate our common humanity.
In addition to community theater, Towngate also offers poetry and spoken word performances, children's theater, ballet, improvisational comedy and live music.  Towngate is also a single screen cinema and is home to the Wheeling Film Society. Changing art exhibitions are featured in The Gallery at Towngate, and children and adults can enroll in theater classes and workshops.