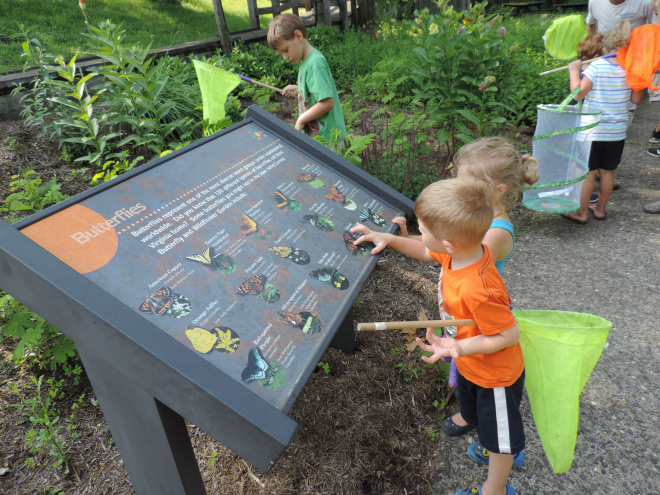 By Misty Klug
Oglebay Institute's Schrader Environmental Education Center is committed to bringing families together to learn about the natural world and piquing children's interests in science and nature.
One of the ways this mission is fulfilled is through year-round family and youth programs on a variety of topics that nurture the natural curiosity of children. Whether the topic is bird migration, hibernation, tree identification, insects, the water cycle, animal adaptations or native snakes and reptiles, programs are designed to help small children understand big concepts.
"We use creative teaching methods to help children conceptualize, understand and retain scientific information. The programs are fun but also help build early science skills and a lifelong appreciation of the natural world," Schrader Center director Alice Eastman explained.
She said that children must see, move and do in order to understand a concept. "You can't just explain it to them. They need to do something in order to remember it. Almost every class we have involves hands-on doing," she said.
For example, in the preschool program "From Bees to Butter" children wear costumes and hats to learn the different roles of honey bees in the hive– the nurse, the worker, the queen, the drone, etc. In "Fly with the Birds," kids play the "Great Migration Game," where they pretend to be a bird and follow a migration route on a gigantic outdoor "game board," learning about the patterns and challenges of migration and how choices made, weather and habitat can affect the fate of individual birds or an entire flock. Other programs take kids to the trails and the creek where they take soil temperature and test water. Eastman said the Schrader Center recently purchased an EnviroScape, a portable, scaled-down landform model that enables students to visually learn about the water cycle, watersheds and storm water runoff.
"These interpretive experiences initiate, reinforce and extend children's connection to nature. Engaging kids in inquiry-based learning improves problem solving skills and encourages natural discovery."
She added that in addition to the educational benefits, the Schrader's nature programs provide opportunities for children to socialize with other kids outside of a traditional classroom setting and for parents to meet and connect with other parents.
"The Schrader Center is a resource for families. We love helping families get outside, learn about nature and spend quality time together. We want kids to have fun and think it's cool to play outside, and we want parents to gain the know-how to encourage nature play at home."
The next family nature program on the schedule is "Mythbusting Nature: Outrageously Awesome Owls." It takes place from 1-3 p.m. Saturday, October 24 at the Schrader Center and explores the uncommon biology of owls and their amazing adaptations.
"Like other nocturnal animals, owls are often surrounded by myth and misconception. In this program, our naturalists will dispel myths about these 'spooky' creatures," Eastman explained.
She said participants will learn the importance of these animals on prey populations and dissect owl pellets to identify the bones of the small mammals and birds they eat. The program is designed for children in first grade and up. Children must be accompanied by an adult.
Another program titled "Moose Tails" takes place from 10-11:30 a.m. Saturday, November 7 and includes moose stories, nature lessons and hands-on crafts.
Oglebay Institute's Schrader Environmental Center is located in Oglebay Resort. For more information about the Center and its programs, call 304-242-6855 or visit www.oionline.com.