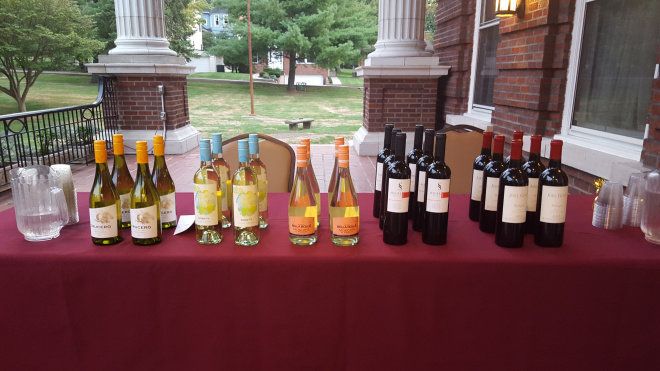 By Laura Jackson Roberts
For a blogger, there's really no finer assignment than a wine tasting, a confluence of culture and camaraderie, flavor and food. It's a celebration of senses, a sip of sultry, a demure evening with music and civility.
I know you're not buying this. I really just went there for the wine.
On Friday September 18, Oglebay Institute held "The Art of Wine" on the porch at the Stifel Fine Arts Center. As the OI blogger, it was my required duty to document this event. I left my husband with the kids and invited my father because he loves a fine grape, and I needed a night off.
6:30pm. Roger Hoard provides the music for the evening. The gathering is small and cozy, and as soon as we find our table, our wine arrives. "But I thought this was a wine tasting," I say, as the volunteer fills my glass. She chuckles and tells me to really take my time and savor this Dreaming Tree No.7 Pinot Grigio. So I do as I'm told—it'd be impossible not to enjoy this wine on a warm evening. I talk to an acquaintance who regularly attends these OI events. "It's nice," she says. "It's a date night for us. I relish not having to cook."
The ladies sitting next to us have been here before too. They echo the sentiment about having a night out. I see some couples and several small groups of friends and families.
6:55pm. Ye Olde Alpha provides the hors d'oeuvres. I pile an embarrassing portion of butternut squash risotto onto my plate and plop a roasted Thai Chile chicken leg on top of it. I toss on a few shrimp and a blob of Sriracha mayo for garnish. At the table, I'm introduced to a generous glass of Crucero Chardonnay. It's very dry and tasty.
6:56pm. I plow through the entire plate of hors d'oeuvres before I notice the card on the table telling me which food should be paired with each wine. Oh no—I've scarfed everything. I'll just have to go back for more and do it correctly. Rookie mistake. Piling my plate again, I note that the risotto goes with the Chardonnay. Once I slow down, I can taste the distinct flavors.
I talk with Rick Morgan, Stifel Fine Arts Center director. He tells me how much he enjoys these gatherings. In the past, the entertainment has been provided by a watercolor artist, and a comedian, though tonight's background music complements the mellow atmosphere perfectly. He suggests I attend the upcoming beer tasting-improv night (Art & Ale with Comedy, October 16), and implies that the combination will encourage anyone who wants to try something new. Later in October, the Stifel Fine Arts Center will host Tapas Tasting Featuring Chef Tom McCardle (10/23).
As I return to my seat, I see all of tonight's wines are available for purchase. If we like it, we can bring it home. I work my way through the rest of my Chardonnay.
7:26pm. Time to taste the reds. The volunteer tells me the Joel Gott Red Blend is a "sipping wine." I sip slowly and nibble the pork belly polenta with roasted red peppers. Nibble and sip. My dad implies that I'm a cheap date.
Time, undetermined. The second red is a Siegel Reserve Cabernet from Chile. This wine is my favorite; I love Chilean reds. It's dry and robust, and it's paired with a grilled sirloin with goat cheese and guasacaca. When the dessert wine arrives—a Belle Bolle Peach Moscato—I ask for just a splash. I don't usually care for sweet wines, but this is a truly lovely finish. I've made it.
There's an order form on the table, and all of the wine selections are reasonably priced, for those who like what they've tasted. I certainly do. I live nearby, and as I walk home, I review my notes in the street light. I see the phrases, "Keep on sipping," and "Why am I holding two forks?"
Clearly, I'm a shoo-in for the beer-comedy event.
For a calendar of events like the wine and beer tastings, please visit www.oionline.com.