The Ohio Valley is full of talented people who give their time to the arts and enrich our lives with their gifts. At Towngate Theatre, we are lucky to have a large number of these talented people share their creative skills with us. People of all ages and backgrounds gather here to create and experience art onstage.
Towngate's season opener, Michael Frayn's "Noises Off," brings just such talent.
Meghan Ross and Josh DeBeni are two of the actors in the fabulous cast of Towngate's production, opening this Friday, September 22.
Called "the funniest farce ever written," "Noises Off" presents a manic menagerie of itinerant actors rehearsing a flop called "Nothing's On." Doors slamming, on and offstage intrigue, and an errant herring all figure in the plot of this hilarious play.
Meghan, who plays the role of Poppy, said she auditioned for "Noises Off" even though she did not know much about the show.
"I had always heard mumblings about the awesomeness of this show, but had never seen it," she said. "When I found out that Towngate was putting it on, I forced my husband to watch the 1992 film version with me. It is now our family's favorite movie and the first show that my husband is excited to help me prepare for."
Meghan, a resident of Barton, OH, is a regular on the Towngate stage,  Recently, she has performed in "Snow White and the 7 Dwarfs," "Yes, Virginia, There is a Santa Claus" and "Charlotte's Web." She can also be seen in Towngate's Left of Centre Players and Mystery Theatre Unlimited.
This is Josh's second time performing in a production of "Noises Off."
"'Noises Off' was the first show I did in college, and it quickly became one of my favorite comedies," Josh said. "When I learned Towngate was producing it, I couldn't resist having another go at it."
Originally from Bridgeport, Ohio and a current resident of Wheeling, Josh was previously seen at Towngate as Prince Frederick in "Snow White and the 7 Dwarfs" and in Ohio University Eastern's production of "The Laramie Project." He is also a member of The Left of Centre Players and Mystery Theatre Unlimited.
Josh plays Tim Allgood, the overworked and high-strung Stage Manager. Josh said there are ways he is very much like his character.
"Tim cares a lot for the show, and he's willing to do anything to make it work, even if it means he has so go on in someone's place or get flowers for the actress about to walk out," Josh said.
"And while I may not go to that extent, I've always believed in doing whatever you can to keep the show going perfectly—even if it's obeying every little theater superstition I've heard of, just in case."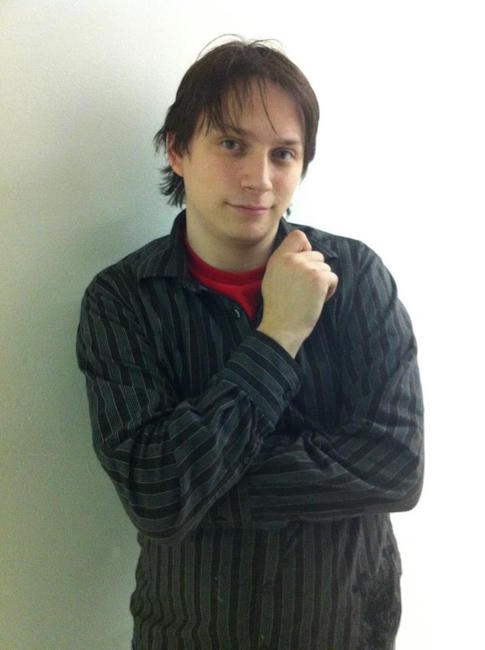 Josh said he likes the show as it is a window into an actor's nightmare.
"It's a good example of what all can go wrong and does go wrong in a play. It's a great show for theater people because they've been there, and it's a great show for general audiences as a window into our world."
TOWNGATE – A HOME AWAY FROM HOME
Both Meghan and Josh love acting at Towngate and view it as a second home.
"I've been working there on and off for the past ten years, and there's nowhere else where I feel completely free to express myself like I do at Towngate," Josh said. "And the people are always so friendly and so accepting, you go through hell and back with them and, by the end, you feel like one big dysfunctional family."
"I am so thankful to have stumbled upon Towngate," Meghan said. "It truly is a second family. And each new person to the group becomes a new family member. This theatre has always made me feel welcome and complete. I can't imagine my life without it!"
GET TICKETS AND SEE THE SHOW
You can see an evening performance of "Noises Off" at 8 p.m. September 22, 23, 29 & 30. Or, enjoy a matinee performance at 3 p.m. Sunday, September 24.
Purchase tickets for this show or any Towngate show in advance at www.oionline.com, by calling 304-242-7700, or at the door, if available.