By Laura Jackson Roberts
The call went out to the crafty people of the Ohio Valley at the end of summer: Flippin' for Fund(ds)! If you have an eye for style and a knack for reinvention, we invite you to put your talents to the test and your own spin on the popular HGTV show "Flea Market Flip" for a fundraiser for the Museums of Oglebay Institute. Use your creativity and some elbow grease to transform castoffs into pieces to be enjoyed and used.
It was a rallying cry for creatives to come together, to gather their materials and their wildest ideas, and create something amazing for the benefit of the Museums of Oglebay Institute. Flippers came out of the woodwork, those who had an instinct for this kind of work and those who had never attempted such a transformation.
As you read this, they continue to prepare their pieces for the event, which will take place on Sunday, September 24. Once finished, each piece will be on display and guests will vote on the best "flip." All pieces will be for sale.
I admit that patience isn't one of my virtues. While I should have just waited for the event and the big unveiling, I got ants in my pants and called up two of the flippers, Maren Presutti and Jody Geese. I annoyed them for two weeks with emails, texts, and phone calls. Can I come see your progress, I asked. I made myself so obnoxious that eventually they both, quite graciously, agreed to let me barge into their homes and look at what they were working on.
Presutti Transforms Oglebay Pool Bench
"I work best under pressure," Maren Presutti told me when I showed up at her house in Oglebay. She and her dog, Lucy, welcomed me to the porch where she was working on her piece. As soon as I saw it, I recognized it. Anyone who grew up here would know an Oglebay pool bench at first glance. We spent many a youthful summer day upon them, didn't we? Oglebay has renovated the pool and the benches have been replaced with modern lounge chairs. Maren wanted this piece of Oglebay history to find use again. The question was what to do with it.
"I don't want it to look perfect," she said. "I want it to stay in its historical realm." That meant not stripping and refinishing the bench, which has seen better days. She painted part of the top a pleasant blue and purchased castors for the bottom. I asked her what she intended for the finished product.
"You can use it as a coffee table," she told me. "Really, that's what I would use it as. I would set food and drinks on it. It's a useful surface piece. Anything I do is usually useful and multipurpose. I'm not one to create something you can only use one way."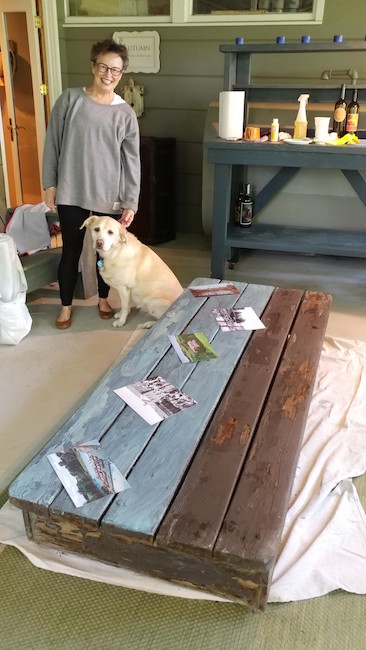 The coolest thing about the piece will be the surface. Maren has obtained several old timey photos of Oglebay pool from decades past. Some color, some black and white. She'll place them on the surface of the bench, modge-podge them, and seal them in place with a polyurethane finish. She suggested that the buyer might want to use a piece of glass to cover the surface but that it wouldn't be a necessity—it will depend on the bench's final use.
Hands-On Childhood Gives An Artistic Edge
When I asked her, with envy, where she got this neat idea, she said, "I come up with these things in my head. "I'm a teacher by trade—physical education and health. I went into interior design. I think I've always done that but never thought about it [as a career]." Maren learned these skills from her uncles, who built the family houses. She and the other children in the family helped as apprentices.
"We learned skills by watching them," she said. Her hands-on childhood gave her an artistic edge and she said she's glad to be carrying on the creative tradition.
Old Trunk Becomes A Bar on Wheels
Jody Geese couldn't escape my nosiness, either. She and her husband, Randy, run the Belmont and Wheeling Housing Authorities, respectively. I dropped by her house on a rainy day as they worked on her piece for the event. From the back, it's old trunk. The inside, however, reveals the surprise: it's a bar on wheels. The finished piece will store wine and martini glasses, bottles, shakers…everything you could want for entertaining.
"Are you crafty?" I asked. She laughed.
"Pinterest," she said. "I'd like to say it was my own idea, but it wasn't." She does, however, have an edge. "Randy can do anything, so if I have an idea, it works."
Randy, who was spray painting screws on the lawn, waved. But Jody did all the intensive stripping labor years ago when she bought the trunk.

From Gathering Dust to Raising Funds
"The trunk itself I found in the seventies. At that point in time you could still grab an antique. It was broken and it was probably twenty bucks. I brought it home and started stripping it and playing with it, and I used it for a coffee table for years. When I quit doing that it was relegated to the basement where it's been for 25 years or so."
The Geeses live on Wheeling creek, and the trunk sat and gathered dust until Oglebay Institute invited them to participate in the event. "It's one flood from being destroyed," Jody said. "We don't have room. It's a good cause. I was thrilled."
She decided to leave the original hardware in place and to go with the rustic look. The trunk bears an interesting tag: Etz & Seifert, Wheeling W.VA. The store that sold the trunk, Etz Luggage on Main Street, was established in 1893. This little bar cart has seen some history.
As I watched, Jody assessed her progress. She was tinkering with the lid, which on its side became a door, and wondered how she would make space for bottles.
"I was worried because I'm not…," She looked at Randy, who laughed. "Well, I'm pretty good at directing." The Geese piece was a team effort.
Ultimately, Jody did figure out how to make space for bottles and shakers on the door of the cart. I've seen the finished piece, and, like Maren Presutti's entry, it's awesome.
Trust me, you're going to want to see them too.
Go & See
"Flippin' for Fun(ds)!" takes place from 1 – 4 p.m. Sunday, September 24 at the Mansion Museum. Admission is free. You can browse, shop, get ideas to take home and vote for "Fan Favorite" and "Best Interpretation of a Design Category," too. Ballots cost $1 each.
For more information, visit www.oionline.com or call 304-242-7272.