High School Students Use Poetry to Elevate Quality of Life for People Suffering from Memory Loss
Through a project presented by Oglebay Institute, students at Wheeling Catholic Central High School and Triadelphia Middle School learned to use poetry to awaken the minds and spirits of those living with memory loss.
New York-based poet Gary Glazner, founder of the internationally acclaimed Alzheimer's Poetry Project (APP), instructed students and prepared them to conduct an outreach program with residents at Wheeling Hospital's Continuous Care Center and Elmhurst, The House of Friendship.
Built around the concepts of creative aging and person-centered care, Glazner's curriculum uses humor, joy and the power of the spoken word to trigger memories, improve happiness, reduce isolation and provide social and intellectual stimulation.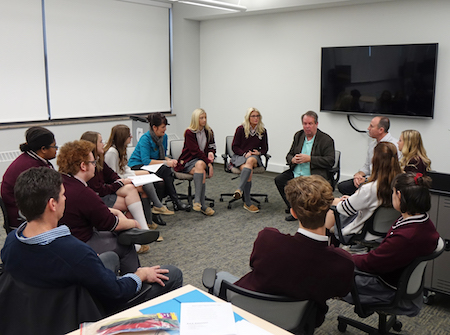 Students studied Glazner's curriculum and trained with him directly during in-school workshops and field trips Tuesday, February 4 to Wheeling Hospital and Elmhurst, where they recited and created poetry with residents.
Presence: An Exploration of Aging Through Art
The outreach program is part of a new art exhibition and educational series that opens March 5 at Oglebay Institute's Stifel Fine Arts Center. "Presence: An Exploration of Aging through Art" examines the universal, yet intensely personal, experience of growing old.
Through painting, photography, sculpture, written word and mixed media, artists from throughout the United States explore a broad range of perspectives–from thriving lifestyles to the harsher realities of aging. Additionally, a series of educational programs explore the various facets of aging and how art can play a role in that experience.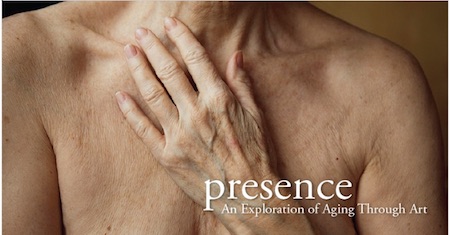 The exhibit and programs are sponsored by The Health Plan, Wheeling Hospital and United Bank with additional support provided by the Home Support Foundation.
Multigenerational Approach Strengthens the Community
Michael McKowen, curator of exhibitions at OI's Stifel Fine Arts Center, said Glazner's use of poetry in a therapeutic way and his multigenerational approach produce benefits for elders, young people and the community at large.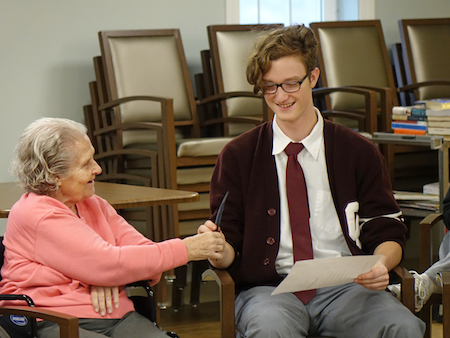 "The Alzheimer's Poetry Project provides creative therapy for those struggling with Alzheimer's and dementia and also engages young students in poetry and outreach with older generations. Moments of bonding between generations provide opportunities for young people to develop a greater understanding of life and what it is to be human. This can only strengthen and bond a community."

APP Reaches People Worldwide
The National Endowment for the Arts listed Glazner's work as a "best practice." NBC's "Today" show, NPR's "All Things Considered" and the PBS NewsHour series, "Where Poetry Lives" have featured segments on Glazner's work. To date, the APP has held programming in 26 states and internationally in Australia, Canada, England, Germany, Poland and South Korea, serving more than 35,000 people living with dementia.
Both outreach programs were documented through photography and video, which will on display in the "Presence" exhibition along with written reflections by the students.

Partnerships
Oglebay Institute president Danielle McCracken said the community is at the heart of the organization's mission.
"We are constantly paying attention to relevant topics that affect our residents and asking ourselves how can we use our programs to enhance the lives of those we serve," she said. "We are thrilled to present the exhibit and educational outreach programs because not only will we showcase incredible artwork from around the country but also provide platforms where people can connect with each other and find support and information around the topic of aging.
We are very grateful for the generous support of our sponsors for helping us to bring this inspiring exhibition to residents of the Ohio Valley."
For More Information
For more information on "Presence: An Exploration of Aging Through Art," visit www.OIonline.com/presence.
About Oglebay Institute's Stifel Fine Arts Center
Part of the non-profit Oglebay Institute and housed in the historic Edemar Mansion in Wheeling, the Stifel Fine Arts Center is a public arts center with galleries, classrooms and performance space. It serves as a gathering place for artists, emerging artists, art lovers, students, educators and families – connecting and engaging the community in creative pursuits.