By Laura Jackson Roberts
On a day devoted to working with Alzheimer's and dementia patients, it felt strange to begin in a high school classroom. But that's exactly how poet Gary Glazner planned it. Glazner is the founder of the Alzheimer's Poetry Project, an organization that uses poetry and spoken word to connect with people living with memory impairments. He does this during visits to skilled care facilities. On February 4, Glazner met with students from Wheeling Central Catholic High School to teach them about his program, as they were going to participate in his outreach program at Wheeling Hospital's Continuous Care Center.
I went along as an observer. The experience felt especially personal to me because I lost my grandmother to Alzheimer's years ago.  I expected to see familiar expressions of confusion and disorientation, withdrawn and quiet faces, people who needed to be pulled out of their shells. What I saw surprised me.
Preparing to Engage
The Central students chosen to participate in Glazner's program were excited to be there, but they were also apprehensive. It's intimidating to stand up in front of a group and perform, even with guidance. They didn't know how they would be received or what to expect. Glazner started off simply, with a call and response exercise. He read a line of poetry—a classic from Byron—and they repeated it back to him. This is the basis of engagement and how a session begins. Then he taught the students how to present poetry to the group they'd be meeting, how to hold and move patients' hands and offer sensory stimulation with things like feathers during a poem about a bird, for example.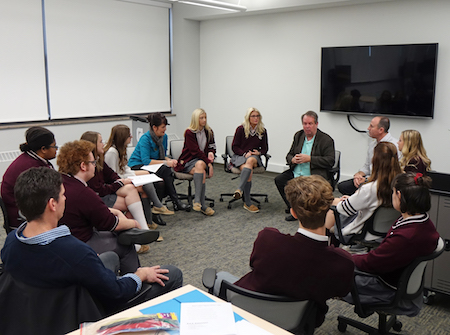 Though the students were young, several of them had experience with memory loss in a family member. As adolescents tend to be, many of them were reluctant to use a loud voice or let go their inhibitions, but with practice, they grew comfortable with the training.
Still, they felt nervous. And then Glazner recalled a question he's heard from older folks before. When they know students are coming, seniors often ask him, "Will they like us?" The apprehension, the students realized, was on both sides.
Being Brave, Being Bold
Despite the gray day, the Wheeling Hospital Continuous Care Center was alive with activity. A large group of seniors assembled eagerly in the meeting room, and the students sat amidst them. Glazner began with a poem, and from there, the excitement began to grow. Though reluctant, the students stood up and led the seniors in call and response poems, acting out the physical motions, modulating voice and tone and volume for effect.
After only a few minutes, tension disappeared. Everyone got into a rhythm. The students practiced what they'd learned that morning, engaging one on one with residents. One student sang a verse beautifully. Laughter echoed down the hallways as Glazner himself got up to join care center staff in an interpretive bird dance.

Creating Poetry Together
Here's where it got particularly interesting: Glazner finishes his programs with an audience-generated poem. Not only does this encourage participation and merriment, but it also serves as a way for seniors to access memories and images.
"What comes to mind when you hear the word 'bird'?" Glazner asked. He went around the room, farming for answers. Flying. Freedom. Worms. My childhood parakeet. The seniors smiled as they went back in their minds, sharing stories with the group while Glazner wrote their recollections down in his notebook. The final poem, when he presented it, incorporated each feeling and memory, and he injected humor and theatrics as he read it while, again, the interpretive bird dancers acted it out in the center of the circle.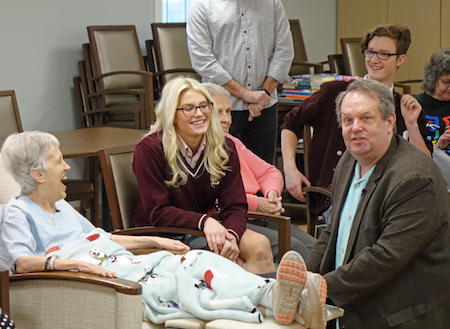 Not a soul appeared withdrawn, quiet, or disoriented. They were fully engaged, clapping and calling out and laughing with the students. And when it was over, the room was charged with excitement and joy.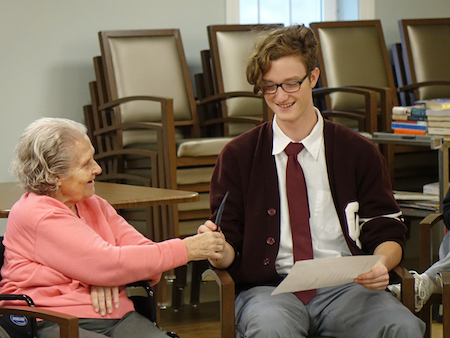 "That was really nice," one resident said. Another said, "I wish we could do this every day!"
I was impressed by the Central students. They showed poise and attentiveness. And I wondered what the afternoon would be like. High school students are nearing the end of their academic tenure, but our next stop was Triadelphia Junior High School. How would middle schoolers react to Glazner's program, and how would they do with seniors?
Learning from Middle Schoolers
I found out soon enough. The group at Triadelphia had been picked specifically for this program, and they were indeed more reluctant in the training session. Glazner began with his call and response exercises again and then moved on to the how-to of poem recitation.
The kids broke into groups, and each one had an adult. This little bit of guidance and support really encouraged them. It was tough to get them to speak loudly, at first, but then a student named Oliver tapped into his angry side and read Joyce Kilmer's famous poem, "Tree" (I think that I shall never see a poem as lovely as a tree) in a hilarious rage. It jazzed the group up enough that they felt ready to go.
Their destination was Elmhurst House of Friendship, just down the road, and as it had earlier, the room filled with residents eager to meet them. Glazner led the residents through the now-familiar exercises, and the students opened up even more quickly than their high school counterparts had done. Oliver got a chance to share his furious tree poem, and for the group composition, Glazner focused on the Stifel family's history of textile manufacturing. He brought swatches of old patterns for the residents to touch and consider.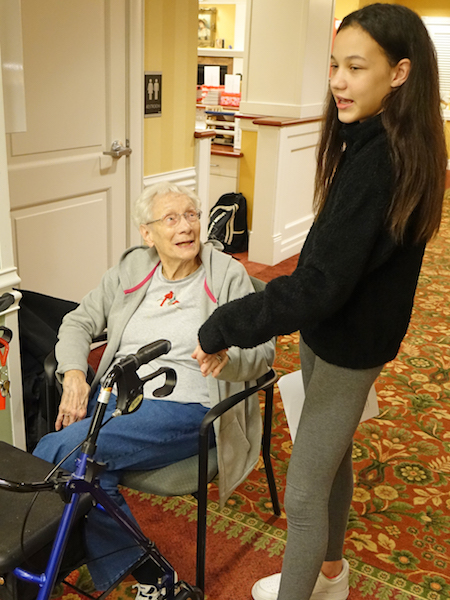 The final poem, when it emerged in Glazner's wacky, organic fashion, contained lines like blue as a shoe and ugly as a prune, and culminated in a very West Virginia inquiry: Roads, why don't you even out? It made no sense and it made perfect sense. Moreover, it was funny and fun, and it was as engaging for the seniors as it was for the kids.
A Moment of Connection
Halfway through the program, a quiet resident slipped into the room. He sat beside a young student just as Glazner instructed everyone to take the hand of the person next to them for the next poem. Senior and adolescent gripped each other's fingers awkwardly, exchanging a brief glance, as you do with a stranger. I watched the interaction, and in that moment, eye to eye, I saw understanding between them. It bridged the age gap, and crossed boundaries of experience and belief systems and life lessons still to be learned. It lasted only for a second, but it was there: the purpose behind the exercise, behind Glazner's enthusiasm and the students' preparation.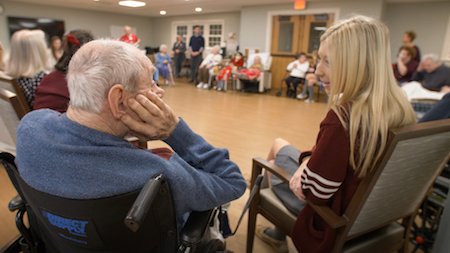 As young people, they couldn't have seen the bigger picture, and in truth, if I hadn't witnessed that moment, it might have escaped me, too. But I saw it. The reason Gary Glazner has dedicated his life to this project appeared right in front of me.
Connection
Probably, the seniors held a deeper appreciation for the program than the students could have, because this is the nature of wisdom. We have to earn it, and that takes a while. But I was proud of the young people in our community. They were open and aware, kind and caring. They tried hard even when they were uncomfortable and nervous. And they took from the program just as much as the seniors did.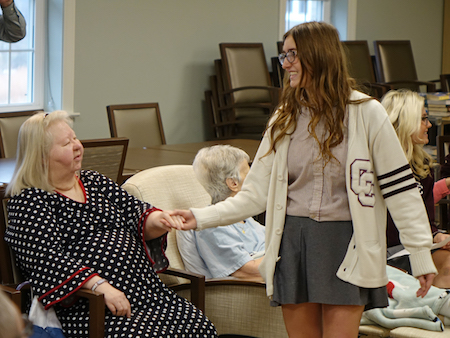 When it was over, as everyone talked and laughed, I found myself thinking back to my grandmother as she began to slip away from us. Though I'm sad that we didn't know how to engage her in this miraculous way, there's hope in Gary Glazner's efforts, and because of them, there's hope here in our community, where such caring people reside.
Learn More
Click here to watch a video of Glazner and the students with residents at Wheeling Hospital's Continuous Care Center and Elmhurst House of Friendship.
"Presence: An Exploration of Aging Through Art"
The poetry project with Gary Glazner was conducted in conjunction with Oglebay Institute's latest art exhibition. "Presence: An Exploration of Aging Through Art" examines the universal, yet intensely personal, experience of growing old and is on display at OI's Stifel Fine Arts Center through April 25.
Through painting, photography, sculpture, written word and mixed media, artists from throughout the United States explore a broad range of perspectives–from thriving lifestyles to the harsher realities of aging. "Presence" provides insight into the physical and mental aging process, challenges us to rethink how we perceive age, highlights the therapeutic benefits of the creative process and examines the role of elders in our society.
A series of learning and community-building events take place in conjunction with the art exhibition. Programs explore the various facets of aging and how art can play a role in that experience. View schedule.
Thank You, Sponsors!
"Presence" is sponsored by The Health Plan, Wheeling Hospital and United Bank with additional support provided by the Home Support Foundation.