Wilson Lodge in Oglebay Resort in Wheeling, West Virginia will be transformed into an antiques marketplace April 6-8.  Oglebay Institute presents its 64th Annual Antiques Show and Sale.
This annual event is the largest and longest running antiques show in West Virginia and among the oldest shows nationwide. More than 50 dealers from 10 states participate in the show.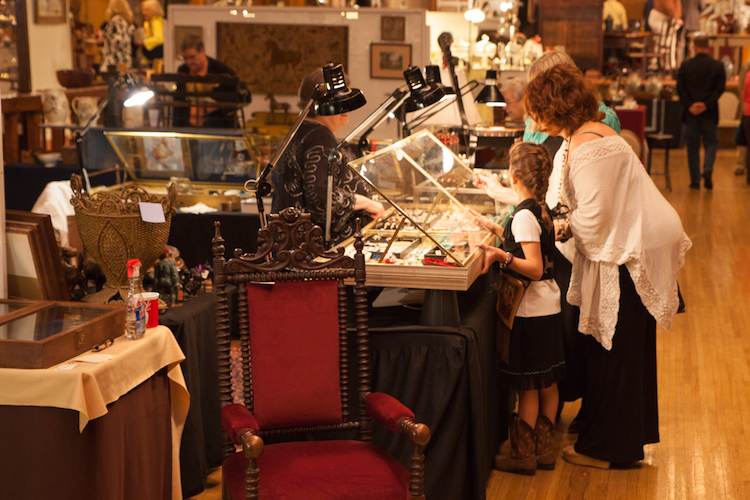 Browse thousands of items including American, English, Primitive and Period Furniture. You'll find American Art, Folk Art, Western Art. Plenty of pottery, quilts, jewelry, rugs and baskets will be on display along with pewter, silver, glass, china, books and endless decorative items for both the period and modern home.
Get "the Cream of the Crop"
Oglebay Institute director of museums Christin Byrum said only the most reputable dealers are invited, and buyers can rest assured they are getting "the cream of the crop."
The show offers quality merchandise, a diverse inventory with items for every budget and programs that appeal to both experienced collectors and novice antiques buyers.
Expert Dealers Share Their Knowledge
The OI show is not only a shopping experience but also a learning experience. Dealers share their knowledge with patrons. Special learning opportunities take place throughout the weekend, too.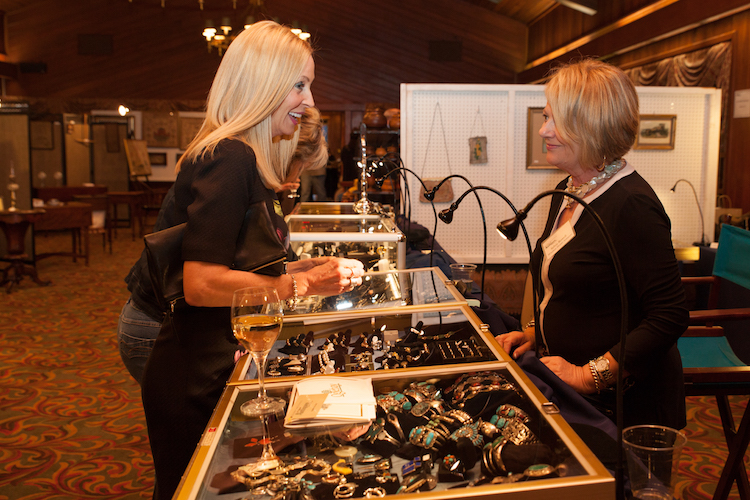 Examples include Saturday afternoon Dealer Booth Talks, special guided show tours with dealers and glass tours that take place Saturday morning before the show opens.
You'll speak directly with dealers. You can shake hands and converse with talkative experts who are passionate about antiques in general as well as their particular areas of interest.  You'll get questions answered and learn the history and significance of the items in the show.
Friday Night Social Events!
The Antiques Show and Sale is also a social event.  The Friday night cocktail party and dessert preview are always popular and never disappoint. The cocktail party takes place in Oglebay Institute's shimmering Glass Museum. Guests enjoy great food and an open bar and get to roam the Museums' 3000 examples of historic Wheeling glass.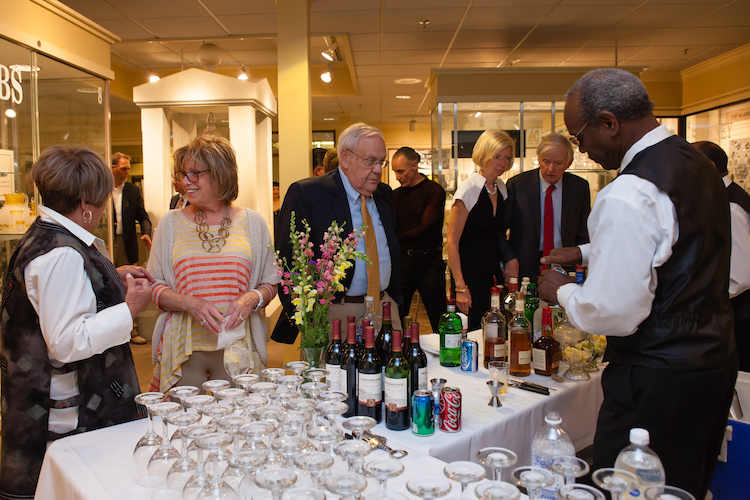 Limos then drive patrons to Wilson Lodge, about a mile away, where they get a first-peek at the show during the Dessert Preview Party and enjoy an enticing array of cakes, cookies, pies, candy and a cash bar. Patrons can attend both events ($60) or purchase tickets for the Dessert Preview Party only for $30. Ticket prices include admission to the show all weekend long.
To purchase tickets for Friday night events call 304-242-7272.   Tickets for the Dessert Party are also available at the door.

Thank You Volunteers!
Byrum credits the show's success and longevity to the volunteer Committee of the Museums of Oglebay Institute. Helping with this show is a months-long affair for the committee members. They work closely with the show manager as well as supervise all the activities associated with the show. These dedicated volunteers take care of everything from staffing the show to coordinating lectures and tours to overseeing the patron events.
Thank You Sponsors!
Event sponsor Joe R. Pyle, of Joe R. Pyle Complete Auction and Realty Service of Mount Morris, PA, said the Oglebay Institute show is a "must-attend" event for those in the antiques industry and is one of the best shows in the region.
"We are very excited to partner with an event of this caliber. With such a charming venue and quality dealers, this show is an extraordinary experience for antiques enthusiasts," he said.
Event sponsor Mary Beth Hughes, of Hughes Design and Gift Gallery of Wheeling, agrees.  She said she has attended many of the large metropolitan shows, and the Oglebay Institute show rivals those in quality of merchandise and expertise of dealers.
Show Hours
Oglebay Institute's 64th Annual Antiques Show and Sale opens Friday, April 6 with special patron events. (Don't miss the Dessert Party from 7-10pm.) General show hours are 10 a.m. – 5 p.m. Saturday, April 7 and 11 a.m. – 4 p.m. Sunday, April 8. General show admission is just $12.

Stay the Weekend! Lodging Packages Available
Oglebay offers special Antiques Show lodging packages at Wilson Lodge. Enjoy the picturesque estate that was summer retreat of Cleveland industrialist Earl W. Oglebay. Today, Oglebay offers 1,700 acres of year-round recreational opportunities and excellent overnight accommodations and has retained its natural beauty.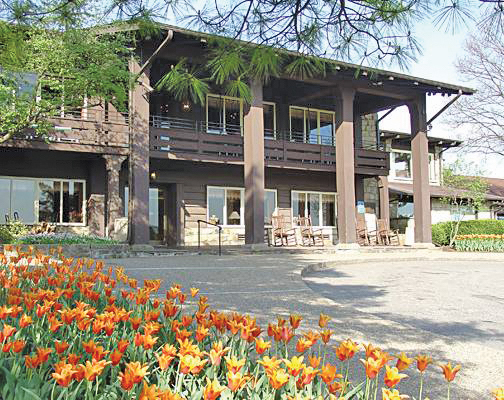 2-Night Overnight Packages start at $309 and include lodging on Friday, April 6 and Saturday, April 7, admission to the Dessert Party on Friday, 10% discount on lunch and dinner each day, Mountaineer Breakfast Buffet on Saturday and Sunday, daily admission to the Antiques Show and Sale and admission to Oglebay Institute's Mansion Museum.
***Package rate is priced per room, based on double occupancy. Package rate is based on use of Kline & Byrd Wing Rooms. Upgrades to West Wing or Lakeside are available for an additional $30 per room, per night. Package valid 4/6/18 – 4/8/18. Package price does not include applicable taxes, fees or gratuities.
Make reservations for the overnight package by calling 800-624-6988 or book online.