Oglebay Institute continues its Art and Ale craft beer series at 6:30 p.m. Friday, May 5 at its Stifel Fine Arts Center in Wheeling. The event features beer and food pairings from Wheeling Brewing Company.  Guests can also view the art exhibit on display in the Hart Galleries.
Selections Include:
Weelunk Blonde Ale paired with Detox Salad
4.8% ABV 16 IBUs
A refreshingly light-bodied blonde ale, with a hint of fruity aroma and light citrus flavor. Honey, and wheat malts, paired with Cascade and Saaz hops provide a pleasant experience, welcomed to the city named as "The Place of the Skull."
McColloch's Wheat Ale paired with Sweet Brisket and Berries
5.0% ABV 22 IBUs
An American Wheat Ale that is light in body with a crisp, citrus finish. Brewed with pale and wheat malts with hints of Cascade & Amarillo hops. You do not need to be as daring as Samuel McColloch and his horse to enjoy this brew.
Old Reymann's Amber Ale paired with Beef Tenderloin
6.4% ABV 31 IBUs
This gold-burnished American Amber Ale is mildly sweet, mildly toasty, and characterized by a supremely gentle bite. Inspired by one of the most famous of Wheeling's many historic breweries, this ale is a tribute to easy-drinking.
Moon Dog I.P.A.  paired with Smoke Salmon Lettuce Wraps
6.2% ABV 60 IBUs
Named after local hero and icon Charles Waldrum, who is always pedaling his bike to help out! Our India Pale Ale has a slight sweetness and a nice balance with three hop varieties, creating bitterness, flavor, and aroma.
Nail City Porter paired with Short Bread
6.4% ABV 40 IBUs
A dark ale with a complex and toasty character achieved through the use of chocolate, caramel malts, and roasted barley . Brewed in tribute to Wheeling's famous steel-production industry, this beer is the working man's best friend
About Wheeling Brewing Company
Wheeling Brewing Company is a micro-brewpub located in Wheeling's historic Centre Market district in downtown Wheeling, WV. Founded in 2014, Wheeling Brewing Company was created out of a passion to lead in the revitalization of downtown Wheeling and to resurrect a rich history of micro-brewing in the area.
Featuring award winning beer, sophisticated wine and exquisite food in an urban setting, Wheeling Brewing Company strives to partner with local businesses and farmers to source food and beer creations.
Soak Up the Atmosphere.
Craft beer events take place in the elegant, yet intimate, splendor of one of Wheeling's grand properties.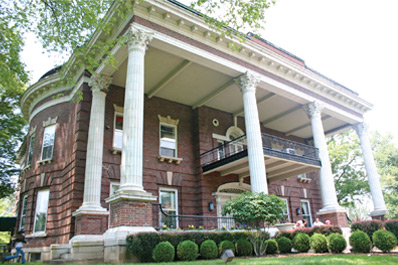 The 100-year-old Stifel Mansion is the former home of one of Wheeling's most prominent families and is also listed on the National Register of Historic Places. While strolling through the historic home,  marvel at the stained glass windows, grand central staircase, marble floors and the majestic fireplace in the formal living room. During warm weather, stroll through the gardens. You can also view the art on display in the gallery.  Most of all, unwind and have fun.
Get Tickets
Admission to the event is $30 and includes all beverages, buffet of foods and the show. Members of Oglebay Institute receive a discount. Purchase tickets online or call 304-242-7700.