WHEELING, W.Va. (January 21, 2016)- – After a five-year hiatus, Mountain Moon Coffeehouse returns to Wheeling, bringing some of the best bluegrass and Americana music the region has to offer. The venue will once again be Oglebay Institute's Stifel Fine Arts Center, located at 1330 National Road, Wheeling. The first show takes place Saturday, February 6 and will feature local bluegrass stalwarts, Cabin Fever String Band with Slaid Boone opening in support.
Cabin Fever String Band is not new to Mountain Moon Coffeehouse; in fact, this show marks the band's 26th performance at this series. Formed in 1986, Cabin Fever has taken its distinctive blend of old-time country, gospel and bluegrass music to audiences throughout the tri-state region and has performed in a variety of settings including square dances, festivals, fairs, coffeehouses, churches and concerts.
Age old ballads, fiddle tunes from their native state of West Virginia and the southern Appalachian region, sentimental songs from the days of early recorded country music, spiritual songs, traditional bluegrass favorites, and even the occasional blues, jug band, or Celtic tune all are represented in an interesting repertoire that includes both commonly known and obscure material.
The band's electric mix of styles, all played and sung with an undeniable respect for the traditions from which the music came, has become a hallmark of the group. In a review of the band's first recording in Bluegrass Unlimited, David J. McCarty praised the band for "…presenting the music in its original unvarnished state."
Band members include Scott Black on fiddle, vocals and dance; Richard Pollack on claw hammer banjo, fiddle, bass, and vocals; Matt Hines on acoustic string bass and banjo; Jim Simpson on mandolin and vocals and Bob Heyer on guitar and vocals.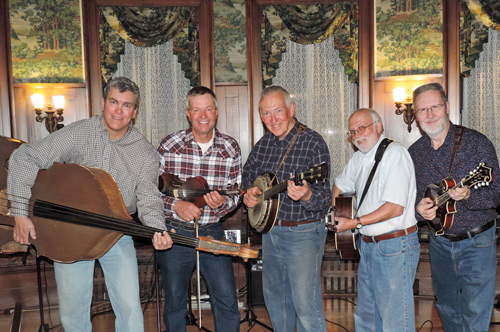 Opening for Cabin Fever String Band will be Americana/Australiana artist Slaid Boone, a former member of Clan Boone, Mason Jar and Dogbreath. Slaid currently plays mandolin with Big Wheeling Crick Grass.
Doors open at 7:00pm with music beginning at 7:30. Admission is $15/$12.50 (OI Members) and includes non-alcoholic beverages and light snacks. Tickets are available by calling (304) 242-6855 or visiting www.oionline.com
Other upcoming Mountain Moon performances include: The Jakob's Ferry Stragglers on March 5, Herb & Hanson April 2 and Marsh Wheeling String Band May 7.