WHEELING, W.Va. (January 19, 2016)- – Oglebay Institute opened its annual Regional High School Student Art Exhibition January 14 with a public reception and awards ceremony at its Stifel Fine Arts Center. Several students received cash prizes for their work, and one area student was awarded a full tuition scholarship to West Virginia University.
The Regional Student Art Exhibit provides high school students the opportunity to display their work in a professional gallery, see what other students are doing in the world of art and collaborate and get feedback from art teachers, college professors and other students from throughout the region.  The show is part of Oglebay Institute's art exhibition season, which is sponsored by United Bank.
For the past three years, West Virginia University's School of Art and Design has offered a four-year, full-tuition scholarship to one student artist participating in OI's Regional Student Art Show.  Reagan Ricer of Union Local High School is the 2016 scholarship recipient, and accepted the award from Dr. Teri Giobbia, art education coordinator at WVU, during the January 14 awards ceremony.
West Liberty University also awarded scholarships to three students in conjunction with the show. Brianna Stewart from Union Local High School was awarded a 4,000 scholarship along with a housing waiver. Katherine Stamper from Wheeling Park High School and Erica Leasure of Cameron High School were offered 1,000 scholarship awards.
The Regional Student Art Show is in its 27th year and saw a record number of entries this year, which, OI director of art education Brad Johnson said, "is a reflection of the quality art instruction taking place in area schools and a testament to OI's commitment to fostering young talent."
Johnson said the 2016 show features 320 pieces (up from 206 pieces last year) from 139 students from 12 high schools.
"Every inch of wall space in the gallery is covered with artwork.  We even had to add temporary panels in the upstairs gallery space to accommodate the overwhelming number of pieces," he said.
The annual Regional Student Art Exhibit is open to students in grades 9-12 within a 50-mile radius of Wheeling.  Schools participating in the 2016 show represent five counties and three states and include: Avella High School, Bridgeport High School, River High School, Wheeling Park High School, Buckeye Local High School, Martins Ferry High School, Linsly, Wheeling Catholic Central, John Marshal High School, Cameron High School, Bellaire High School and Union Local High School.
Kelly Lumbatis juried the show, and prizes were awarded for Best of Show and to the top three students in four categories – painting, photography, drawing and 3-D.  Four students received honorable mentions. Lumbatis is a graduate of West Liberty University, is an art educator for Brooke County Schools and an adjunct instructor and summer camp counselor at the Stifel Fine Arts Center.
Award winners are as follows:
Best of Show: Danielle Merritt of Union Local.
Painting:  First place, Allison Ignacak, Bridgeport High School; second place, Brianna Stewart of Union Local High School; third place, Danielle Dawson of Bridgeport.
Drawing: First place, Alyssa Morrison, Union Local High School; second place Reagan Ricer of Union Local; third place, Ivory McCammon of Union Local.
Photography: First place, Holly Greene of Wheeling Park; second place, Jack Stryker of Wheeling Central; third place, Chase Harler of Wheeling Central.
3-D: First place, Hannah Lingenfelter, Buckeye Local; second place, Sarah Beth Doncals of Linsly; third place, Morgan Wiedebush of John Marshall.
Honorable mentions:  Summer Emory of Union Local; Samantha Williams of Union Local; Jimmie Carroll of Avella High School and Sarah Coleman of Wheeling Park.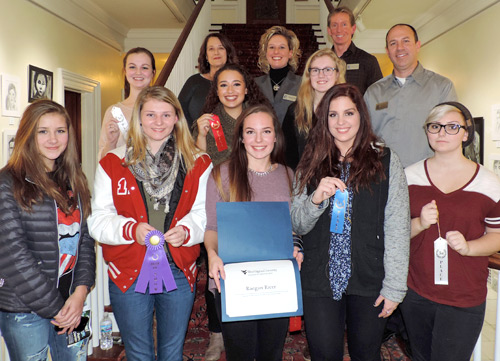 Students attending the opening reception also had an opportunity to participate in the first "Capture" photo contest in conjunction with the exhibit.  Students were asked to view and capture the mood of the exhibit, take photos on their mobile devices around the theme "Breaking Away" and share their images in the Instagram community with a the hashtag #capturephotocontest.
Johnson said students were enthusiastic about this new aspect of the exhibit, which provides a way for students to engage in social media while actively promoting the visual arts.
"Through improved technology, we now have the ability to capture the moments around us, edit and publish for an audience almost instantaneously," he explained. "The purpose of the "Capture" photo contest is to recognize those photographers who have a keen eye for the stories unfolding around them and who overcome situational obstacles and limited equipment to capture the moments that we might have missed or want to remember forever."
Johnson said he would love to see even more schools represented in next year's Regional Student Art Show and encourages students and teacher to reach out to him for more information. He can be reached at the Stifel Fine Arts Center at 304-242-7700.
The show can be viewed free of charge now through February 26 at the Stifel Fine Arts Center.  Hours are 9 a.m. to 5 p.m. Monday through Friday and 10 a.m.- 4 p.m. Saturdays. Evening hours are dependent of classes and special events taking place.