WHEELING, W.Va. (January 19, 2016)— The captivating children's tale of friendship between a spider and a pig comes to life at Oglebay Institute's Towngate Theatre. Charlotte's Web, a play adapted from the original novel by E.B. White, takes the stage January 29, 30 and 31 and February 5 and 6.
All children attending a performance of Charlotte's Web will receive a keepsake photograph and have an opportunity to go on stage and meet the cast after the show.  Children attending the January 30 matinee performance have the option of staying afterward for a special "County Fair," where they can join Wilbur, Charlotte, Fern and the barnyard gang for a variety of themed-activities including square dancing, face painting and fair games.  (Separate admission is charged for the "County Fair," and advance reservations are required.)
The Children's Literature Association named Charlotte's Web the best American children's book of the past 200 years. Playwright Joseph Robinette, working with the advice of E.B. White, created a play that captures this work in an enchanting theatrical production that is sure to touch the hearts of children and adults alike.
Charlotte's Web tells of the friendship between a gray spider, Charlotte, and a barnyard pig, Wilbur. The novel, published by White in 1952, is one of the most well known children's books of all time, said Towngate Theatre director Tim Thompson. "The story celebrates the meaning of true friendship and is a classic tale dealing with the ever-changing circle of life."
The drama begins when Farmer Arable goes out to kill the "runt" of the newborn pigs. His daughter, Fern, pleads with him not to kill it. He decides to let Fern raise the piglet, which she names Wilbur. When Wilbur grows up, he is sold to Fern's uncle, Mr. Zuckerman.
At Zuckerman's farm, Wilbur meets many new animals, including Templeton, a rat, Gander, a goose, and Uncle, an older pig. Each farm animal has unique characteristics that add humor and meaning to the tale. Wilbur's most special friend, however, is Charlotte, a beautiful spider who lives in the barn. Charlotte and Wilbur have long talks, keep each other company and become great friends.
When Wilbur is old enough to be killed for food, Charlotte, inspired by her web weaving, devises a plan to save Wilbur from the slaughterhouse.
Oglebay Institute's Children Theater Season is committed to staging classic stories because they are proven to be something that every young person should experience, Thompson explained, and Charlotte's Web certainly fits the bill.
"This story not only entertains, it instructs. It explores issues of friendship, family, life and death. It's filled with endearing characters, and it's also incredibly funny," Thompson said.
Charlotte's Web will be staged at Towngate at 7 p.m. January 29 and February 5 and 3 p.m. January 30, 31 and February 6. This is the perfect family outing, and children ages 10 and under will be admitted for a special price of $10. Adult admission is $12.50.  Members of Oglebay Institute receive a discount.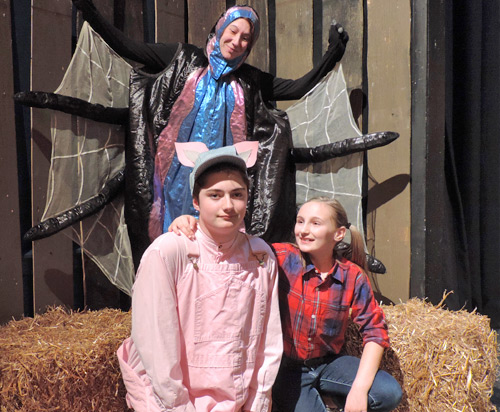 Thompson directs Charlotte's Web, and the talented cast of children, teens and adults includes: Meghan Ross, Dailey Ward, David Gaudio, Gracie Vensel, Jalen McCrary, Delaney Powell, Joel Nau, Maggie Aulick, Mike Blanton, Evan Oslund, Hilary Regan, Nathan Stryker, Walt Warren, Erin Dodd, Aleigha Dodd, Lexi Kosanovic, Alex Madzia, Rachel Thompson, Grace Thompson, Ayden Swoyer, Isaac Swoyer, Campbell Hughes, Reagan Hughes, Elaina Mary Pusz, Kearstin Zeroski, Kara Zeroski, Tamara Smathers, Adam McCracken, Justin Swoyer, Jim Showalter Jr., Robert J. Gaudio, Marian Moss, Jordan Lockard, Grace Landini, Merritt Delk, Stephanie Ebarb.
The crew includes Dave Henderson, set designer; P.D. Gregg, technical director; Robert J. Gaudio, assistant director; Tamara Smathers, stage manager, Chelsea McAvoy, light board operator and Brooke Lander, sound board operator.
Tickets for Charlotte's Web can be purchase by calling 304-242-7700 or at www.oionline.com.
For those buying seats at the door, Towngate's box office opens one hour before all shows and can be reached at 304-233-4257.
Refreshments are available at Towngate Theatre and parking is curbside or in the nearby Center Wheeling Parking Garage. Located at 2118 Market St., Wheeling, Towngate is easy to find and located just across the street from St. Alphonsus Catholic Church in the historic Centre Market district of Wheeling.