The Wheeling Film Society continues its seventh season of screening and discussing classic Hollywood films with a free screening of Stanley Kubrick's "Dr. Strangelove." It will be shown at 7:30 p.m. Friday, November 9 at Oglebay Institute's Towngate Theatre.
A conversation about the film, led by John Whitehead, professor of film studies at Wheeling Jesuit University, takes place at noon Tuesday, November 13 at the Ohio County Public Library.
Back by popular demand, a dinner option for guests is available in Towngate's social room prior to the film screening.
More than 50 years after its release, "Dr. Strangelove" is still considered one of the finest black comedies ever made. A classic satire on warfare, the film stars Peter Sellers in multiple roles and follows a group of paranoid, war-happy, ultra-nationalist generals who manage to initiate an "accidental" nuclear apocalypse.
Last season, the Wheeling Film Society watched Kubrick's 1968 epic, "2001: A Space Odyssey," with its surprisingly hopeful vision of an alternative to the terminal aggression of the human species. Four years before "2001," Kubrick made "Dr. Strangelove" – a slapstick comedy about nuclear apocalypse.
If you can't imagine the end of life on Earth as a suitable subject for laughs, you haven't seen the inspired Peter Sellers play three different roles (including the President of the United States AND the mastermind of the nuclear bomb), or the manic George C. Scott nearly steal the film as a lunatic general (six years before his Oscar for Patton). Made during the depths of the Cold War, "Dr. Strangelove" is also a film for our times.
Have Dinner at Towngate Prior to the Show
With advance reservations, moviegoers can enjoy a buffet dinner at 6:30 p.m. in Towngate's social room. After dinner, guests head upstairs for the free movie at 7:30 p.m. The cost for dinner is $20 and includes all food, soft drinks, coffee, tea, water and a box of popcorn to enjoy during the film. Beer and wine are available for purchase. Dinner guests can also reserve their seat for the film prior to the screening.
Popular Wheeling eatery Ye Olde Alpha provides the food for the November 9 dinner and a movie. Menu for the evening includes: London broil, Woodsdale chicken with chipotle cream, butternut squash risotto, roasted fall vegetables, Caesar salad, mixed green salad, bread & honey butter. Reservations for the dinner must be made by 5 p.m. Wednesday, November 7.  Register online or call 304-242-7700.
Oglebay Institute, Wheeling Jesuit University and the Ohio County Public partnered to form the Wheeling Film Society. WFS events bring movie buffs together to watch and discuss classic films. All screenings and discussions are free and open to the public.
Other Upcoming 2018-19 Screenings & Discussions:
"The Wizard of Oz"
Dorothy, the Scarecrow, Tin Man and Cowardly Lion return to the big screen to celebrate the 80th anniversary of the beloved musical "The Wizard of Oz." Screening at 7:30 p.m. Friday, March 8, 2019 at Towngate. (Conversation about the film takes place at noon March 12 at the Ohio County Public Library.)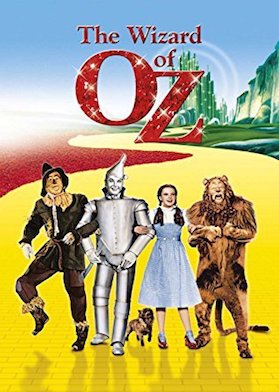 "Rear Window"
"Rear Window," Alfred Hitchcock's iconic 1954 suspenseful thriller, stars James Stewart and Grace Kelly. Screening at 7:30 p.m. Friday, April 12, 2019 at Towngate. (Conversation about the film takes place at noon April 16 at the Ohio County Public Library.)

About Towngate
A church-turned-theater, Towngate is located in Wheeling's historic Centre Market District and is part of the nonprofit Oglebay Institute. Towngate offers entertainment almost every weekend.
In addition to main stage theater productions, Towngate also offers poetry and spoken word performances and children's theater. Towngate also features comedy and improv shows. Local and regional musicians perform concerts on the Towngate stage and a variety of acting classes are offered year-round for all ages.
As a single screen cinema, Towngate shows a variety of films on select weekends throughout the year including classic movies, independent films, thought-provoking documentaries and film shorts by local and regional filmmakers.