Cinema returns to Oglebay Institute's Towngate Theatre  June 16-18.  Watch the Academy Award winning musical La La Land and Exhibition on Screen's insightful documentary on Leonardo da Vinci on Towngate's big screen.
La La Land Wins Big at the Oscars
A romantic musical, La La Land follows aspiring actress Mia (Emma Stone) and jazz musician Sebastian (Ryan Gosling) as they are forced to decide between their love for each other and pursuit of their individual dreams.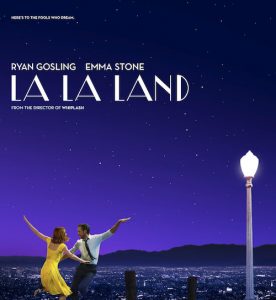 Regarded as one of the best films of 2016, La La Land won six academy awards including best director, best actress and best original song.
See La La Land at 7pm Friday, June 16 & Saturday, June 17 and 4 pm Sunday, June 18.
Exhibition on Screen Presents Leonardo Live
This Exhibition On Screen film chronicles the opening exhibition of the largest ever collection of Leonardo de Vinci's surviving paintings at the National Gallery in London.
With exclusive access to the opening night of the exhibition, the film provides a fascinating exploration of Leonardo's great works. Art historian and broadcaster Tim Marlow offers his insight into Leonardo's great masterpieces.  Curators, restorers and other special guests join him to offer their options as well. An insightful biography, footage from locations of Leonardo's life is also interwoven.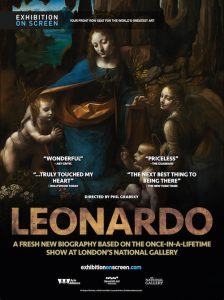 The film will be shown at 2 & 4pm Saturday, June 17 and 2pm Sunday, June 18.
Tickets for all screenings can be purchased at the door and are $7 per person. Box office opens one hour prior to each screening.  You can purchase beer, wine, soda, water, popcorn and candy at all Towngate movies.
Towngate Cinema Schedule June 16-18
Friday June 16
7 p.m.  La La Land
Saturday June 17
2 p.m. Exhibition on Screen: Leonardo
4 p.m. Exhibition on Screen: Leonardo
7 p.m. La La Land
Sunday June 18
2 p.m. Exhibition on Screen:  Leonardo
4 p.m. La La Land
Towngate Keeps "Community" in Community Theater
A church-turned-theater in Wheeling's Centre Market District,  Towngate  is part of the nonprofit Oglebay Institute and offers entertainment almost every weekend.
In addition to community theater, you can also watch poetry and spoken word performances. Bring the kiddos to children's theater production..  Towngate features comedy and improv shows, too! Local and regional musicians perform concerts on the Towngate stage and a variety of acting classes take place for all ages.  The Gallery at Towngate hosts changing art exhibits year-round.
As a single screen cinema, Towngate shows a variety of films on select weekends throughout the year. You can watch classic and independent films, thought-provoking documentaries and film shorts by local and regional filmmakers. Movie selections encourage thought and conversation. Whether you consider yourself a film buff or only like movies for the popcorn, our films entertain and inspire.