Glass Making at OI's Glass Studio
By Laura Jackson Roberts
I usually spend Mother's Day weekend outside with my family, allowing my guys to pamper me just a bit. This year, however, I went on assignment for Oglebay Institute and spent my holiday dangerously close to a mass of red-hot, molten glass, a two-thousand-degree fireball of death. Had I lost my laser focus, I might have unleashed flaming destruction upon all of you. And yet, I risked it all for the sake of the blog, for the sake of my art.
Okay, that's a bit of an exaggeration. Really, I just took a Mother's Day glass-making workshop at Oglebay Institute's Glass Museum with my husband, Shawn. Now, don't get me wrong—I toiled for my art. But I toiled in a casual, supervised, totally-safe kind of way under the tutelage of an experienced instructor. No fireballs of death. No flaming destruction. Many people before me have taken the workshop, in fact.
Experience Wheeling's Glass History
Oglebay Institute's Glass Museum sits beneath the Carriage House Glass gift shop in Oglebay Park. Within the museum you'll find all sorts of pieces of Wheeling history.
As the 20th century dawned, almost half of America's glass tableware was manufactured in our area. Wheeling was a center for the glass industry, and the museum displays a variety of Wheeling glass and china, along with the famous Sweeney Punch Bowl, the largest piece of cut glass in the world. In addition, you can watch a glass-making demonstration in the adjacent studio and see just how it's done. The glass artists will make it look easy. However, if you want to discover for yourself just how easy (or difficult) glass-making is, the museum offers hands-on workshops.
Expert Instructors Guide Novice Glass Makers
Shawn and I arrive in the glass studio the afternoon of May 13 to do just that. The first things we notice in the studio are the furnaces. And the heat. We feel it pouring off the high-tech machinery. By contrast, simple metal and wooden tools lie on a nearby table. We meet our instructor, Dalis Wilkerson, a third-generation glass artist and West Liberty grad. She's the granddaughter of a Fostoria glass worker and the daughter of Fred Wilkerson of Wilkerson Glass in Moundsville. One would be hard-pressed to find a more qualified instructor.
Step-by-Step Instruction Makes it Easy for Beginners
Until this moment, I've been under the misapprehension that we're going to be blowing glass. Actually, we're making a paperweight. Blowing glass is a different skill set. Our mouths won't come anywhere near the heat; instead, we'll be rolling the glass into a sphere. As Shawn and I stand safely in the observation area, Dalis takes us through the process, explaining each step. She shows us what she'll be doing and what we'll be doing, so we know ahead of time. Safety is the priority. Workshop participants enter the studio one at a time and sit a safe distance from the furnace, which keeps the glass molten at 2,030 degrees Fahrenheit.
I take the first turn, fitting myself with protective sleeves and gloves. Long pants and closed-toed shoes are important too. I'll be doing my glass-making from a comfortable seat; the furnaces are on the other side of the do-not-cross line. Dalis and I do a dry run as I practice rolling the long rod on which the blob of molten glass—a gather—will sit. It'll be my job to shape it, to twist in the colors of my choosing, to shape it again, and to remove it from the rod as a newborn paperweight. I must look dubious because Dalis assures me that it's easier than it sounds and that she's going to help me through each step. She's patient and takes plenty of time to thoroughly answer my questions until I feel comfortable with the task at hand.
Transform Molten Blogs into Art Glass
At the furnace, Dalis collects a gather of molten glass on the end of the rod and lays it in front of me. As instructed, I roll it back and forth on a paddle, being careful not to let it get too oozy or misshapen, until it looks like a Tootsie Roll.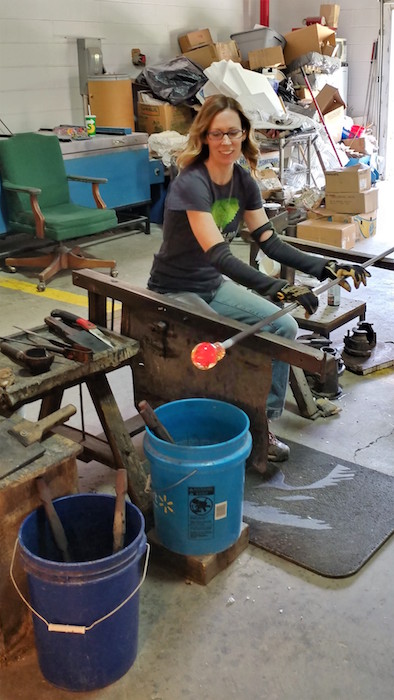 The gather cools quickly, so Dalis takes it to the small reheating furnace, called the Glory Hole, to heat it back up.
When it's hot again, she rolls the gather in three different piles of crushed, colored glass. I've chosen blue, green, and purple, and these will form twists of color within the paperweight. Back to the furnace she goes for another gather; now the colored glass is sealed within the big, gooey blob. Meanwhile, I'm holding a jack (aka the world's largest tweezers), and when Dalis sets the rod down, I grip the glass with the jack and roll the rod, winding the colors around in spirals until it looks like I've created twisty taffy.

It Almost Seems Too Easy
Dalis returns to the furnace for the third and final gather of glass. Now it's time for me to shape the paperweight and there are several old-fashioned wooden scoop tools, called blocks, in a bucket of water beside me. These tools haven't changed much in the last one-hundred years, probably because they work so well. I cup the hot glass blob in a block and roll the rod back and forth until the blob becomes a perfect sphere. It almost seems too easy. My last step is to use a small saw to begin to separate the paperweight from the rod. Dalis sets the rod on the table and I whack it, causing the perfectly-shaped paperweight to pop right off. She flattens out the bottom of the weight just a bit so it will sit properly on a desk, and it's finished.

Marvel at Your Masterpiece
I inspect my art. It looks amazing. I declare myself awesome.
Dalis puts my paperweight in a kiln where it will cool very slowly overnight; were it to cool too quickly the glass would break. We'll pick it up tomorrow when it's done. Meanwhile, Shawn gets geared up for his turn. Dalis is just as patient with him as she was with me. He chooses dark blue and chartreuse, and while my color swirl is a little off-center (which adds character, mind you), his is perfectly centered. Within both paperweights we can see little bubbles here and there.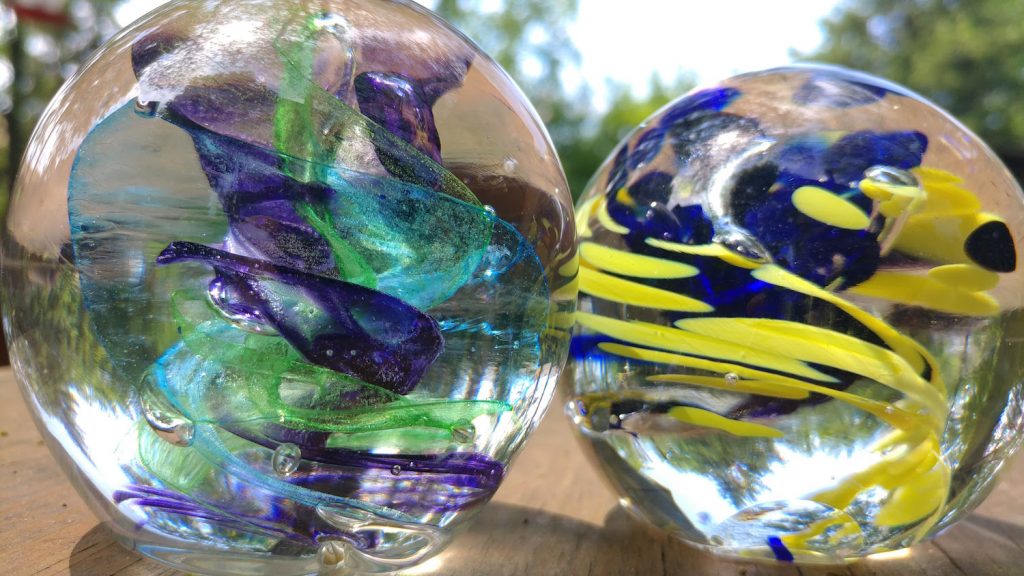 Even though Sunday is Mother's Day, I make a special trip up to the Glass Museum to pick up our paperweights. They're wrapped in boxes, waiting to be given to our moms on this day of recognition. But when I get them home, we're both so proud of our work that we can't bear to part with them. Our moms will surely prefer hanging baskets, anyway.
Try it for Yourself
You can make arrangements to take a glass making workshop at Oglebay Institute's glass studio by calling 304-242-7272.