By Mario Muscar
It's that time of year again. The time when people are surrounding themselves with scary decorations, costumes, candy and more. And if you are like me, you like to watch scary movies too.
And you have a chance to enjoy one of the greatest horror movies of all time at Oglebay Institute's Towngate Theatre this coming weekend. Night of the Living Dead, the 1968 independent film directed by George A. Romero, will be playing at Towngate. The chance to view this cult classic at a unique theater like Towngate should not be passed up.
I recently re-watched the film myself and, like every other time I have viewed it, I truly enjoyed not only the horror aspects of the movie, but the subtext and message that Romero is conveying about us as people.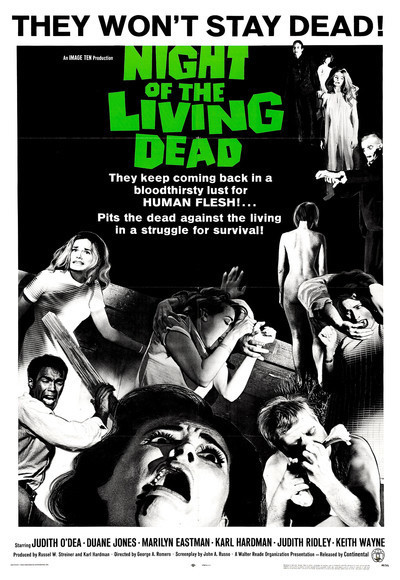 Warning: I am going to discuss the movie's plot. If you haven't seen Night of the Living Dead, I would recommend heading over to Towngate this weekend before reading the rest of this blog. You owe it to yourself to take in this little piece of cinematic and horror genre history. And local history too! Romero shot the film just outside of Pittsburgh.
Night of the Living Dead Started the Zombie Fiction Genre
Night of the Living Dead set the stage for all modern zombie fiction. Romero presented the idea that, while the zombies are all around and could kill you at any minute, it's really the people who are the problem. Infighting and disagreements among the living are where the true story lies. And Night of the Living Dead handles all this across the course of the film. From the beginning in the graveyard to the end in the Pennsylvania farmhouse, Romero explores how human beings would handle a crisis in which their very lives are on the line and you don't know who to trust.
When Barbra stumbles into the farmhouse after her brother has been killed by a zombie, she is greeted by our leading man, Ben. Duane Jones played the role of Ben and was unique in that he was an African American actor as the lead against a houseful of white characters. It gives the movie great resonance as it was released during the heights of the civil rights movement in America. And Ben's fate at the end of the movie is still very relevant today.
So ramble like a zombie over to Towngate this weekend and take in this classic film on the big screen.
Go & See
See Night of the Living Dead at Towngate:
Friday, October 27 at 7 p.m. and 9 p.m.
Sunday, October 29 at 7 p.m.
Tickets for all screenings can be purchased at the door and are $7 per person. Box office opens one hour prior to each screening.  You can purchase beer, wine, soda, water, popcorn and candy at all Towngate movies.