Not All Dragons Are Scary; Not All Heroes Carry Swords
Oglebay Institute presents "The Reluctant Dragon" for one-show only at 3 p.m. Saturday, November 4 at Towngate Theatre.
Part of Towngate's children's theater season, this delightful tale follows the unlikely friendship between a peace-loving, poetry-spouting dragon who prefers a cup of tea to a battle and a young boy and his sister.
Filled with colorful costumes and valuable moral lessons, this enchanting production is a great way for children to enjoy an "enriching and memorable live stage performance in an intimate theater setting," said Oglebay Institute director of performing arts Tim Thompson.
Show Explores Themes of Peaceful Conflict Resolution
The show explores serious themes of bullying, prejudice, self-esteem and conflict resolution through non-violence.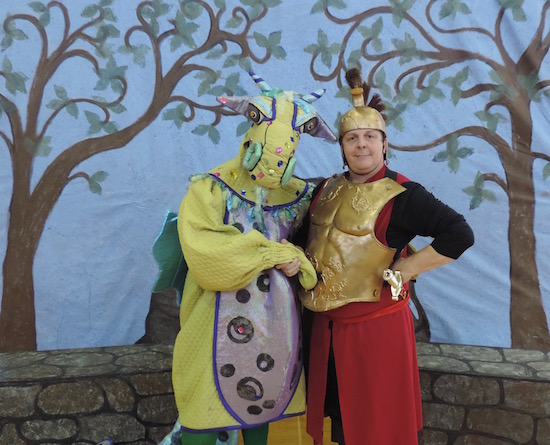 "It also includes very empowering, positive messages about friendship, honor and loyalty, " Thompson said. "It does so through captivating and colorful characters and an engaging plot that captures and holds the attention of young audiences."
Audiences Participate, too!
There will be plenty of audience participation, too.  Children in the audience will portray the villagers, who will respond to cues during the play.
Thompson will give an introduction prior to the performance and explain to the audience how they can participate throughout.  After the show, families are invited onstage to meet the characters, see the set and look backstage.
The show is adapted for the stage from the 19th Century children's book by Kenneth Grahame. While true to the spirit and language of the charming original, this adaptation embraces the dramatic power of what happens when misunderstanding escalates into prejudice and violence.
"The dragon in our story is far from a fire-breathing monster. He is a shy, peaceful fellow. Unfortunately, the villagers blame the dragon for their misfortunes and summon a famous dragon slayer to rid the village of this creature they see as a dangerous nuisance," Thompson explained. "The dragon's young friends convince the villagers that violence is not the answer."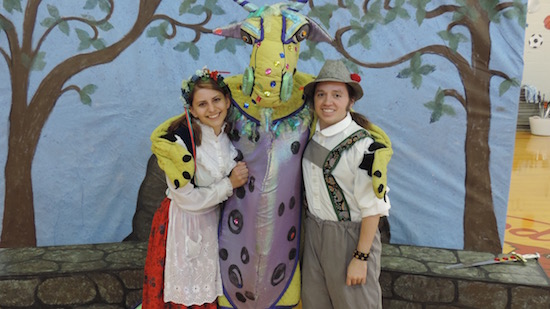 Cast members include Zachary Michael, Kacie Craig, Evan Oslund and Thompson. Thompson directs the show. Dave Henderson designed the set.
The November 4 show is the only public performance of the production, which has traveled to area schools in four counties as part of Oglebay Institute's educational outreach program.
Get Tickets
"The Reluctant Dragon" will be staged at Towngate Theatre at 3 p.m. Saturday, November 4.
All tickets are $8.  Purchase tickets at www.oionline.com, by calling 304-242-7700 or at the door, if available.
Experience the Magic of Children's Theater…
Want to boost literacy? Teach your child to imagine the unimaginable? Cultivate curiosity? Go to the theater, and bring your kids.
Plays ignite the imagination and bring stories to life. Words and characters jump from the page to the stage, thus connecting children to the importance of reading.   They learn valuable lessons, too. Theater teaches skills such as empathy, critical thinking and teamwork. Kids watch the actors working together onstage. They see that REAL people are behind entertainment and realize performers are not just images on TV or computer screens. Live action happens right before their eyes. There's no app for that! All their senses are engaged "in the moment." Nothing can be paused or muted.  Some may even discover the actor, director or writer within themselves. Most of all, you get to spend quality time as a family.  Theater is a social experience meant to be shared with one another. So, gather the kids, go to Towngate and experience the magic of theater together.

Keeping the Community in Community Theater in Wheeling. . .
Located in Wheeling's historic Centre Market District, Towngate is a cornerstone of creative life in Wheeling and serves as an entertainment destination for residents of the Ohio Valley and beyond. People of all ages and backgrounds gather here to create and experience art onstage. Most of all, Towngate celebrates the essential power of theater to illuminate our common humanity. The community enjoys and participates in hundreds of live performances, classes and workshops year-round.