A staple of Oglebay Institute's art exhibition season, Crosscurrents is now open at OI's Stifel Fine Arts Center. For more than 30 years, this annual exhibition has attracted some of the finest artwork from the tri-state region.
The multi-media exhibition features more than 80 pieces from dozens of artists and can be viewed free of charge through August 18.
Each year artists, who reside within an 80-mile radius of Wheeling, submit hundreds of works and vie for a chance to exhibit in this show. A guest juror chooses the works for the exhibit. The top three artists receive cash prizes.
Winning Artists Announced
Robert Villamagna won first place for his mixed media piece "Man with the Cowgirl Tattoo."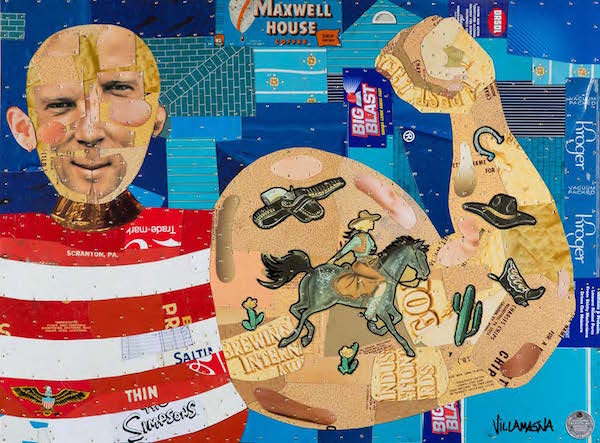 Cheryl Ryan Harshman won second place for her piece "Tree of Life," an acrylic and lace on paper.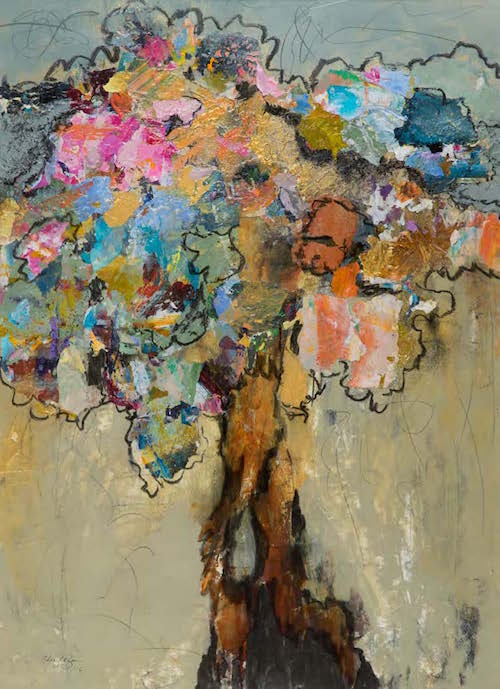 Brian Fencl won third place for his ink-on-paper work "Decisions (Regret)."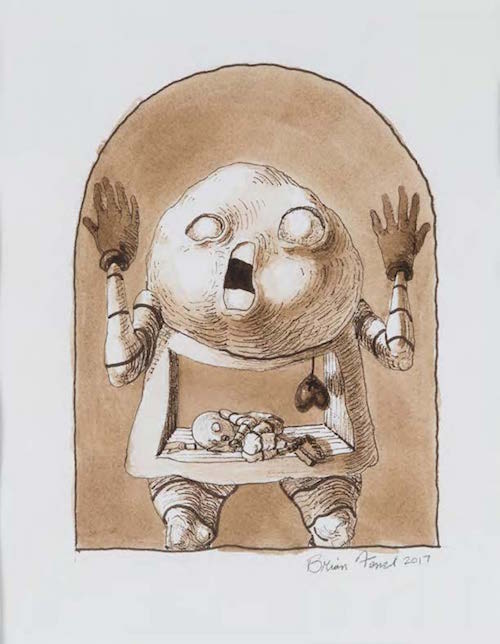 In addition, two artists received honorable mention ribbons for this year's exhibition. They are: Robert Sako, for his pastel work titled, "Rainbows" and Monica Mull, for her photograph, "Alice."


Juror Hopes Exhibit Inspires Artists
Oglebay Institute director of exhibitions Michael McKowen curated the exhibit and award-winning artist Thomas Wharton served as juror. Wharton studied painting at The Art Student's League of New York, The New York Studio School, The New York Academy of Art, The Grand Central Academy and The National Academy of Design.
In evaluating each entry, Wharton reviewed how successful artists were in the technical use of their materials as well as effectiveness in crafting a distinctive style and delivering on their artistic aims, which varied widely.
"Some artists worked to create pieces that would inspire contemplation or bring beauty into the world. Others had a story to tell. Still others commented on political or social issues. And some created work that was based on a fascination with the possibilities of their medium for purely abstract expression. In considering these artistic aims, I looked for how clear those aims were, and how successful the artist was in expressing them," Wharton said in his juror's statement.
"In the final analysis though, what determined the selections I made was how all these elements came together to create a work that had a vivid presence, something with a life of its own. I hope that the results of this selection will present a meaningful picture of the widely varied artistic activity in our area, one that will inspire artists to go back to the studio, and that will expand an awareness in the rest of us, of the richness they bring to all our lives," he added.
Crosscurrents Signature Piece:  West Virginia Flamingo
This year's show features a special edition. McKowen chose artist Jes Reger to create an original piece to represent Crosscurrents 2017.  Reger created "West Virginia Flamingo," a watercolor painting of a Great Blue Heron.  It was used for promotional materials, such as the exhibit catalog and was not included in the jurying process, but is on display in the show.
Reger said most of her work consists of every day life, and her paintings have an "unformed," organic quality.  "Quite simply, I paint what feels good, the little things in life that make me happy."
For this piece, she wanted her subject matter to have a deeper meaning, and she chose the Great Blue Heron to represent her interpretation of Crosscurrents.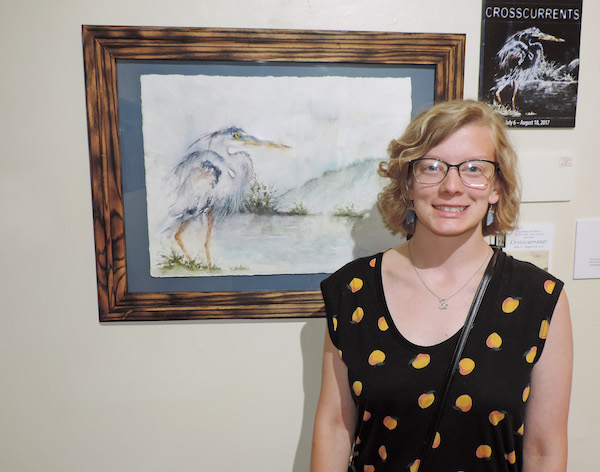 "In short, herons are predatory birds that migrate during winter. Some, however, choose to stick around.  Why do they choose to stay here?  Well, I like to think it is what keeps many of us here. There is something unique about this area and its people that you will not find anywhere else. That something is different for all of us, including the heron," Reger said.
Go & See…
United Bank sponsors Crosscurrents 2017, and you can see the exhibit free of charge from 9 a.m. to 5 p.m. Monday –Friday and 10 a.m. to 4 p.m. Saturdays through August 18. Evening hours depend on classes and special events. Please call 304-242-7700 for more information. In addition, many of the works on display can be purchased.
Located at 1330 National Road in Wheeling, Oglebay Institute's Stifel Fine Arts Center is conveniently located just off exit 2B of 1-70. Also a teaching facility, the Stifel welcomes students of all ages to its ongoing classes in art, crafts, dance, fitness and more.
Crossscurrents 2017 is part of the Helen B. Gaither Exhibition Season. Members of Oglebay Institute as well as financial assistance from the West Virginia Division of Culture and History and the National Endowment for the Arts, with approval from the West Virginia Commission on the Arts, made this exhibit possible.