Talented Cast Delivers Uplifting Message About Compassion & Understanding
See "Godspell" at Towngate! Oglebay Institute's Parcel Players continue their 2017 season with one of the biggest off-Broadway and Broadway successes of all time.  This immensely popular rock opera needs little introduction. However, when first produced in 1971 it broke new ground in its treatment of the historical Jesus Christ.
The production is under the theatrical direction of Tim Thompson, musical direction of Mikayla Schultz and choreography by Cheryl Pompeo.  You can see the production at 7 p.m. Wednesday through Saturday, August 2-5 at Towngate Theatre.
Based on the Gospel according to St. Matthew, the show is not based on a traditional plot.  Instead, it utilizes clowning, pantomime, charades, song and dance and vaudeville to deliver its messages. A production that moves from moment to moment, "Godspell" is a reflection on the life of Jesus by twelve performers to whom the audience can easily relate.
John-Michael Tebelek originally directed "Godspell" and Stephen Schwartz, from "Wicked" fame, created the music and lyrics.
Creative, Smart, Energetic Cast
Director Thompson says audiences will be very impressed with the "creative, smart and energetic" young cast and will find the show "uplifting."
"Godspell fills us all with hope, faith and love and illustrates how compassion and understanding can build a community of man and that those things are possible even in our divided and chaotic world," he said.
"Godspell" started as a college project performed by students at Carnegie Mellon University. Later, it moved to La MaMa Experimental Theatre Club in Greenwich Village. It was then re-scored for an off-Broadway production, which became a long-running success.

Don't Miss Schwartz's Sparkling, Seminal Score
Featuring Schwartz's sparkling, seminal score, the musical boasts a string of recognizable songs. Led by the international hit, "Day by Day," other songs include: "Prepare Ye (The Way of the Lord)," "Save the People," "O, Bless the Lord, My Soul," and "Light of the World." Through song and dance, audience members see stories come humanly and hearteningly to life.
In addition to "Godspell," Stephen Schwartz contributed music and/or lyrics to popular Disney and DreamWorks animated features. Schwartz earned three Academy Awards, four Grammy Awards and four Drama Desk Awards.
Director Thompson Finds Special Meaning in "Godspell"
Thompson said "Godspell" has a special meaning to him.  "It was the first show I ever did back in high school.  At the time, I was experiencing a personal tragedy and being in this play saved my life.   It also led me in the direction of what I wanted to do with the rest of my life – work and play in the theater."
In addition to his personal affinity for the play, he chose "Godspell" to be a part of the Parcel Players season for several reasons.
"The cast and crew from our high school production really bonded. They all remain great friends of mine and will forever. I wanted our Parcel Players to experience the same. To bond with a group of fellow actors is a very special thing. I want our young actors to remember this experience and keep in touch with each other even after the curtain comes down on their final performance," he said.
A Showcase For Young Talent
Additionally, Thompson says, "Godspell" is the perfect vehicle to teach young actors about acting. When Tebelek and Schwartz wrote "Godspell" for their thesis project, they created it to be a showcase for young actors who could sing, dance, act and improvise.
"Another unique thing about 'Godspell' is that the entire cast never leaves the stage so actors learn stamina."
Jesus, played by Woody Pond, and John the Baptist/Judas, played by Maguire Glass, lead the cast as the two specific characters in the play. The ensemble characters play themselves while representing twelve disciples learning lessons about community, hypocrisy, love and many morals and values through parables and stories from their teacher.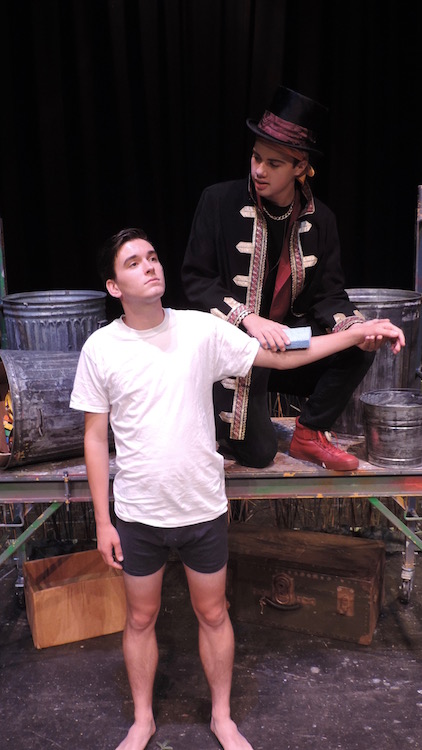 Ensemble cast members include:  Joana Tsuhlares, David Gaudio, Betsy Brossman, Ryan Bartsch, Lexie Kosanovic, Josie Jarrett, Stephanie Ebarb, Ben Ashmore, Megan Chacalos and Veda Wheeler.
Band members are Schultz on piano; Cody Stepanek on drums; Anthony Panebianco on bass and Greg Pond on guitar.
Large & Impressive Crew Supports the Production
In addition to Thompson, Schultz and Pompeo, a large and impressive crew supports the production.  Bob Gaudio serves as assistant director; Sarah Miller is stage manager; Mallory Fischer is assistant music director/vocal coach; set designer is Dave Henderson; P.D. Gregg is technical director; Julia Schmidt is prop master and board operators are Chelsea McAvoy and Brooke Lander.   Students in Towngate's set construction camp provided assistance building and painting the set.
"We typically only have 2-3 crew members.  For this sure, we have 16.  It has been wonderful to have so many people using their skills to make this show a success," Thompson said.
The production is a true community effort with people from all over the area.  Students from four middle schools (Bridge Street, Triadelphia, Wheeling and Warwood), three high schools (Wheeling Central, John Marshall and Wheeling Park) and four universities (Muskingum, West Liberty, Bethany and WVU) participate in the show.
Uplifting Message Inspires Audiences of All Ages
Thompson said audiences of all ages will enjoy and appreciate this show. "The play is first and foremost about Jesus building a community of man from a group of isolated, scared, angry people. Now, more than ever, we need this message shared, understood and put into action."
Oglebay Institute's Parcel Players began more than 40 years ago and offers young people interested in theater a chance to perform, direct, work with costumes, lighting and more.
The plays are wonderful examples of community theater at its best and offer local audiences a chance to enjoy comedy, drama, song and dance – perfect for the whole family.
Get Tickets
Purchase tickets online or by calling 304-242-7700 or at the door, if available.
Towngate Theatre is located at 2118 Market St. in Centre Wheeling and is listed on the National Register of Historic Places. It is handicap accessible, and you can purchase refreshments, including beer and wine.  The box opens one hour before all shows and can be reached at 304-233-0820.