Oglebay Institute's Towngate Theater announced its 2017-18 season, and a Towngate Season Preview Party at 7 p.m. August 18 kicks off the season in grand style.
Titled, "Let Us Entertain You," the event begins with hors d'oeuvres, wine and beer in Towngate's lobby. Then, guests head upstairs for captivating readings from each of the main stage plays featured in this year's lineup. And if that's not enough, guests will enjoy musical entertainment by Roger Hoard.
After the show, guests return to the lobby and enjoy a selection of desserts.  Then, a champagne toast kick offs another successful season of performing arts.
Get a Sneak Peek of the Season & Support Local Actors, Musicians, Filmmakers
Towngate Theatre director Tim Thompson said last year was the first time the theater offered a season preview party, and guest really enjoyed it.  "We are excited for our second annual event. Get a sneak peek of our season and celebrate and support all that Towngate brings to the community, too."
The Friends of Towngate group is organizing and hosting the event. This volunteer group raises awareness and funds to support Towngate and its mission. The group also coordinates volunteers to serve in various roles at the theater such as ushers and concession workers when needed. Proceeds from the season preview party go directly to Towngate and will help fund the upcoming season.
"We invite everyone to come out and support our local actors, directors, stage managers, set and costume designers. They spend months working to bring characters and stories to life. Their efforts produce amazing art time and time again," Thompson said.
What do people have to look forward to this year at Towngate?  A lot, says Thompson.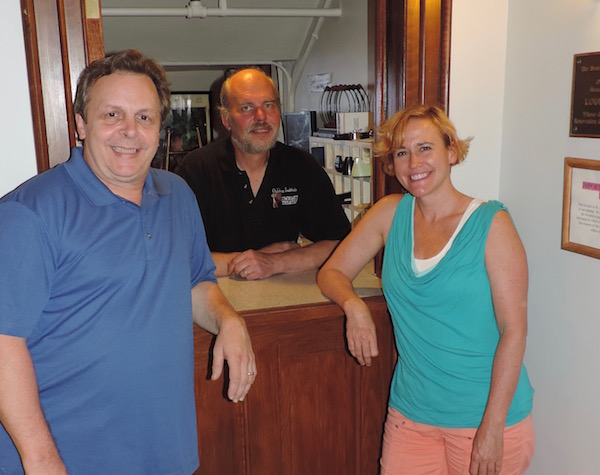 Towngate's Main Season
"Noises Off" will be staged September 22-24 and 29-30.
Called the funniest farce ever written, "Noises Off" centers on a cast of itinerant actors are rehearsing a flop called "Nothing's On." Door slamming, on and offstage intrigue and an errant herring all figure in the plot of this hilarious play.
"It's a Wonderful Life" will be staged December 1-3 and 8-9.
This beloved American holiday classic comes to captivating life as a live 1940's radio broadcast. The story of idealistic George Bailey unfolds as he considers ending his life one fateful Christmas Eve.
"The Cripple of Inishmaan" will be staged March 16-18 and 23-24.
On the island of Inishmaan, off the coast of Ireland, there is not much to do. A young man named Billy, who is physically disabled, wants to leave, as everyone there, even his aunts Kate and Eileen, calls him "Cripple Billy." A Hollywood film crew shows up on the island, and Billy sees his chance to escape. He goes with the film crew to the United States, only to learn that it is not everything he dreamed it would be.
"August: Osage County" will be staged May 11-13 and 18-19.
A look at the lives of the strong-willed women of the Weston family, where paths have diverged until a family crisis brings them back to the Oklahoma house they grew up in, and to the dysfunctional woman who raised them.
Enjoy more than just theater.
But the main season is not all Towngate has to offer, Thompson explained. "Towngate is more than just traditional theater. It is a cornerstone of creative life in Wheeling. People of all ages and backgrounds gather here to create and experience art onstage in a variety of forms."
Some other great things happening this year include:
Children's Theater – This season includes "Hansel and Gretel" ballet, "The Reluctant Dragon,"  "The Nutcracker" ballet and "The Arkansaw Bear."
Live Music – Some of the region's most versatile and entertaining musicians perform at Towngate on select weekends throughout the year. You can see Bill Gorby and The Musical Mercenaries, Hermie & Harry's Dueling Pianos and Bridges.  The eight band "Bridge and Tunnel Collective" will perform a special Christmas show December 16.
Towngate Cinema – Enjoy iconic American films at Towngate. Get ready for "Singin' in the Rain", "Annie Hall," "Vertigo" and "2001: A Space Odyssey" as part of the Wheeling Film Society's season of classic films.  On other weekends throughout the year, Towngate Art House cinema offers classic and independent films, though-provoking documentaries and film shorts by local, regional and nationally recognized filmmakers.
Comedy and Poetry– Those looking for laughs will enjoy performances by two improvisational comedy groups. The Left of Centre Players, an adult improv troupe, and the Crazy 8s, which comprises high school and college-aged thespians, perform throughout the year.  Local spoken-word artists The Prosers also perform on the Towngate stage.
Towngate Season Entertains & Inspires
"Dozens of local actors, musicians, poets, dancers and more contribute to this full season of entertainment that entertains and inspires," Thompson said. "We are proud to provide a venue for these performing artists to engage in the craft and hone their skills. And we are equally as proud to serve as entertainment destination for residents of the Ohio Valley and beyond.  We invite everyone to join us for a play, a concert, a ballet, a movie or a spoken-word performance.  You won't be disappointed."
Get Tickets
Purchase tickets for the August 18 Season Preview Party or for any Towngate show at www.oionline.com or by calling 304-242-7700.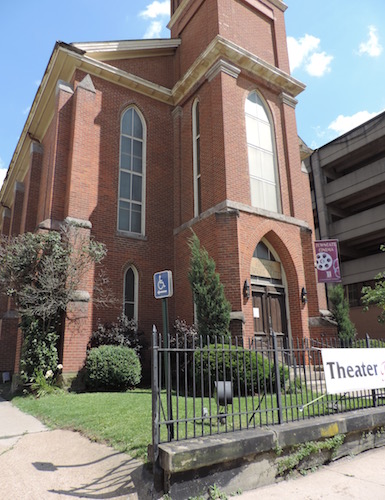 The non-profit Oglebay Institute operates this church-turned-theater, located in Wheeling's Center Market District, as well as several other Wheeling venues. Other OI facilities include: The Stifel Fine Arts Center and School of Dance on National Road, the Mansion Museum, Glass Museum and Schrader Environmental Education Center in Oglebay.