By Laura Jackson Roberts
On March 19, Oglebay Institute's School of Dance will offer a workshop. And while they offer many such workshops each year, this one will be something special. The Dancing Wheels Company of Cleveland, Ohio – a physically integrated dance company – will offer instruction on movement and performance for dancers with disabilities, including physical, sensory, or developmental. Dancers with and without mobility are invited to attend and participate in this one-of-a-kind experience, as are non-disabled dancers.
Integrating Diversity and Disability Advocacy with the Arts
The Dancing Wheels Company was founded by Mary Verdi-Fletcher. She was born with spina bifida but didn't permit her mobility issues to keep her from dance and movement. Not only has Verdi-Fletcher learned how to move with strength and grace with her wheelchair, but she's created this unique company and school to teach others with and without disabilities to do the same. Performances integrate diversity and disability advocacy with the arts.
Cheryl Pompeo, the director of OI's School of Dance known around the building as Miss Cheryl, is excited to welcome The Dancing Wheels Company each year. She remembers first seeing the company's founder on an episode of "Mr. Roger's Neighborhood" many years ago and it struck her as extraordinary. Dancers have special chairs that don't tip over, that a full-bodied dancer can climb on. They can stack dancers and create incredible formations.
I found Dancing Wheels on YouTube and it's an understatement to say they're  an impressive company. The dance is so fluid and beautifully choreographed that you quickly forget the division between abled and disabled. I was particularly taken by a Riverdance routine in which the dancers created a whirlwind of motion and energy.
Miss Cheryl agrees, "It was like nothing I'd ever seen before," she said. "They are so gracious to come here and share their art with us."
Combating Negative Stereotypes
The Dancing Wheels Company seeks to provide role models for young people and to combat negative stereotypes. It's not merely "wheelchair ballet;" it's an expression of the human spirit. Dancing Wheels believes that expression comes from people of all abilities.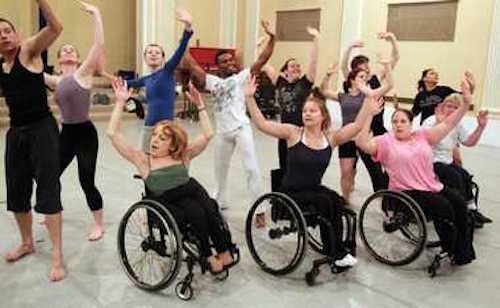 The workshop doesn't just speak to dancers. Last year, a group of West Liberty University physical therapy students attended, as did some of their school educators. They took what they learned back to the classroom and can put that knowledge to use with special needs students. The idea is to continue to integrate children with special needs in their classrooms.
When I asked Miss Cheryl about the value of dance as therapy, she said, "Dance is therapy, but I think it's very interesting that dance is movement. So, whether you are moving with your feet, moving with your arms, moving in your chair, you're still moving and so you're dancing. They have an entire syllabus on upper body movement. They use integrated dancing throughout the whole program. We bring them in every year to do a workshop. This year Jody Coleman-Carder and her husband are sponsoring the program, so that opens the door for us to have opportunities for some children from Easter Seals to come over."
Dancing Wheels Workshop Inspires Local Dancer
Oglebay Institute dance student Kelsei Weaver is in a wheelchair and was inspired by participating in a Dancing Wheels workshop. I talked to Kelsei, and I've never been more impressed by a young person. She's been part of Oglebay Institute's dance program for three years. I asked her how her dance career began, and she told me that she's always loved performing. She's a high school sophomore and participates in the choir, the marching band, and her school theater department.
Kelsei said, "The reason why I joined Oglebay Institute was because of Dancing Wheels. Everything I've ever wanted to do I've always had to fight to do. I've always had to approach people first and say, 'Hey I'd be really interested in doing this.' It was actually Miss Cheryl that approached me first and asked me if I wanted to dance here."
Making Friends and Inspiring Others
"Miss Cheryl was willing to go with me right from the start. The first day I came in there with a group lesson, I was so scared because everybody always wonders and asks questions and they stare, but they never really ask, and you always wonder, what are the other girls going to say," Kelsey said. "I was really nervous because I'd never had dance experience other than going to Dancing Wheels. The first time I walked in there she said, 'This is Kelsei Weaver. She's in a wheelchair, but she wants to dance, and she loves to dance, and if you don't like it, there's the door, you can go ahead and go out.' Nobody had really ever said that. All the girls there are very sweet to me. They're all really kind and I've made some great friends."
Kelsei has been inspired by the Dancing Wheels Company. When she first saw their performances, she told her grandmother how much she wished she could do something like that. The next year, Miss Cheryl called her.
Everyone is Unique
"I think it's really awesome and it's really inspirational," she said. "When you see other people doing it, it's like, 'I'm not alone.' A lot of people that are disabled don't have the opportunities that I do, and I think it's not only good for us to see that we can do this but it's good for other people too. When I dance, I interact with the other girls. I don't just interact with other people in wheelchairs with disabilities. I think people today try to group us in one group. But just because I'm in a wheelchair doesn't make me any different. And that's something that I think Oglebay Institute really understands, and I'm really thankful for that."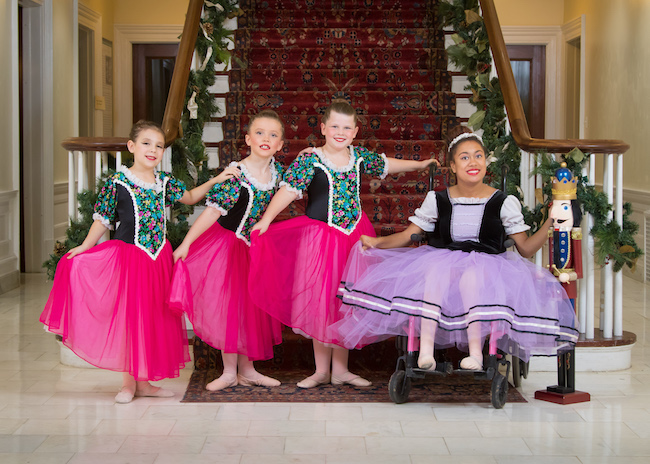 Each year, Kelsei has performed in "The Nutcracker." She's also danced in "Hansel and Gretel" and will soon be in "Beauty and the Beast." Though she's always focused on ballet, she has an upcoming hip hop performance in the recital.
"I've never been out of ballet or a lyrical dance," she told me. "It's really nice when your teachers can trust you enough to let you explore it and have fun with it." She's been working with hip hop instructor Arianne Wade in addition to Miss Cheryl.
I asked this amazing you woman where she sees herself in ten years. Will she still be dancing, I wondered. She gave me an answer that I now realize is textbook-Kelsei Weaver.
"I hope whatever I do, it's something that inspires people. I just want to make people happy, and I want to bring awareness to people with disabilities. I love to dance, I love to sing, I love to perform. Maybe I'll be on Broadway someday."
I guarantee she will.
Find Out More
For more information on the Dancing Wheels Workshop, visit Oglebay Institute online or call 304-242-7700.