William Shakespeare wrote "April…hath put a spirit of youth in everything." Put that spirit of youth in your step and celebrate the beginning of April at Oglebay Institute's Towngate Theatre. Join us on Friday, April 6 for First Friday at Towngate.  See new art in "The Gallery of Towngate," watch independent film shorts on the big screen and enjoy an improv show, too. Doors open at 5:30pm and all events that night are completely free.
Local Art and Independent Films
The Gallery at Towngate is excited to open its newest exhibit Friday, featuring the art of Cheryl Carnegie. Cheryl's education in Landscape Architecture greatly influences her photography. Her work seeks natural patterns in the landscape and in the many versions of our imitation of its splendor. She captures patterns, colors, texture, depth, structure of plants and the sculptural qualities of trees and their placement in nature. She also captures the focal elements in architecture and everyday objects that reflect nature's patterns.
Cheryl is a self-taught photographer and a native of the Ohio Valley. She worked in wedding and portraiture for many years both locally and in North Florida. Cheryl currently resides in Morgantown, WV where she works with the West Virginia Botanic Garden and as a freelance graphic designer.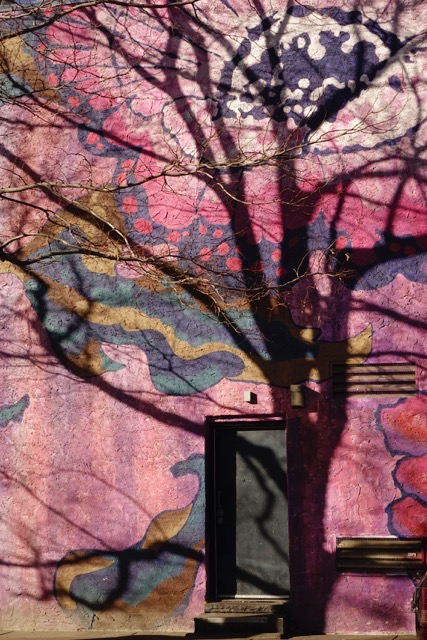 After you check out the exhibit, head upstairs for independent short films playing on a loop on the big screen.
Improv with the Left of Center Players – with new games!
At 8pm, Towngate's adult improv group, The Left of Centre Players, take the stage with their always funny improvisational comedy. And this performance is a special one! The troupe will try out a collection of all new games that they have never performed on stage before!
The troupe is very excited about the new games and sharing them with the audience.
"I think it's important to infuse new games into our sets so that both the audience and the performers continue to be entertained anytime there is a Left of Centre show," said Left of Centre Players member, Evan Oslund.
"New material keeps us on our toes as performers and keeps the audiences wanting to keep coming back," Evan added.
It's All Free and a Great Way to Spend Your Night
All events at First Fridays at Towngate are free and open to the public, and it's a great way to start your weekend. Come to Towngate, see some great art by a local artist, watch some independent films and finish it out with a free improv performance. The first drink is on the house! Stay for 30 minutes or all evening. All the events are finished by 9pm. Perfect for early birds (who can get home at an earlier hour) or for night owls who want to make it their first stop before hitting other First Friday events, bars, and concerts taking place in Centre Market.
This event is sponsored by Main Street Bank.