By Phyllis Sigal
Fifty years ago, Scott Klinkoski helped decorate a nutcracker-themed holiday room — it was the first time he participated in the Oglebay Institute Mansion Museum holiday tradition, "Holidays at the Mansion." And this year, the nutcracker reared its giant head again.
Klinkoski recalls that first year. He was working at downtown Wheeling department store Store & Thomas. His dad, Frank Klinkoski, who worked with store displays there, sent him along to assist the store's head designer, Lynn Buch.
And he's been doing it ever since, with the exception of only a couple of years
'ROOM'-INATION
A live ballerina was part of the first-floor parlor decor 50 years ago. "Her back was to the door, then she'd get up and start to dance with a nutcracker," he said. "There was a big tree. I built a puppet theater at the shop at Stone & Thomas, and we put the puppet theater in the corner."
Klinkoski said he's worked on every room in the mansion, at least once or twice.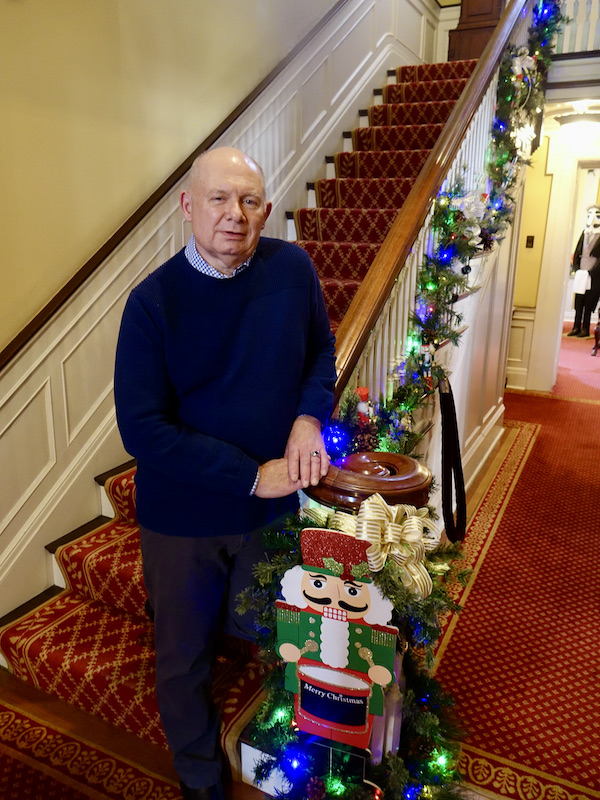 Probably his favorite project in all 50 years was the Christmas wedding-themed room. The bride and groom — mannequins from Stone & Thomas — were the focal point in the parlor.
Other themes Klinkoski recalls are the 12 Days of Christmas, the Oglebay family, Dickens' "A Christmas Carol," toys in the mansion, Thanksgiving at the mansion, storybooks, candy, "It's a Small World," nationalities, music, and, snow and ice.
Klinkoski believes his most creative room was one in which spirits were in flight in the dining room. "Everyone wondered how we made gold see-through figures." The secret? "Metal window screen sprayed gold and hand-shaped into flowing, flying figures," he shared.
THIS YEAR'S MANSION
Klinkoski, along with nutcracker collector Dick Taylor, were assigned several areas of the mansion — the reception room, the front hall stairway, and the front hallway. Taylor constructed four giant nutcrackers – a butler, two traditional nutcrackers standing sentry near the front door, and a welcoming butler in the reception room.
Taylor has added his decorating flair and another set of helping hands for about 17 years. "We make a good team," he said. "We both have the same eye for decorating."
"You need extra hands to place decor, hand up to each other items when on a ladder, and you need extra eyes to check placement," Klinkoski noted.
This year's theme was right up Taylor's alley, as he has a collection of more than 500 nutcrackers at his home, many of which are gracing the hallway and entryway at the Mansion Museum this holiday season.
Taylor constructed the four giant nutcrackers for this year's display, using a variety of odds and ends. Tubes that are usually used to pour cement pillars became the nutcrackers' bodies; legs were 2X4s covered with cardboard tubes from a local carpet store; pool noodles became arms for the butler nutcracker. The butler — which Taylor said was the most fun to make —  is wearing Taylor's own tuxedo jacket and an old pair of his shoes. The king nutcracker that stands near the staircase in the hallway, wears an upside-down flowerpot embellished with jewels as a crown, and he holds a gold shower curtain rod from Goodwill as his staff.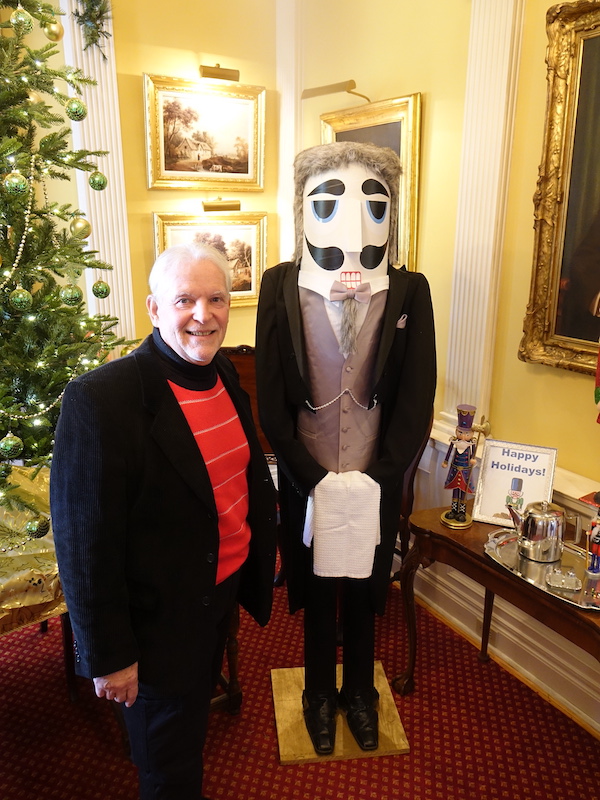 "It's just so much fun. I just love Christmas," he said. And, along with the Mansion Museum, Taylor spruces up his own home with 54 trees, the 500-plus nutcrackers, and 111 nativities! "As soon as the Hallmark movies come out in October, that's my green light to go to town," he said.
TRUE DEVOTION
Klinkoski spends hours and hours on the mansion project — at least 20 hours for preparations and another five to six for installations. "It starts my holiday season. It puts me in the mood," he said. "It's pure enjoyment."
His favorite part of the process is finding out the theme. "Once the theme is out there … the elements seem to come to you," he said. "We like the themes broad … ones that let us interpret them." This year's nutcracker theme went in a couple of directions — either an actual nutcracker as the feature of a room or "The Nutcracker" ballet. "They combine to tell the entire story," Klinkoski said.
"Most of us don't live in homes like this … it's really fun to work in a space you're not living in," Klinkoski said.
The project itself is quite fulfilling. "Any decorator derives satisfaction from standing back and seeing the finished [room]," he noted. "Seeing the faces of guests light up as they tour all the rooms lets me know they have gone to a happy place."
Taylor concurred: "It gives me pleasure to know people will love it and go 'oooh and ahhh.'"
BUSY, BUSY
And now that Klinkoski's retired (after a couple of years in visual display at Kaufmann's of Pittsburgh, a couple of decades following in his father's footsteps at Stone & Thomas, and about 14 years at Corpus Christi), he's busier than ever … "but, it's a lot more fun."
He has a history with many area events — "Everybody knows me, there's trust. A lot of people say 'Call Scott,'" he said. He decorates at Oglebay's Wilson Lodge, does lighting for area weddings, embellishes the chandelier in Glessner Auditorium at Wilson Lodge for the Viennese Winter Ball, and decorates the Capitol Theatre, WesBanco Arena, and the tree on the Market Plaza in downtown Wheeling, just to name a few things that keep him up on a ladder.
"I like being busy and still climbing ladders. It's a combination of energy and passion. You just gotta keep going."
TIPS FOR DECORATORS
Speaking of ladders, don't forget to bring yours, Klinkoski tells future Mansion Museum decorators. (Dozens of area volunteers spruce up 15 rooms and areas at the Mansion Museum's holiday event.)
Tip no. 2: R-E-S-P-E-C-T. "Respect Mansion Museum decorating rules. … Respect the furniture and furnishings. There are ways to handle chairs and ask for removals. Do not sit on antiques."
No. 3: Do not bring food or drinks into the rooms.
No. 4: Decorate your room as if it was going to be used by the Oglebay family. Think "magazine ready," he suggests.
THE NEXT RUNG OF THE LADDER
While Klinkoski loves the Mansion Museum, he has a bigger aspiration for next year — that of decorating a room at the White House for the holidays. "The first lady picks the theme," he said, noting that "an army" completes the work.
If he could pick a theme for his White House room, it would be "paper," he said. Paper was chosen as a "medium," rather than a theme, one year at the Mansion Museum. He made bows out of paper, used strips of paper in the decor, and made paper flowers to decorate the room.
If 50 years of decorating a holiday room at the Oglebay Institute Mansion Museum isn't a strong enough resume builder to cinch a White House gig, then what is? Perhaps Klinkoski will be toting that ladder to Washington, D.C., in 2023.
VISIT
Visitors can tour the Mansion Museum from 10 a.m. to 5 p.m. Sunday through Thursday and 10 a.m. to 10 p.m Fridays and Saturdays. Guests should arrive at least 30 minutes prior to closing to allow time to tour. The Museums are closed Christmas Day and New Year's Day. Call 304-242-7272 for more information or visit online.