By Phyllis Sigal
Accomplishment. Blessing. Creativity. Community. Curiosity. Connection. Discovery. Expression. Freedom. Fulfillment. Growth. Inspiration. Insight. Liberation. Possibilities.
Students and teachers alike use these words and more to paint a picture of their visual art class experiences at Oglebay Institute's Stifel Fine Arts Center.
'POWER OF CREATION'
"The power of creation is in everyone," said Katie Molinengo, an instructor of abstract painting and drawing, as well as a recent addition to Oglebay Institute's marketing team.
For Susan Jones, a retired school administrator and educator who has taken art and dance classes, creation has the power to open "my soul" and to see "the heart of me." Creation gives her a "sense of freedom," a sense of "accomplishment," and a way of "speaking in a new way."
Debbie Joseph — a pottery student turned instructor — believes that the benefits of creating are "innumerable."
"Since I was a little girl, I have loved making things with my hands. The satisfaction one gets from making something beautiful is amazing, whether it is pottery, a painting, a crocheted scarf, woodworking, or something with stained glass. … Many of us have talked about how when there is something going wrong in our lives, we are able to leave it outside when we enter the pottery studio … and are often surprised to find that that problem isn't as bad as we thought when we go back outside when we're finished. Pottery is an art that demands your attention when you are making it to be successful, and this allows you to push out of your mind whatever might be bothering you," Joseph said.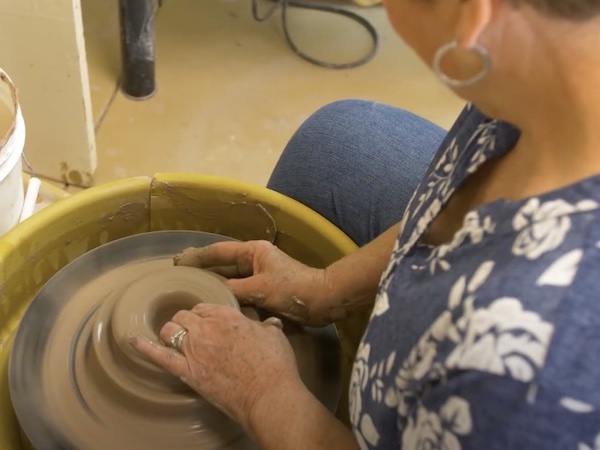 "For me, the power of creation is being in that place of flowing inspiration, you are so in the moment, nothing else matters … it's very meditative and empowering," explained Carri Welsh, who teaches the art of jewelry making. "And when the process is complete, you have this beautiful piece of art that will bring joy to the lives of others in some way," Welsh said.
"Throughout time, people created art for certain purposes or just to simply make it," Molinengo said. "When you create art, you are fully in the moment and connected to the idea and thing you are creating. It's a meditative act in a world full of distractions and disconnection that can slow you down to live in the moment and replenish and restore your energy."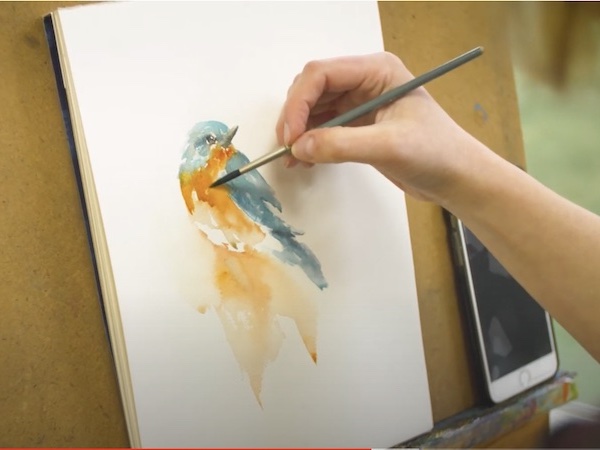 CONNECTION & COMMUNITY
Through the myriad of visual class offerings at Oglebay Institute, "a community of artists is being created," said Molinengo.
This sense of community, she noted, "benefits the students in having trust in their community members by being vulnerable together, by making something and trying something new that hasn't been mastered yet. Their artwork flourishes and grows by creating together from feedback, ideas, and support from each other."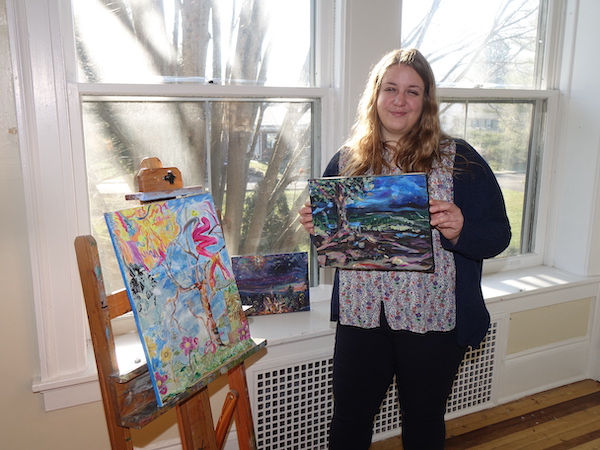 "Classes at Stifel connect like-minded people in the sense that it brings in art admirers, collectors, artists of different mediums, and people who like to hang out with artists all in one space," said Jones, who enjoys connecting with like-minded people while pursuing her hobbies. "We are like-minded in that we are eager to explore and grow, and are super supportive of each other," she noted.
Welsh believes that the connections made during classes are "therapeutic."
"In a world where we can sometimes feel so disconnected, I think it's very therapeutic to come together and be creative in some way. Having a place like the Stifel Center that promotes both of those things is so beneficial to the community because it allows people to truly connect not just to the arts but to each other," Welsh said.
Share passion brings the potters together.
"The pottery family at the Stifel Fine Arts Center is an amazing group of people," Joseph said. "We all share a passion for pottery and everyone takes that passion in their own direction … some throw on the wheel, some exclusively hand-build their pottery projects, and many utilize a combination of both techniques as well as others. We are all very close and are indeed a family, sharing the good and bad things that happen in our lives as we create our pottery projects and learn together."
DISCOVERY
Camaraderie; honing skills for personal or professional development; learning new techniques — these are a few of the many reasons students participate in OI classes.
"I think people show up for different reasons," commented Welsh. "Some have come to have a fun experience with friends and family, some come because they like the project and want one for themselves or a loved one, some come to expand their skill set, some people are just curious and want to try something new. Regardless, it's always nice to see both new and familiar faces!"
Most of Molinengo's art students "were curious and pursuing a hobby," she said. "A few students were professional artists who were honing their painting skills and seeing what techniques were best for them. We also had two students who had an art and design background in their profession and took the class as a release of stress and to add a hands-on creative activity to their week. A lot of the students work primarily on computers for work, so working with physical materials opposed to digital, was a special experience. The class also provided a space for them to meet new people."
FROM STUDENT TO TEACHER TO SELLER
Once Debbie Joseph discovered pottery, her other hobbies were left in the dust.
"Pottery has been a passion of mine since my very first class in 2014, and has replaced all other hobbies I dabbled in," she said. Her first three years of classes were with Paul Latos, who had a pottery shop in downtown Wheeling. When it closed, Joseph started taking classes taught by Rick Morgan, director of Oglebay Institute's Stifel Fine Arts Center.
"I learned many new things as his student and eventually took advantage of Stifel's 'open studio' program, where potters who have taken classes are able to use the many resources available at Stifel without actually taking classes," Joseph said.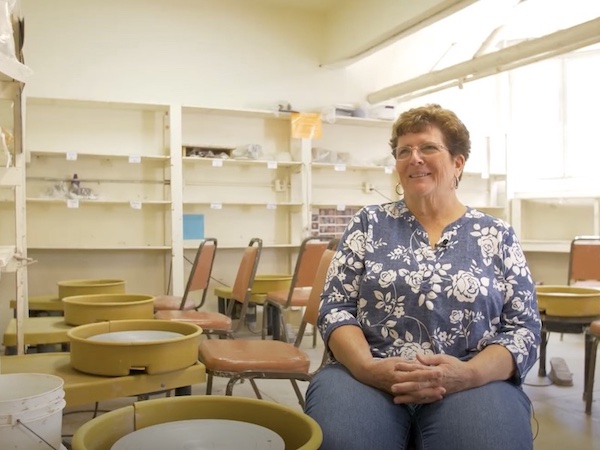 Then, one day, Morgan asked if she'd like to teach a pottery class.
"I was very surprised (and flattered!) that he thought I was far enough along in my pottery journey to actually teach other people. I now teach classes on both Monday and Tuesday nights at Stifel. I love bringing my passion for pottery to other people and love watching them learn and express their own creativity through their work. If I am not actively working on pottery, I spend a lot of time researching new things to learn and teach my students," she said.
But, she didn't stop there.
"Three years ago, I decided it was time to try to sell some of the pieces that were filling up our house and joined the Holiday Sale at the Stifel Fine Arts Center. It was a successful endeavor for me, so I signed up for the Secret Garden Tour's Artist Market in June at Oglebay," she said.
"Then, two years ago, I was thrilled to welcome my daughter Kristen Cox as one of my pottery students, and she has done very well. We now sell our work together as Mountain Mama Pottery at the Holiday Show at Stifel and at the Schrader Center, as well as at the Secret Garden/Secret Kitchen Artist's Market each June. We also have our work at Lendon Floral and Garden in St. Clairsville and sell our work on Facebook. It's been really fun to work together on this."
SIGN UP!
Joseph welcomes others to be part of the Stifel pottery "family."
"There are four pottery classes offered in each class session at Stifel; Rick teaches two and I teach two. They are all popular and fill up very quickly, a great indication of the reputation that the Stifel pottery program has garnered in the Ohio Valley. There are approximately 70 people, including those who take advantage of open studio and those in classes, who work on pottery at Stifel, and it makes for a great, fun family."
Welsh will be teaching two jewelry-making workshops during the winter class session. "In the Steampunk resin ring workshop, we sift through a mix of antique watch parts to find tiny little pieces to assemble a collage in a ring bezel. Once the collage is perfected, we pour resin into the bezel and let it cure overnight into a durable glass-like finish that preserves the collage forever.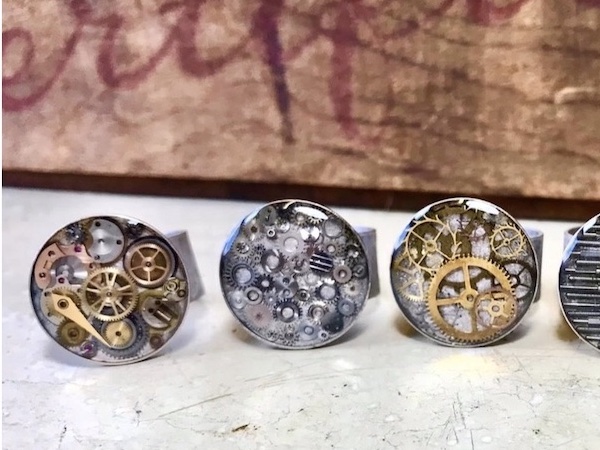 "In the second workshop we will make earrings. The students will get to be as creative as they want while learning all the basic skills, tools and findings to design and assemble a variety of styles. This knowledge and understanding can be translated into making just about any type of jewelry," she said.
Molinengo will teach her abstract painting and drawing class again this winter.
"Abstract art is such a diverse topic, and a new concept to most community members used to trying to make things look like something realistic. The idea was for it to be a freeing class, but also to educate them in the different types of abstraction and techniques since there is more to abstract art than throwing paint on a canvas randomly, however, that is still one of the ways to create it. My intention is to teach students the many possibilities and art history associated with it, so they have the tools in their toolkit to create successful works of abstract art."
She noted that her fall class attracted a variety of age groups.
"The class was very multi-generational. It was a benefit to the class because everyone brought different insights, interests, and skills to the table, and they all learned and created together, which is my favorite type of classes to be in and teach. The projects are open enough that different skill levels and ages can create artworks at their own level and still grow."
'BLESSINGS'
For Molinengo, teaching has made her feel more "well-rounded and fulfilled. … Teaching also has brought me back into painting again and exploring my own art practice where I left off. It's a rediscovery of my artistic practice. I truly enjoy teaching and passing on the knowledge of all the years I spent painting, drawing, and studying art. It's nice to help people who want to learn more about art making."
Welsh finds happiness as an instructor.
"To see and experience the happiness it brings others to create something interesting and to hear the feedback that everyone had a fun time in the process, makes me feel the same way. I always walk away happy and look forward to the next time I get to teach, share skills and create with a group of people. I feel so honored to be a part of such a highly recognized organization."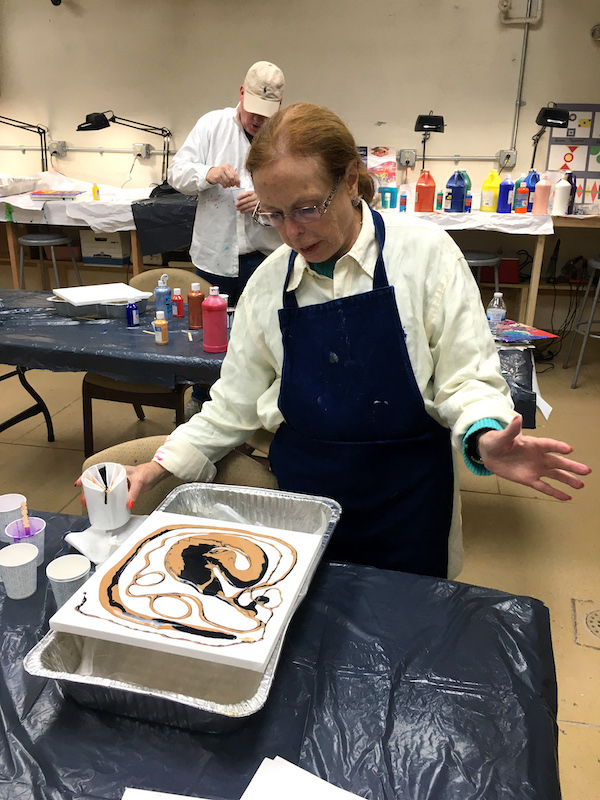 Jones believes that OI classes have been a "blessing" in her life.
"What a warm, supportive engaging environment the classes are!" She said. OI is a "Wheeling treasure," Jones said.
Joseph also believes she's blessed.
"My personal journey in pottery has been a great part of my life. Since I was 60 when I began, it's been truly exciting to find a new hobby that I could work on and grow with (Pottery is much more than a hobby for me now!) I am tremendously blessed to have had great teachers in Paul Latos and Rick Morgan who have guided and encouraged me, and even more blessed to have been able to share my passion and what I have learned with new students of all ages. (My 7-year-old granddaughter Kylie is my youngest student!)
"My learning in pottery continues every day, and I'm always excited to find a new technique, tool, or product to try. I love being a part of the incredible Stifel Fine Arts Center family," she added.
DETAILS
The winter class session at Stifel Fine Arts Center begins Jan. 8. For information about classes and how to sign up, visit online.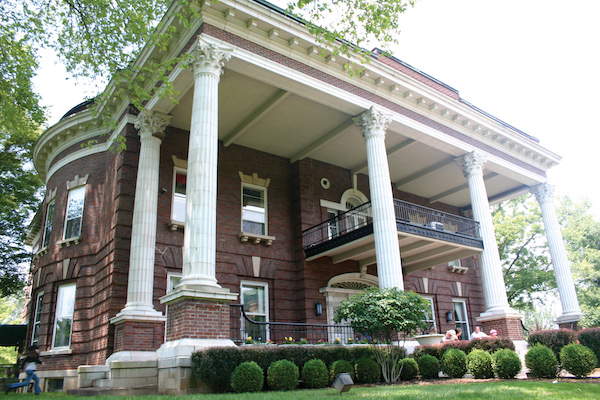 In addition to visual arts, Oglebay Institute offers a variety of classes at its other venues. Oglebay Institute's School of Dance offers dance classes for all ages, youth performing arts classes take place at Towngate Theatre, and the Schrader Environmental Education Center offers nature-based classes and events for children and adults.