By Phyllis Sigal
"The Nutcracker" — a gift to the Ohio Valley from Oglebay Institute's School of Dance — is all wrapped up for another year. Dancers, teachers, choreographers, set and costume designers, and parents can take a well-deserved bow after producing more than a dozen performances for 1500 audience members during the 2022 holiday season.
"Our dancers make such an impact on the community by providing this yearly show. There is so much talent and beauty brought to the stage by these 50 dancers. It really is a magical part of Christmas and an annual tradition for so many families," said Cheryl Pompeo, director of Oglebay Institute's School of Dance.
Visions of Sugarplums
Twenty-one years ago, then-director of performing arts at Oglebay Institute, Kate Crosbie, came up with the idea to tour a mini "Nutcracker" to area schools to promote performing arts, dance and literacy. The idea had grown from the dance school's annual recital, which featured a scene from "The Nutcracker" in the "Happy Holidays" show. That recital piece grew into a full-fledge touring ballet several months later in 2001.
"This is my 21st year watching 'The Nutcracker' happen. There is still magic when the tree grows, and the snow falls, and when the dolls come to life. There is such anticipation to see which girl is chosen to be Clara," Pompeo said.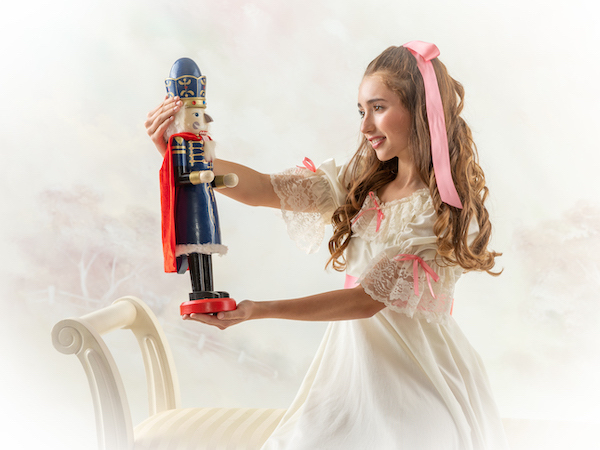 "Our 'Nutcracker' … is growing more popular as time goes on. We try and make a few changes every year to keep it interesting for both the audience and the dancers. This year, there was a new 'Soldierette' doll. Last year we added 'jesters,' and at Towngate Theatre, there was a larger-than-life-size Mother Ginger played by Micah Underwood."
Pas de Deux? It takes more than two!
No less than a village helps to produce the show each year.
"It takes many volunteers to make this show happen," Pompeo admits. "Every dancer that dances and every parent that drives are volunteers. Tracie Baker keeps up the rehearsal calendar and schedule book so that we are totally organized; Peter Lim, Heather Henthorne, and Dan Henthorne take care of our music and videos. Kerri Crews takes care of passing out and collecting the costumes. Ralph Fritter and Marty Sansone for security. All the teachers, Tracie Baker and Nancy Edgell work on sprucing up the costumes and making new headpieces as well as working backstage at all the shows, costuming the dancers and running the show.
"The show would not be possible without each and every one of them," she said.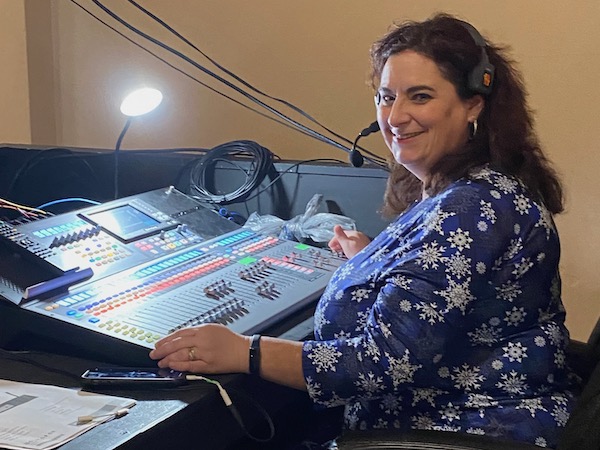 Pompeo also gave shout-outs to Oglebay Institute staff members — Rachel Thompson and the other customer service representatives, who make the ticket reservations; Scott McCloskey, who transports the props to the performances; Misty Klug and Katie Molinengo of the marketing staff, who get the word out to the public; and Tim Thompson, P.D. Gregg and Dave Henderson, who make the sets. Heather Henthorne, Angelina Robrecht and Jay Kafana helped with sets and prop pieces. One of Oglebay Institute's alumni, Beth Ekey of Tutu Theatre, makes and rents five tutus for our production complete with tiaras.
Dancer Maddy Taylor pointed to three people who have been helpful to her: teachers Kim Kafana, Maria Wood and J'Lyse Kafana, "who is like the big sister I never had. … Not only is she constantly with us, teaching classes and helping backstage, but she bakes cookies for anyone that orders them."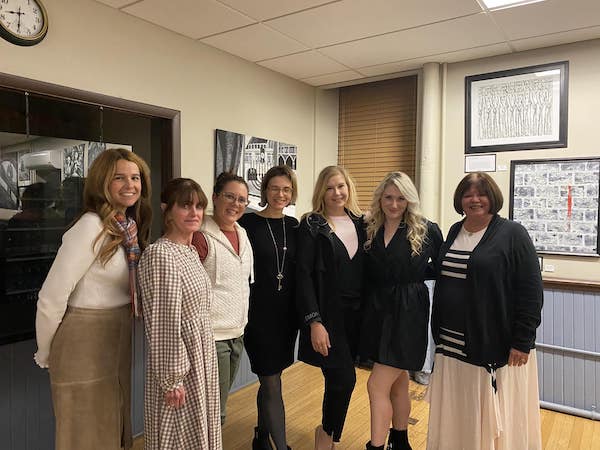 Dancer Lily Osborne also gave credit to J'lyse Kafana, who "in particular goes above and beyond, whether it's doing our hair and make-up, helping with quick changes, or giving us tips on our performance," she said. "At the end of the day, every single person who is involved in the show is giving it their all, and I appreciate them so much!"
And, you can't forget the choreographers!
"Oglebay Institute has many gifted choreographers who love 'The Nutcracker' as much as I do," Pompeo said. "These ladies — Kristin Carson, Kathleen Gottus, Kimberlee Kafana, J'lyse Kafana, Rebecca Moore and Maria Wood — work from October to the beginning of December choreographing each piece to fit the needs of the dancers and still produce aesthetic choreography. Many ballet companies have their repertoire but we 'tweak' and sometimes choreograph new pieces every year.
"I am so blessed to be able to work with the amazing talent and unselfish people that make 'The Nutcracker' happen," she added.
… Five, Six, Seven, Eight
Numbers don't lie, and they all add up to a successful show.
Approximately 98 hours of rehearsal went into this year's production, Pompeo said.
The 50 dancers performed at five venues: Bethany College, Oglebay's Wilson Lodge, The Strand Theatre in Moundsville, Oglebay Institute's Mansion Museum and Towngate Theatre.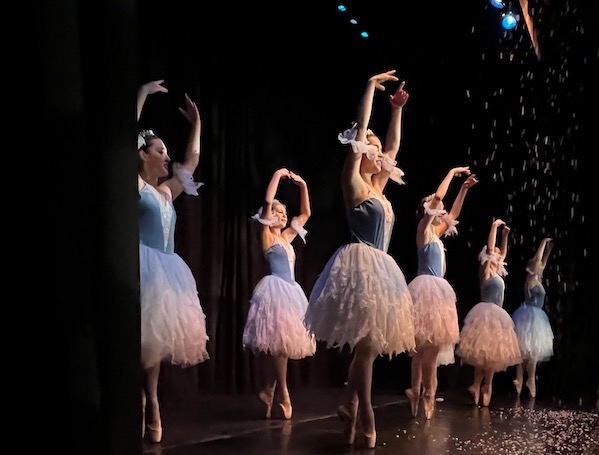 At this season's production, nine sets of siblings participated — Helen and Hannah Heusel, Emory and Margot Maunz, Emily and Lauyrn Blatt, Claire and Katherine Carson, Amelia and Addison Payne, Amelia and Charlotte Mandel, Mia and Sophia McCormack, Mila and Marlee Smith, and Kailey and Ella Nugent.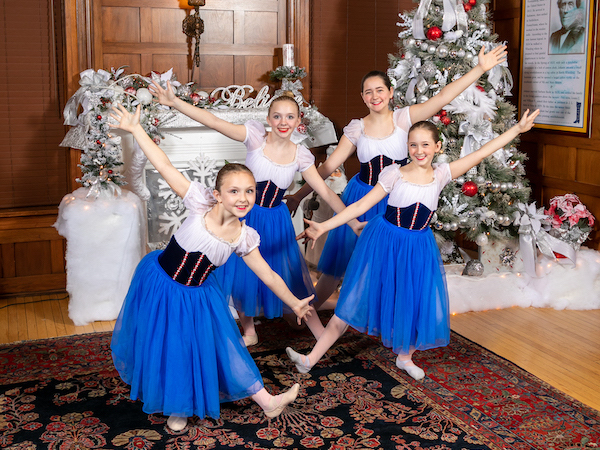 About 1,500 audience members witnessed more than a dozen shows.
Each pointe dancer has at least four pairs of pointe shoes, which totals about 150 pairs of shoes. Also, 50 body suits, 100 pairs of tights, 50 hair nets, and a gazillion safety pins, bobby pins and snap clips — too many to count!
"Beauty and Grace"
Ask any ballerina about "Miss Cheryl," and the words just glide off their tongues.
Amanda (Wheeler) Seidler, cast as the very first "Clara" in the mini "Nutcracker" over two decades ago, still recalls the impact Miss Cheryl had on her life.
"Miss Cheryl was a consistent presence in my life — from my very first dance class at the age of 2 1/2 to auditions and summer intensives and beginning to teach dance classes as a teenager. She was a force for beauty and grace inside the walls of her dance studio, no matter what was going on in our lives outside. She always brought a smile, a hug, and the encouragement that brought the very best out of her students," Seidler said.
"Miss Cheryl has been in my life for as long as I can remember," Taylor said. "… and she has always been there for me. I know this because she's always willing to help me out and make some rough patches better …and make hard things work out with ease."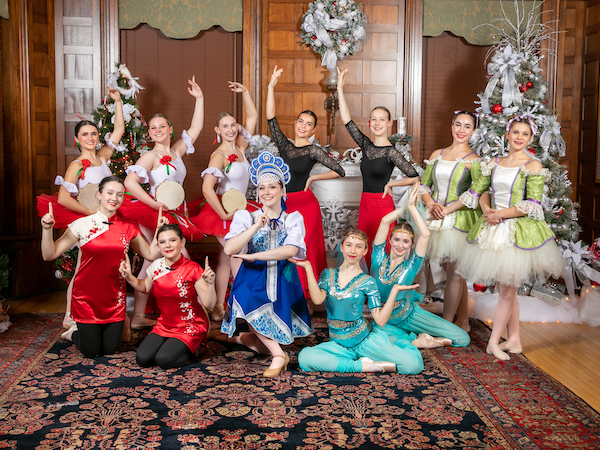 Osborne added: "Miss Cheryl has been an outstanding figure in my life for so long. She had always pushed me to improve, taught me life lessons, and encouraged me to chase my dreams."
It Takes Dedication…But, It's Worth It.
There's no dancing around this issue — it's a real challenge to balance rehearsals and performances with schoolwork and events, family life, and holiday celebrations. But for many of the participants, dance is their life.
Taylor agrees. "Dance has been my life for as long as I can remember."
In fact, she started taking Oglebay Institute dance classes at the age of 2. "I don't think I can imagine what I would be doing if I didn't dance. It has created a special bond between me and girls from other schools that I wouldn't have known otherwise. They have become my family," she said. A junior at The Linsly School, she has danced the roles of a party girl, a rat, a soldier, a snow maiden, a snowflake, a candy cane, as well as a Chinese, French, Italian, and Russian dancer.
Osborne, a junior at Wheeling Park High School, has been dancing with Oglebay Institute for 15 years. She has performed in "The Nutcracker" for seven years, with roles as Sugar Plum Fairy, Arabian, Spanish, Italian, Kissy Doll, and a candy cane, just to name a few.
"Dance is family, joy, and my soul. Dance is so much of an escape for me from the stress in my life. When I dance, I forget about everything else that I'm worried about. I could never imagine my life without dance, and hopefully, I'll never have to experience it without this art form," she said.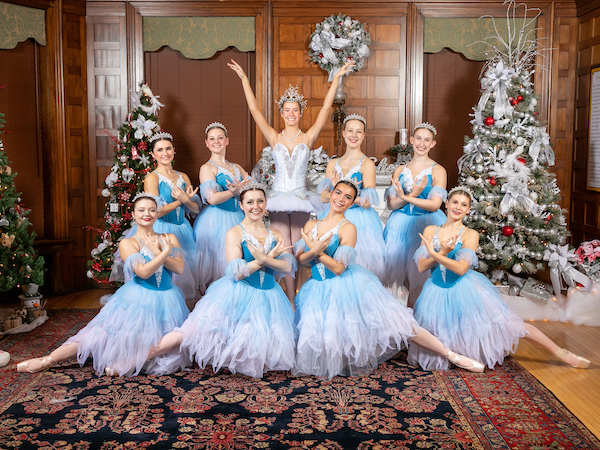 "Although these shows take so much time, effort, and dedication, performing is my passion and I wouldn't have it any other way. I've made so many memories and learned so many life lessons through these shows alone, that I could never imagine not participating in them," Osborne shared.
"It brings me so much happiness, dancing with all of my best friends. People are always so shocked when they hear that I'll have 13 'Nutcracker' performances this year, but to me, it's my time to let go, and have an amazing time on stage. … I get to be with the people I love doing the thing I love and couldn't be more grateful."
 Thank you, OI Dancers!
Oglebay Institute's Ballet Company 2022-23 Roster
Analise Baker, Sophia Benson, Emily Blatt, Felicity Blatt, Lauryn Blatt, Claire Carson, Katherine Carson, Kennedi Chesonis, Annabelle Crews, Sarah Czapp, Katie Fritter, Sydney Gilman, Kelsey Glessner, Molly Henthorne, Hannah Heusel, Helen Heusel, Abigail Hines, Kaylee Huntley, Kynlee Judge, Riley Kendle, Eden King, Morgan Lander, Selah Lewis, Peter J Lim, George Mamakos, Amelia Mandel, Charlotte Mandel, Kami Martin, Emory Maunz, Margot Maunz, Mia McCormack, Sophia McCormack, Abigail Miller, Lila Mincey, Keagan Moore, Kerrigan Moses, Lena Monahan, Anne Nettles, Ella Nugent, Kailey Nugent, Lily Osborne, Chloe Patt, Addison Payne, Amelia Payne, Emma Petersen, Sarah Petersen, Marlee Reese, Rose Robertson, Brooke Sansone, Piper Shinn, Marlee Smith, Mila Smith, Sydney Smith, Cecelia Sweeney, Madison Taylor, Summer Toland, Micah Underwood, Annabelle Voeglin, Emma Wodarcyk
Learn More
Visit online to learn more about Oglebay Institute's School of Dance or call 304-242-7700.