Join us this Friday, September 1, at Towngate Theatre, for some exciting films, art and a little improv – all for free.
The Gallery at Towngate
Doors open at 5:30pm. When you first enter, you can view the work of award-winning painter and photographer Robert Sako on display in The Gallery at Towngate.
This exhibit features Robert's explorations in soft pastel and mixed media with influences from the impressionists and post impressionists.
Have a Drink on Us!
Next, head over to the concessions window and have a drink on us. We'll have wine and craft beer as well as some light foods.
Thought-Provoking Short Films
Enjoy your drink and head upstairs to the theater to watch short films by filmmakers from Pittsburgh's Penn Avenue arts district on the Towngate Cinema big screen. These films were made by the Penn Avenue Artists, a group of artists who live and work and exhibit along Penn Ave. in Pittsburgh. Artists work in a variety of mediums and their work often is in response to social, political, gender and race issues facing their community and the country at large.
Michael McKowen, curator of exhibitions & screenings at Stifel Fine Arts Center and Towngate Theatre, said he is excited to be able to present these films to the Towngate audience.
"These are independent filmmakers who are free to communicate their stories and visions without the judgement, control and censorship of studios and corporations," Michael said. "This frees the artists to address issues such as race, gender and sexual orientation in a very real way. Many of the films provide a rare and candid look at aspects of life, particularly in Pittsburgh, which may be unknown to much of the audience."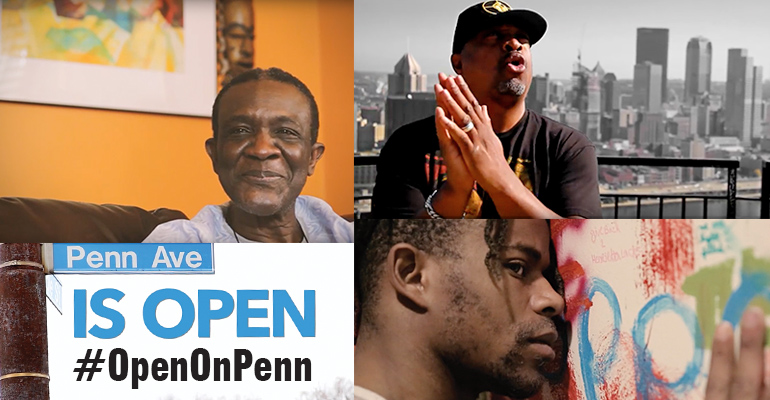 Michael said that he finds these films important as they expose people to new experiences and ideas.
"I believe any time you can provide opportunities for people to see and experience something new or different, it has great value in an individual's life," he said.
"We all learn through experience and you can only experience what you are exposed to. Artistic work, like this, allows viewers to see things from another person's point of view which ultimately can broaden a person's understanding of life and the world we live in. That is how change is created. It is much harder to hate an idea or a community if you have an opportunity to get to know the community as human beings. Any time we as artists have the chance to confront fear and ignorance, we must seize the opportunity."
Improv on the Towngate Stage
Following the short films, at 8 p.m., Towngate's Crazy 8s improv troupe takes the stage, and these performers are certain to make you laugh.
Did We Mention It's Free?
All First Friday events are free and open to the public, and it's a great way to start your weekend. Come to Towngate, see some great art by a local artist, watch some thought-provoking shorts films and finish it out with a free improv performance.
The first drink is on the house!  Stay for 30 minutes or all evening. All the events are finished by 9pm. Perfect for early birds (who want to get home at an earlier hour) or for night owls who want to make it their first stop before hitting other First Friday events, bars, and concerts taking place in Centre Market.
This event is sponsored by Main Street Bank.