Appraisal Guys Return to Wheeling in Search of Treasure
By Laura Jackson Roberts
I know that I'm not the only person in Wheeling with an attic full of clutter: old quilts, a cracked woodwind instrument of some kind, my dad's sword from his Linsly marching days, and at least one creepy clown doll. Lots of folks have junk in the attic. But when it comes to sheer volume, I like to think I'm the queen. The czar of junk. Most of it is piled so high we don't even know what's in there. We excuse this hodgepodge vortex by reminding ourselves that our family has lived in the same house for over one hundred years.
It's a century worth of stuff. So when Oglebay Institute asked me to attend the annual Appraisal Fest at Cabela's where The Appraisal Guys, Tim Luke and Greg Strahm, were once again holding an event to raise money for The Museums of Oglebay Institute, I tied a safety line around my waist and went up there to see what I could find. The family eventually sent in a Saint Bernard to locate me, but I emerged with three old toys: a WWI doughboy doll that belonged to my grandfather, a metal train set my son, Benjamin, has beaten the heck out of, and Skippy, the walking cocker spaniel.
Up at Cabelas, lots of folks wait to see Tim and Greg. Around me, people hold paintings and plates. Someone wheels in a dollhouse. I note an abundance of glass and ceramics: wine glasses, pitchers, vases. It's the same kind of breakable mishmash in our china cabinet that triggers an outbreak of hives when I see my boys hurling a rubber triceratops across the dining room.
I've brought my dad with me, and while we wait for our turn, we watch Greg speaking with a woman about a framed painting. He inspects it, consults his electronic database, and talks about the origins and value of the piece; Tim and Greg refer to a database of past auctions to determine an approximate value of an item.
When our turn comes, we sit down across the table from Tim and pull out the doll. "A doughboy!" he says excitedly and begins to inspect it, turning to his own tablet to search for the doll in other auctions. He quickly finds it and explains that the toy is largely comprised of a material called composite, a predecessor to plastic. Our doughboy is a little banged up, but in better condition he might fetch $150.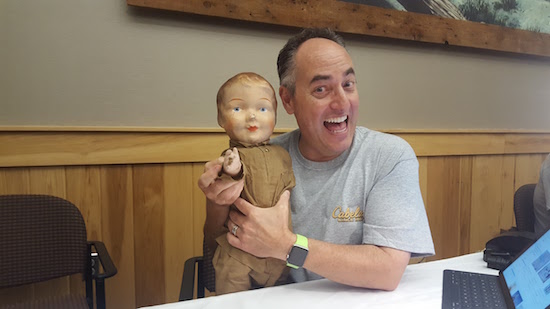 Next up is Skippy, another one of my grandfather's toys. We love Skippy, and Tim quickly finds the dog in his auction database, to my surprise. Skippy was likely made by a Fisher Price competitor sometime between 1920 and 1940. He's held together by metal pins, not plastic, and he's also made of composite. Alas, Skippy's value lies only in our nostalgic hearts; the little mutt wouldn't sell for more than $15. Not that we would ever part with him.
But Tim smiles at me and the toy. "It's well played with," he says. "And you know what? The memories…they're priceless."
Home Visit Appraisal Services
My dad and I talk to Tim about their home visit service. If you've got a collection of stuff like mine, the Appraisal Guys will come to your house. "It's part of our valuation service," Tim says, and goes on to explain the important difference between valuation and appraisal. For valuation, the guys act as auctioneers. They give estimates as valuation experts.
For an appraisal, however, the process would be a little different. "The appraisal will depend on what you need. Is it for fair market value? For estate purposes? Is it equitable distribution in a divorce? Is it for insurance purposes? One piece would have three or four different values depending on the scope of work and the purpose, the intended use, of that appraisal. We're going through just as we would as an auctioneer or an estate sale or value expert." If the guys come to your house, they'll give you a valuation, the amount that similar pieces have fetched in auctions.
My father and I are so intrigued that we schedule a home visit for the following week, the proceeds from which will go to the Mansion Museum. Pewter, glass, and china all come out in anticipation of Greg and Tim's arrival. We polish up the antique clocks, dust off the framed family sampler, and line up the dining room chairs. The model ship comes down from its kid-proof place on top of a bookcase. Greg takes a long look at each piece we've laid out. Nothing is particularly unusual or valuable. In fact, he's seen many of these kinds of pieces in homes like ours. It turns out that everyone in Wheeling has a similar collection, and such glassware and china accounted for the majority of valuations they did at Cabelas.
Find Out the Story Behind Your Treasures
What we're really interested in is the story behind each piece, and that's the fun of having The Appraisal Guys come to your house. Odds are good that you're not going to find anything terribly valuable (the beautiful old clock turns out to be the Timex of its era and the weird jade unicorn head is gallery art) but every family has its treasures, and Tim reminds me that, like Skippy, the value of these pieces lies in the memories they hold. Nana's china, Grammy's silver…they're priceless to us.
Ship People?  Duck People?
As they inspect the model ship, Greg makes reference to ship people. There are ship people out there. Collectors. On a whim, I ask him about wooden duck decoys. Are there duck people out there? Yes, he tells me, and some of them have valuable collections. Out of curiosity, we dig out one of our own wooden ducks, and as we set it down on the table, its head falls off. Greg looks grim; Tim laughs hysterically. I do too. This has been so much fun, despite the fact that we didn't find any big surprises.
As Greg and Tim say their goodbyes, I'm curious about their day at Cabelas and I ask them about the most valuable thing they saw. Tim tells me that someone brought in an old German violin. It was in excellent condition. I think back to his valuation of our final item at Cabelas the other day. What about that little toy train, the antique beauty my son has been roughing up for several years now?
We'd saved the beat-up train for last. Car by car, I pulled it out of the bag, and when the sad little coal tender flopped onto its side because it had no wheels (which we'd brought along in a baggie), I was ashamed. Tim inspected it and consulted the auction website.
"So the passenger train, if it were in excellent condition, sold for $500," he said. For a moment I felt the thrill of excitement. A treasure!
"But in this kind of condition," he continued, "you're looking at, probably, let's take a zero off that. Let's go to $50."
Thanks a lot, Ben.
Appraisal Event is Sept. 9, 2017 at Cabela's
The Appraisal Guys return to Wheeling for the annual appraisal event from 10 a.m. – 2 p.m. Saturday, September 9 at Cabela's at The Highlands.  You can have your items appraised for $15 each or four items for $50.  Click here for more information or call 304-242-7272