By Laura Jackson Roberts
Oglebay Institute consists of five different cultural arms: The Museums, the Stifel Fine Arts Center, the School of Dance, Towngate Theater, and the Schrader Environmental Education Center. If you want to learn to belly dance or build a compost bin, you probably know which numbers to call. And until recently, Towngate Theater was, of course, a branch of OI for the performing arts: plays, improv, comedy and movies. But now, in a wonderful new development, Towngate Theater also houses an art gallery.
Traditionally, Oglebay Institute's art exhibits have taken place at the Stifel Fine Arts Center. The building is perfect for large shows like Crosscurrents, the holiday exhibition, or the annual high school student art show. But most local artists don't have a body of work suited to such an expansive gallery, and therefore haven't been able to participate. Enter the director of exhibitions at Stifel, Michael McKowen, who recently spoke to me about the gallery at Towngate.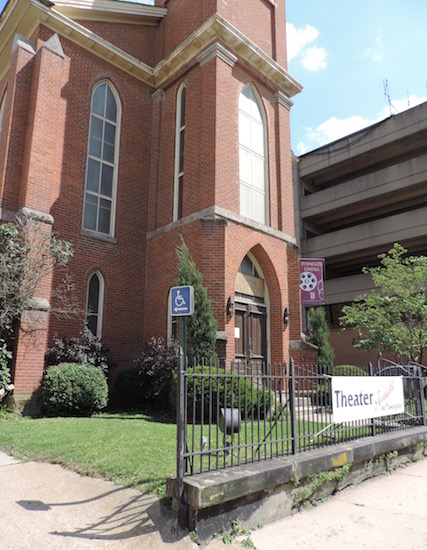 "I started at Oglebay Institute just a little over a year ago," he said. "I recognized that there weren't a lot of opportunities for [local] artists to show their work." As he got to know Tim Thompson, director of performing arts at Towngate, he began to envision a use for the first floor of Towngate Theater. In the past, local artists outside of OI had been featured there, and McKowen saw it as an opportunity to expand.
"We have the Towngate Theater," he said. "It's our house. We should treat it as a sister space to the Stifel Fine Arts Center, and I thought it would be great if OI was involved with First Fridays in Wheeling."
First Fridays are a metropolitan concept designed to encourage community involvement and enjoyment. On the first Friday of each month, residents are invited to visit local businesses in Centre Wheeling. You'll find special entertainment and good deals. The idea is to make an evening of it. Many larger cities have an art walk on First Fridays, and McKowen is pleased to contribute Towngate's gallery to this growing event.
Unlike scheduled entertainment such as a play or concert, Towngate's First Friday events are designed for casual enjoyment. You don't have to commit to a two-hour performance or a long meal, McKowen assured me. Spend ten minutes or several hours. It's up to you.
"You can walk in, you can have a beer or a glass of wine and you can look at the artwork. You can go upstairs [to see a short film], move down the street, go see what's happening at the Centre Market. The idea is to provide the same experience that you get in larger cities where they have their First Fridays or their art walks. We wanted to provide one more spot where people can turn this into an all-evening kind of thing."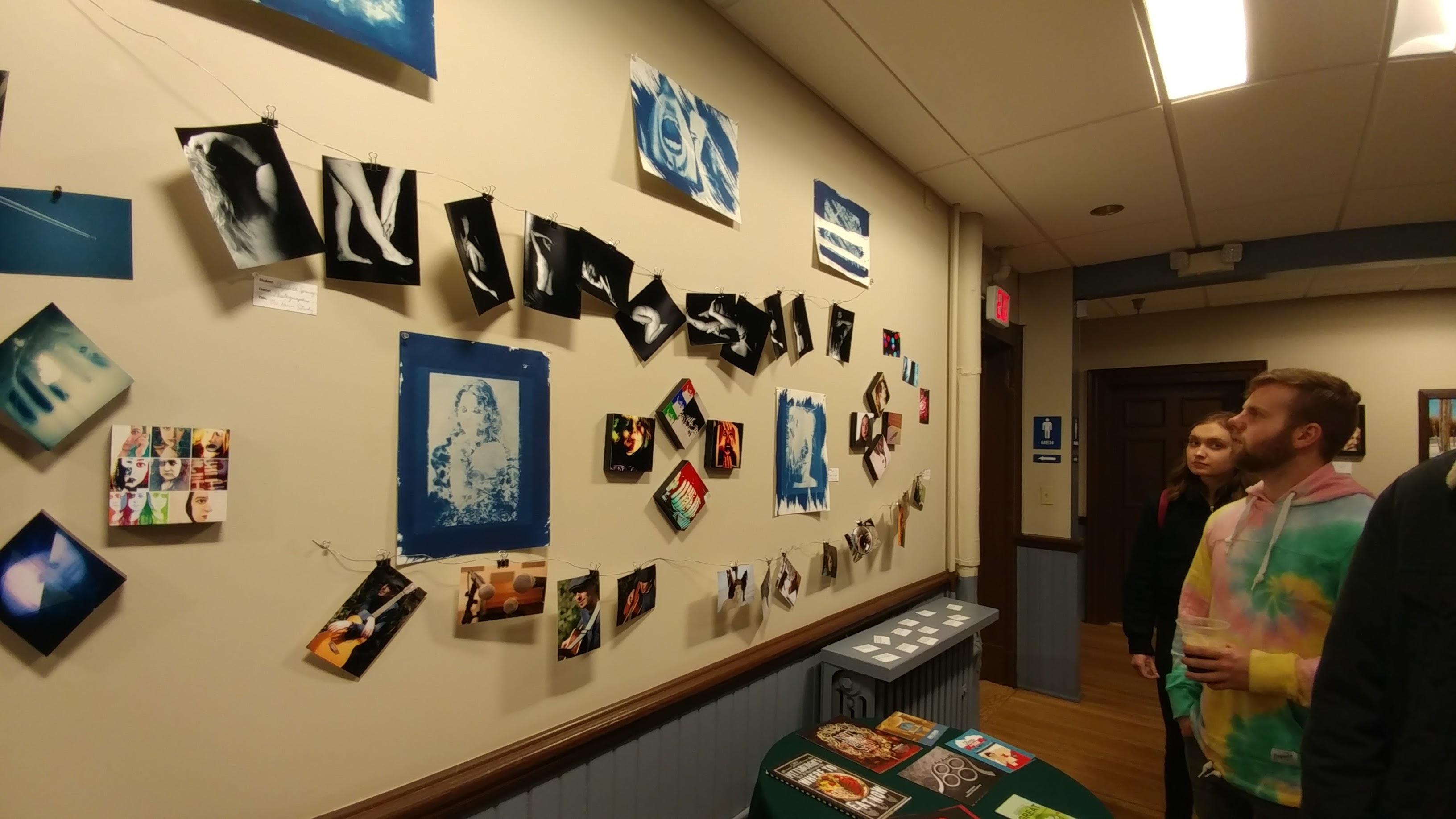 Often, people begin their Friday in the Gallery at Towngate and then wander off to other venues, only to return later to enjoy a film, concert or improv show.
I visited Towngate on the First Friday in April, when the gallery displayed the work of West Liberty University art students. I wasn't sure what to expect, but when I arrived the main floor of the theater bustled with live bluegrass music and activity. People sat and listened, people ate and drank, people chatted with the artists who stood proudly beside their pieces. Upstairs, "The Graduate" played in the theater (more often it's a collection of short films). At some First Friday events, concerts, poetry readings or improvisational comedy follow the featured films.  And all events and activities are free!
People flowed in and out of the building, most heading down to or returning from the Centre Market's activities. I chatted with a group of young first-year art students, all of whom were excited to be in their first show, which included sculpture, paint, drawings and photographs. The casual atmosphere fit right in with the First Friday vibe.
Soaking up that vibe is easy: Come, enjoy, appreciate. But let's say you're a local artist looking for a chance to share your work with the public. I asked McKowen how you get an exhibit at the Towngate gallery.
"Contact me," he said. "Stop by and talk to me." Artists often send him packages of work. They call, email or visit the Stifel Fine Arts Center, and McKowen welcomes the initiative. He's always on the lookout for local art. Wheeling artist Mark Campbell's exhibit goes on display in May. He's a photographer who shoots for INWheeling Magazine, and his show came together after a casual conversation with McKowen, who now leaves slots in the schedule open for just such an opportunity.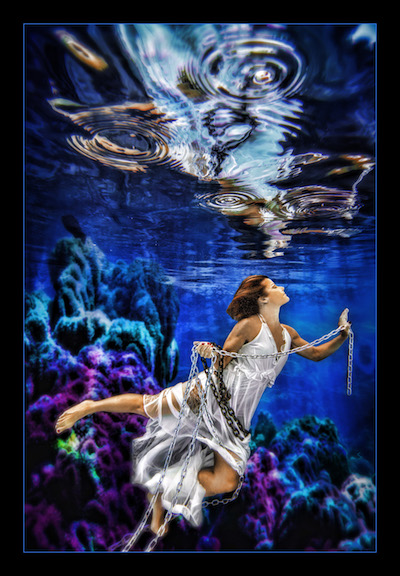 With the approach of summer, First Fridays offer later evenings and more time with friends. After I perused the gallery, I wandered down to poke around the pottery at Centre Market. Then I browsed a few shops. Then I stopped back at the theater to listen to the music. Thanks to this new expansion of Towngate space, the artistic community in Wheeling continues to develop.
Come & See:  First Friday at Towngate June 2
View the latest exhibit at The Gallery at Towngate featuring the work of award winning photographer Mark Campbell.
Doors open at 5:30 p.m. Have a drink on us; your first beverage is free. Wine and craft beer will be available along with water and soda. Enjoy some light foods, too.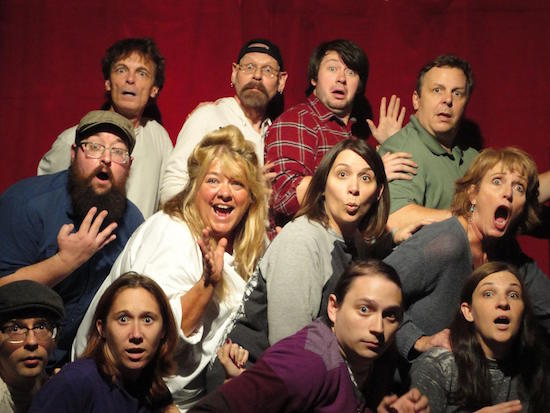 After that, you can go upstairs and watch some independent film shorts on the Towngate Cinema big screen. Meet our staff and explore our theater. Learn more about the many arts and entertainment events that take place year-round at Towngate.
At 8 p.m., Towngate's improv troupe "The Left of Centre Players" take the stage.  Enjoy a hilarious performance from these comedic actors who make up scenes on the spot using suggestions from the audience. Click here for more details.