See Holiday Classic Staged as a 1940s Radio Broadcast
A treasured holiday classic comes to life anew! Oglebay Institute's Towngate Theatre presents "It's a Wonderful Life: A Live Radio Play" December 1- 3 and December 8 & 9.
Presented as a 1940s radio broadcast, the play puts a fresh and inventive spin on a beloved tale that has warmed hearts for generations.
A talented ensemble of local actors tells the story of depressed idealist George Bailey, Clarence the Angel and a series of life-changing events that take place one Christmas Eve.
Radio Was King and Imagination Reigned.
Go back to a day before television, when radio was king and the human imagination reigned. The actors perform an old-style radio show before a "studio" audience. Just like in radio, actors play multiple parts and create sound effects live before your eyes.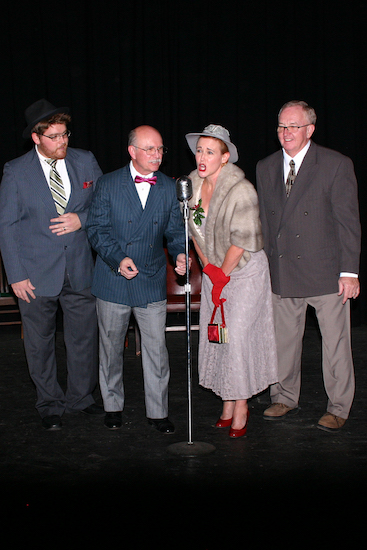 "It's a Wonderful Life: A Live Radio Play" tells a well loved story with a "special style and charm," Oglebay Institute director of performing arts Tim Thompson said.
"This show re-connects audiences with a classic story.  And audiences adore this story of love and redemption. We are thrilled to present it in a new and interesting way.  The messages in the story resonate with all ages and still ring true today," Thompson said.
Dave Henderson directs the show.  Cast members include: Dana Applegate, Jon Coffield, Madison Farmer, Holden Farnsworth, Robert Gaudio, Luke Hladek, Charlie Ihlenfeld, Carol Lawrence, Zachary Michael, Jim Showalter, Pam Showalter, Justin Swoyer, Judy Tarowsky, Jim Weekly and David Yaeger.
About Towngate
Towngate is the premiere venue for community theater in Wheeling, providing an intimate theater experience. Talented local actors perform in a variety of though-provoking, heartwarming, comedic and historically significant works from renowned playwrights and talented newcomers.
Thompson encourages everyone to check out a show at Towngate. And gives special encouragement to those who have never experienced community theater before.
A church-turned-theater, Towngate is located in Wheeling's historic Centre Market District and serves as an entertainment destination for residents of Wheeling, the Upper Ohio Valley and beyond.  In addition to community theater, you can see poetry and spoken word performances, children's theater, ballet, improvisational comedy and live music at Towngate. Towngate is also home to the Wheeling Film Society, art house cinema and features changing art exhibitions in The Gallery at Towngate.  Also, children and adults can enroll in theater classes year-round.

Get Tickets for "It's a Wonderful Life: A Live Radio Play"
Evening performances of "It's a Wonderful Life: A Live Radio Play" take place at 7 p.m. December 1, 2, 8 & 9. A matinee performance takes place at 3 p.m. Sunday, December 3.
Purchase tickets for this show or any Towngate show in advance at www.oionline.com or call 304-242-7700.  You can also purchase tickets at the door, if available.