Jewelry Making Workshop with the Bumbling Artist
By Laura Jackson Roberts
As the Oglebay Institute blogger, my job often means taking classes. I do this for you, readers. I do it so you'll know what to expect when you take the class yourselves. If I can do it, you can do it, right? Still, my inner introvert always hesitates because I fear I'll be the lone beginner in the class, the one who just doesn't get it or produces something hideous.
However, I've bumbled my way through several art classes at Oglebay Institute's Stifel Fine Arts Center, and that's never been the case. I'm always surrounded by other hesitant beginners who share the same unfounded worries. My Halloween wreath did a fine job of ushering in ghoul season. My basket is still tightly woven, several months after its weaving. Maybe I'm not the bumbler I imagine myself to be.
In today's class I will be learning to make jewelry with local artist Sandi Ziolkowski. I know I'll be making a bracelet, but I admit I haven't read the class description, so when I arrive in the studio at the Stifel Fine Arts Center, I'm surprised to see hammers and blow torches. I've incorrectly assumed bracelets meant twisting tiny wire and stringing beads. What have I gotten myself into?
Expert Instruction
I'm in good hands, though. Instructor Sandi Ziolkowski's work has been featured at Tamarack. It's also available at Artworks Around Town at the Centre Market and in several local boutiques.
"I'm a self-taught artist," she tells us. "I learned a lot from YouTube." I like this. It means she's a natural creative. She's been doing this for many years and has some fantastic pieces on display here in Wheeling.
Today we'll be making a silver cuff bracelet using various pinchy hand tools, hammers, solder, torches, and acid. (Don't worry—I'm writing this with all ten fingers still intact.) Sandi makes sure we understand what we'll be working with and shows us how to do it safely. We start by watching her make the bracelet. She bends a strip of silver back on itself three times until it's roughly the size of a wrist, and she adds a few hammer strikes along the length of the strips for texture. Then, she lines up the ends on each side and solders them together with a torch. One piece actually breaks off and for a moment we wonder if she'll chuck the whole thing and start over. But she just shrugs.
It's OK to Make a Mistake
"Mistakes can become something interesting," she says. Once, she dropped an unfired clay piece and the resulting shape produced exactly what she needed. She tells us that some of her biggest mistakes have led to her most beautiful pieces and that an accident usually triggers an unexpected and wonderful result. Finally, she solders a small bezel (to be filled with a stone) in between two of the silver strips. It's lovely and simple. And now it's our turn.
Experience Hands On Creativity
There are four of us in Sandi's class today, and we all sit down with an array of pliers and hammers, ready to bend our own silver wire as she has done. As it turns out, I'm not terribly adept at bending metal. My wire is twisted, somehow. I wrestle it into place but it doesn't look quite right. We're all working hard to get our wires lined up, and each piece already looks very different. The sharp ends of our hammers add the texture to the metal; when we tarnish them the textured areas will remain darker and make the bracelets more striking.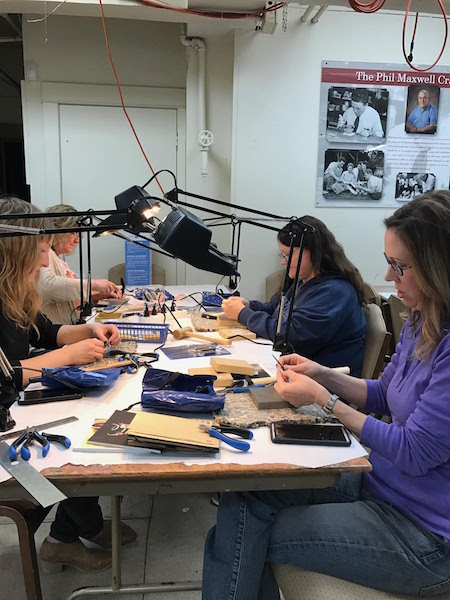 It's time to solder the bracelets now, and I realize that I can't see what I'm doing. I send a quick text to my husband at home just a few houses up the street and within five minutes my oldest son arrives with my reading glasses. If close-up vision is a problem, make sure you bring your cheaters because solder is tiny and its placement must be precise. Luckily, I've not had too much coffee today and my hands are steady. I send my son home before he can get an eyeful of Mom with a blow torch.
"Soldering is an art itself," Sandi tells us as we get ready to light our torches. First you must heat the metal evenly from a distance, and then you can move your torch in and melt the solder. The first time I don't put the torch close enough and the solder doesn't melt. The second time I blast the heck out of it and the tip of my bracelet turns bright red and falls off! I'm horrified.
Sandi assures me that this is all part of the learning curve. She tinkers with my bracelet for a few minutes and helps me set up the soldering process again. The third time, I get it right, and the bracelet fits my wrist far better now that it's a bit shorter. A fortuitous blunder.
"See?" Sandi says. "No big deal. Looks great." Beside me, the other students are learning the ins and outs of soldering, too. We all screw up a few times, but by now we've each developed a unique piece, and they're all starting to come together. Each time we solder, we dip the bracelets in a mild acid bath to clean them up.
The last step is to solder a bezel into the bracelet and choose a colored stone. I pick an amethyst. When I solder the bezel into place, the silver wire bends unexpectedly, giving the bracelet a totally new look that I really like. Every step has been a surprise to me; in this way each of Sandi's pieces claims a unique spot in her own collection.
At last I've got a shiny, silver bracelet. Sandi puts them all into a tumbler to polish them up. I assume we're done, but we're not. The next (optional) step, is to tarnish the bracelet. I think these ladies must be crazy to deliberately tarnish something they've worked on for the last two hours, but without hesitation, they dip their pieces into a liver of sulfur bath. Each bracelet turns from silver to gold to a rainbow of amazing colors: fuscia, copper, red, yellow, blue. Some of the students like these intense colors. Others use a buffing cloth to polish the piece back to a silver shine, leaving the rainbow tarnish glowing in the textured hammer strike indentations. I waffle about tarnishing this lovely, shiny silver I've just labored over.
At home, my jewelry collection exposes me as a chronic, lazy polisher. A dull gray ring here; a dingy necklace there. I decide I might as well tarnish the piece now, on purpose, and toss it into the sulfur bath. When I pull it out, it looks like the inside of a gleaming abalone seashell, mottled with iridescent pinks, purples, and blues. The buffing cloth brings the silver back out but leaves hints of these striking colors. On the way home I see them gleaming in the sunshine.
Sign Up for A Jewelry Making Class
Sandi lays out our bracelets together. They're fun and unique. She tells us about her next two classes, etched metal on Saturday, April 29 (copper earrings and a pendant) and squiggle bracelets on Saturday, May 6. One of the students pulls out her smart phone and signs up for the next class before we leave. I'm feeling much better about my inexperience now. It didn't hinder me at all. In fact, I may have to promote myself from Bumbling Artist to Artist Learning to Be Brave.
For more information, call 304-242-7700 or visit OIonline.com.