Family Roots: Oglebay Institute Nature Camps Provide a Legacy of Experiences for the Rybeck Family

Wheeling native Ted Rybeck calls himself "one of the many fans" of Oglebay Institute, and his participation – and that of his family – explains his passion.
A member of the third generation of Rybecks to enjoy OI's nature programs, Ted was a camper and then counselor at OI's Junior Nature Camp from 1972 until 1983, under the camp's legendary director, Billie Altemus. Eighteen years later, Ted returned with his wife, Ellen Brodsky, and their two young daughters, Mia and Emma, and began eight more summers of teaching week-long classes under camp directors Jeff Altemus and Natasha Diamond. Each summer focused on a different nature topic that Ellen and Ted would spend a year developing into a hands-on session.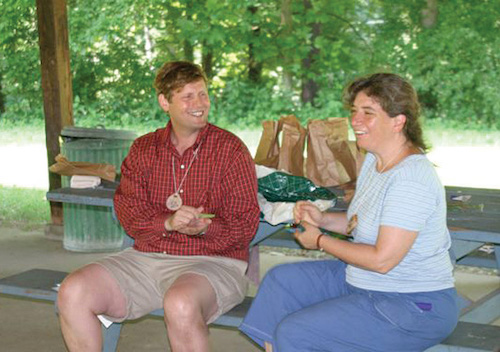 "In my 12 years as a camper and a counselor back in the 70s and 80s, and in my more recent years as a teacher there, I've never been more inspired by the quality of the experience Oglebay Institute provides," says Ted.
As the youngest of five from Wheeling, Ted saw all four of his siblings go off to Junior Nature Camp before he got his chance: Charles (Chick), Dan, Blanche and Abe.  The next generation followed suit, so by the time Ted and Ellen returned to teach, they had plenty of family there. In addition to their daughters, there were cousins Coretta Rybeck Garlow, Ry Garlow, Naomi Rybeck, Gabe Rybeck, Shoshana Rybeck, Sam Rybeck and Abe Rybeck, as well as "virtual-cousin" Charlotte Reuben and second cousin Jack Krivit.
"Each of our family members loves something about the camp that's unique to them, but they all appreciate how OI's nature program brings different ages together so effectively," Ted relates.
OI as an Extended Family
The family's passion for Oglebay Institute's programs began in the late 1920s when Wheeling was offered the Oglebay estate as a park. "At that time, city government questioned whether enough locals would use the property to justify its upkeep," Ted says. "But hundreds from the Wheeling area rallied to support the creation of Oglebay Park." To encourage public support, Ted's grandparents, Samuel "Ry" Rybeck and Rosalind "Buddie" Rybeck, pitched a tent on the grounds of the proposed park during the summer with their two little boys, Arthur (Ted's father, the late Dr. Art Rybeck of Wheeling) and Walter (currently residing in Washington, D.C.). Ry would commute to work downtown at the Stifel department store, then return to the tent each evening.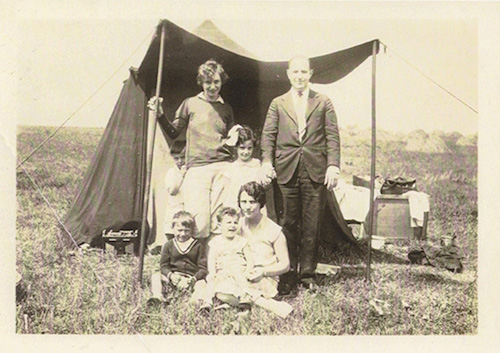 The community campaign succeeded, and the two boys spent their childhoods "waking up early to follow West Virginia's first forester, A.B. Brooks, on the trails at Oglebay," Ted relates. "They and their parents loved the experience so much that they ended up asking to become the first youth members of Oglebay Institute back when the organization started in 1930. Families continued coming to the park, and Buddie's gathering of kids for story reading and activities evolved into the day camps that continue today."
Another favorite activity was folk dancing, under the tutelage of OI's first international folk dance director, Jane Farwell.
Ted explains: "Jane charismatically magnetized Wheeling youth to Oglebay Institute in the late 1930s, including Art and Walt, Billie Brasch Altemus and Martha Darrah Kulp. Billie and Martha ran OI's Junior Nature Camp during the 1970s and 1980s, with folk dancing lessons they had learned 40 years earlier from Jane."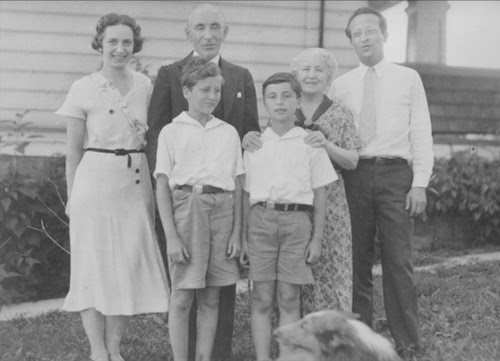 For the Rybecks, OI became an extended family. Ry and Buddie originally came to Wheeling in the early 1920s from New York City, after Ry returned from serving in France during World War I, and Buddie graduated from Teacher's College at Columbia University. Buddie had lost her only sibling to a childhood sickness, and then lost both her parents to the 1918 flu epidemic.
"The warmth she and Ry found in the Wheeling community made her feel immediately at home," Ted offers. "In that same spirit, when Ry became a leader of the 'Live Wire' young adult group within the Wheeling Chamber of Commerce, he coined a nickname that survives to this day for Wheeling – 'The Friendly City.'"
OI in War and Peace
Art and Walt never forgot what they learned at OI and even found time for bird walks when their Army units stationed them near one another in Europe during World War II.
OI influenced Walt's path when he returned from the war as well. He chose to finish his G.I. Bill education at Antioch College in Yellow Springs, Ohio, the alma mater of his former folk dance teacher at OI, Jane Farwell. At Antioch, Walt organized Sunday morning nature walks on the college's nature reserve, a la the OI Sunday morning hikes with A.B. Brooks. At a folk dance in nearby Dayton, Ohio, Walt had a first date with Erika Schulhof, a fellow bird lover, and the two have now been married for 61 years.
As a young columnist for Dayton's newspaper, Walt helped spur a movement to build a new Dayton nature museum, drawing on his own high school job curating Oglebay Institute's nature museum under A.B. Brooks.  In Walt's 2011 memoir, Re-Solving the Economic Puzzle, he describes his career-long work on international land reform issues that go back to his growing up with OI. He and Erika returned to Wheeling in 2011 to give a talk on the memoir at OI's Schrader Environmental Education Center.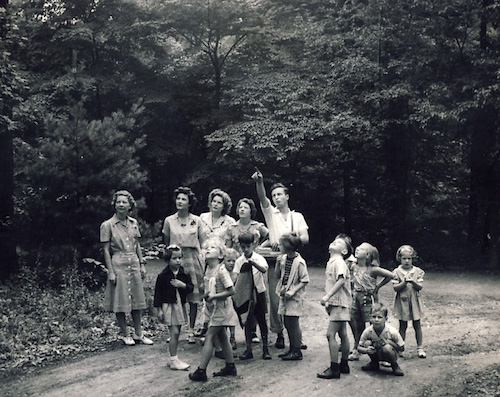 During World War II, Art was asked to teach his Army unit about poisonous snakes based on his OI training and he continued his nature study interests during his service at the end of the war in the Philippines and Japan. Back in the U.S., Art met his future wife, Sivia Brody, on an American Youth Hostel canoe trip in the New Jersey Pine Barrens. Art had learned to canoe at OI's Terra Alta camp, and the cultural spectrum of OI programs helped him woo his nature-loving fiance to the Friendly City when she graduated as a teacher from Jersey City State College, and he graduated on the G.I. Bill from the University of Pennsylvania Dental School. When the newlyweds finished camping on their honeymoon and moved to Wheeling, they spent their first summer and fall living out of a tent in Ry and Buddie's backyard in order to save money for their first home.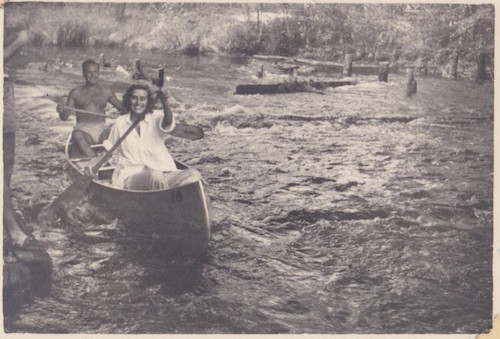 Ripple Effects
In keeping with their passion for learning, Sivia and Art raised their five children participating in the full range of OI's year-round classes and programs. As a senior at Wheeling Park High School, Ted wrote his college application essay on how he had been shaped by OI's Junior Nature Camp and Terra Alta Mountain Camp. Before he proposed to his wife, Ellen, he brought her to Wheeling with a first stop at OI's Spring Folk Dance Camp to meet his parents.
Decades later, both of Ellen and Ted's daughters are interested in becoming educators. Emma, their youngest, will be going off to college this fall. Her college application included an extra page with the following prompt: "Some students have a background, identity, interest, or talent that is so meaningful they believe their application would be incomplete without it." She responded with a statement on the impact that OI's Junior Nature Camp had on her life.
Ted's mother, Sivia, and his sister, Blanche, still reside in the Ohio Valley, where Blanche lives on the family farm that once also housed Art's free dental clinic staffed by volunteers. Ted's other siblings and their families, as well as Walt and Erika's grown children – Rick Rybeck, Ellen Czaplewski and Alex Rybeck – live farther away yet report feeling a close connection with Oglebay Institute to this day.
"My brother Abe, who is board president of the National Performance Network, regularly describes Hal O'Leary's dramatics classes at OI's Towngate Theatre as one of the formative experiences in his artistic career path," Ted relays. This summer, Abe travels to Wisconsin to attend a 100th anniversary celebration of Jane Farwell's birth, at Folklore Village, which Farwell established decades ago based on her experiences teaching folk dance at OI. (See Farwell's bio excerpts mentioning OI here: http://folklorevillage.com/t1/JaneFarwell. )
In reflecting on what OI has meant to four generations of his family, Ted says, "We would all say that our lives wouldn't be the same without what the Institute gave us through its arts, folk dancing, theater, opera, music, museums and nature programs. We continue to be inspired by the original vision of Earl Oglebay's nephew, Crispin Oglebay, Nate Frame from the WVU Extension Division, and OI's founding co-executive directors, Ruth McIntyre and Betty Eckhardt. Their decisions to recruit A.B. Brooks as their first program director and to create Oglebay Institute in conjunction with, but independent of, the Park created a dynamic and sustainable role model for applied learning and teaching. We're grateful that Oglebay Institute helped shape who we are as a family, and it's why we love West Virginia no matter where we live."
(Oglebay Insitute's Junior Nature Camp takes place July 24-30 and July 31-August 6 at Camp Giscowheco.  For more information of Junior Nature Camp or any of the hundreds of annual arts and nature programs at Oglebay Institute, call 304-242-6855 or visit www.oionline.com)