(Blogger Laura Jackson Roberts writes about her experiences at Oglebay Institute's 2016 Antiques Show and Sale. The 2017 show takes place April 7-9 at Wilson Lodge in Oglebay.)
Before I tell you about the Oglebay Institute's Annual Antiques Show and Sale (and Dessert Party!), I need to make the following disclaimer in the spirit of honesty: I was never one of those "antiquey" people. I certainly grew up in a family of antiquey people. My grandmother was always involved in the antiques show. My parents were regular attendees for years. They'd come home every spring with a new table, or a chest of drawers, or a sideboard. They only took a break from the annual tradition when their house was literally out of room. But I didn't see the big deal, and, quite frankly, I really liked Ikea. That was, until the bottom of my embarrassingly overstuffed dresser fell out and revealed itself to be nothing more than dense cardboard and wood glue.
Fortunately, we change as we age. At some point in my mid-thirties I started eyeballing my parents' sideboard and quietly peeking into its walnut depths to see just what it held. Then my husband inherited a mammoth desk that he requested to be buried with because he so adores it, and I crossed paths with an antique end table that I liked more than I wanted to admit.  Meanwhile, that Ikea dresser sat in the corner looking more and more pathetic.
WV's Largest and Longest Running Show with Dealers from 10 States
Thus, I found myself at OI's Annual Antiques Show and Sale, gazing longingly at the blanket chests, wardrobes, and crockery. I took my dad with me since he is a veteran of the show. More than one vendor recognized him excitedly.
This was the 62nd Annual Antiques Show and Sale. It's the largest and longest-running antiques show in West Virginia, and dealers came from as far as Iowa and South Carolina.
Cocktails & Desserts on Friday Night
Guests who attended the cocktail party at Oglebay Institute's Glass Museum were shuttled via limo to Wilson Lodge for the Dessert Preview Party and show. This year's sponsors were Joe R. Pyle Complete Auction and Realty Service of Mount Morris, Pa., and Hughes Design and Gift Gallery of Wheeling.
I admit I got a little sidetracked by the dessert area, which was a chocolate gauntlet guests walked through to reach the show. Half of the fun of the evening was the party itself, and I lost track of the number of friends I met.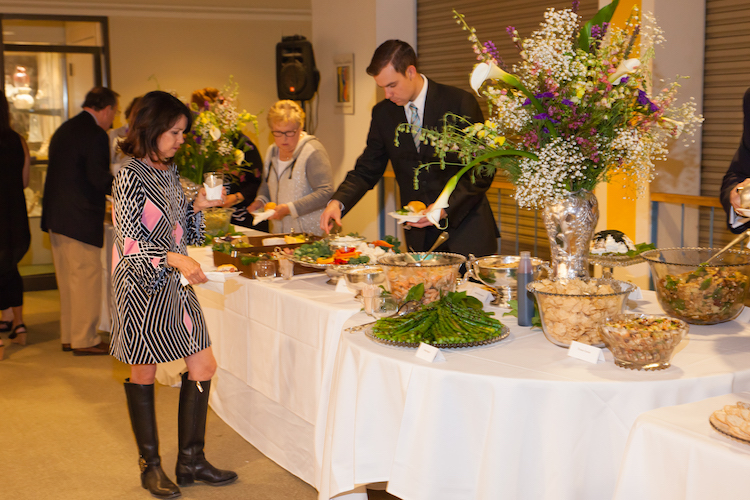 Paula McClure and Stella Boldrick co-chaired the event, and according to Boldrick, Friday night's event was well-attended. "Our goal for Friday night is to get people that don't really know antiques to come and see it and experience it," she told me. "Our crowds have been steady and growing, getting new people and new faces." Indeed, the crowds thickened as the evening wore on.
That's really the goal of the antique show: to attract new faces, and younger ones too. The dealers saw a rise in the number of young people this year, a clear sign that not everyone in their thirties prefers the screw-it-together furniture available in big box stores. I told Boldrick about my overstuffed Ikea dresser that fell apart.
Antiques are Green
"You can buy Ikea," she said. "Sure, it's cheap. But it's going to last you about five years and then it's done. We tell people to look around. Look for what you like. And then from there, look for a use for it, because it should be used. Antiques aren't meant for just looking pretty or looking cool. Use them." Then she reminds me that antiques are green. When you buy one, you're recycling the past.
Expert Dealers
The dealers at the show really know their pieces. They know the history behind each one, and they're eager to share the story of every piece in their collections. I learned about a Shaker box used to heat stoves in New Hampshire and a seven-foot-tall dresser from the 1770s with a connection to George Washington's property. Every dealer was excited to talk about their pieces in detail, and I could tell that this was a true passion.

Kids Enjoy a History Lesson Too!
Antiques represent a great way to look into the past, and on Saturday, children were invited to take the Children's Tour. Every year, curators lead kids through the show to see select booths. And while you may not envision your child as a future antique aficionado, children are natural collectors. Moreover, antiques provide a subtle history lesson. When I expressed concern about my sons' propensity for destruction, Boldrick assured me that kids really seem to enjoy the tour, in particular, the tables that display old toys. Next year I plan to pack my boys in bubble wrap and send them on the tour.
My dad and I saw every antique in the show. He got lost in a book titled Maxims of Government; I found myself enamored with a goat wagon (Goat not included). Though I didn't buy a chest of drawers this year, I think it's safe to say that my Ikea pieces might soon meet with an unfortunate accident, necessitating a trip to next year's show.
OI's 2017 Show is April 7-9
Oglebay Institute's 63rd Annual Antiques Show and Sale opens Friday, April 7 with special patron events. General show hours are 10 a.m. – 5 p.m. Saturday, April 8 and 11 a.m. – 4 p.m. Sunday, April 9. General show admission is just $10.
Friday Night Social Events!
The Antiques Show and Sale is also a social event.  The Friday night cocktail party and dessert preview are always popular and never disappoint. The cocktail party takes place in Oglebay Institute's shimmering Glass Museum. Guests enjoy great food and an open bar and get to roam the Museums' 3000 examples of historic Wheeling glass.
Limos then drive patrons to Wilson Lodge, about a mile away, where they get a first-peek at the show during the Dessert Preview Party and enjoy an enticing array of cakes, cookies, pies, candy and a cash bar. Patrons can attend both events ($50) or purchase tickets for the Dessert Preview Party only for $25.  Ticket prices include admission to the show all weekend long.
To purchase tickets for Friday night events call 304-242-7272.   Tickets for the Dessert Party are also available at the door.
Lodging Packages Available
Special Antiques Show lodging packages are available at Oglebay Resort, which is located in the picturesque estate that was summer retreat of Cleveland industrialist Earl W. Oglebay. Today, Oglebay Resort offers 1,700 acres of year-round recreational opportunities and excellent overnight accommodations and has retained natural beauty.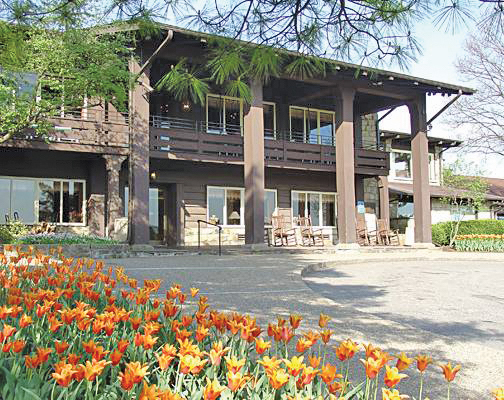 Make reservations for the overnight package by calling 800-624-6988 or booked online at www.oglebay-resort.com