We've all heard the story before. A businessman who has lived in the city his entire life gets tired of the hustle and bustle of urban existence. So, he buys a dilapidated old shack in the country in an effort to live an idyllic life.
This is the base of the plot behind George Washington Slept Here. However, the comedy, written by George S. Kaufman and Moss Hart, takes what seems to be a lovely plan and turns it into a disaster.
Newton Fuller fulfills a lifetime ambition: to own his very own colonial farmhouse in the country. He drags his wife, Annabelle, and their daughter, Madge, out to Bucks County, Pennsylvania to set up homesteading. The wreck of a house has no running water, falling plaster, and a cow in the kitchen. But, Newton has faith. After all, George Washington slept there, so it's even a part of history.
Reilly Directs an Outstanding Cast
Directed by John Reilly, the Towngate production features a remarkable cast of local actors who are sure to entertain in what is certain to be a hilarious production.
"The March show at Towngate has tended to be an Irish play or a classic comedy," Reilly said. "It occurred to me that—while the two Kaufman & Hart classics You Can't Take It With You and The Man Who Came To Dinner get done regularly in area theaters—George Washington Slept Here hasn't been done for decades. There was a time when it was among the most often produced plays in school and community theater. Oglebay Institute loved the idea, and I was committed."
John said that the characters in the show are funny and endearing as brought to life by the talented cast.
"As I've worked on the play with the cast, I've grown to like it a great deal, especially Newton and Annabelle, the central couple," John said.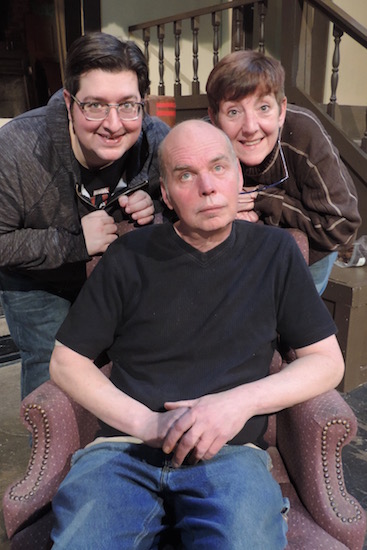 "I love Newton—he's a bumbler and he's gullible, but he is a dreamer. I especially love his awareness of how space carries knowledge and emotion, whether it be history (the title) or nature in its beauty and cyclical wonder. The house produces tension between husband and wife (she hates the country) but ultimately brings them closer together in the obstacles to be overcome to attain Newton's dream."
Audience goers are in for a great show full of laughs and heart.
"It is a funny play. Not a rehearsal has gone by without there being laughter from the other cast members in the wings. I'm glad we've decided to do this and can't wait to share it with the audience."
GET TICKETS
Curtain is 8 p.m. March 24, 25, 31 and April 1 and  3 p.m. Sunday, March 26. Purchase tickets in advance at OIonline.com, by calling 304-242-7700. or at the door, if available. Admission is $12.50/$11 OI members.