By Laura Jackson Roberts
I don't know what the rest of you do on Thursday evenings, but I usually work on laundry, my never-quite-finished book, and a glass of wine. It's usually a quiet night. Yet while we are at home preparing for our final workday of the week, a handful of intrepid artists are making their way down into the basement of Oglebay Institute's Stifel Fine Arts Center in Wheeling for the weekly stained glass class. On this particular Thursday, I'm going to be observing them.
As I walk over to the Stifel Fine Arts Center, I realize that I have no idea what I'm about to see. I certainly take the time to admire the stained glass in church windows, and there's a lovely window at my dad's office, too. There's nothing so beautiful as a stained glass window when the sun hits it at just the right angle and the colors glow vibrantly, revealing textures and streaks of color that change with the angle of viewing.
So, this opportunity to see the process of how it's made is really fascinating. Normally, I'd put on my Bumbling Artist hat and take the class myself. Truth be told, though, I feel a little intimidated by this particular art form (it's one thing to bumble at wreath-making but quite another to bumble with shards of glass), so I'm just dropping in to watch.
Learn for Expert Instructors
Howard Gamble has been teaching the stained glass class for many years. When he's not working at the Wheeling-Ohio County Health Department, he's creating and teaching others. He began as a student in this very studio. When the resident stained glass teacher moved on, he took over as the instructor. His work is currently on display at the Art Works Around Town gallery in the Centre Market. As soon as I see him pick up a piece of glass I can tell he's done it hundreds of times.

Get Step-by-Step Instruction
The art of stained glassmaking is over a thousand years old. During its manufacture, various metallic salts are added to the glass to achieve different colors. Fortunately for the students in the class, colored glass is already waiting for them; nobody has to do any glassmaking. (If you are interested in glassmaking, however, there's a class for that at the Oglebay Institute's Glass Museum.)
I sit beside Anita Boston, a new student, and listen in as Howard teaches her the basics. It seems pretty simple. Pick a pattern, choose the colored glass, cut and assemble the glass, solder it together, hang it in a window.
He demonstrates how to cut the glass, and it's not what I expected. He uses a sharp tool to create a scratch along the surface and a pair of specialized pliers to snap off the intended piece. It takes some practice to learn how to make an accurate cut, but when Anita breaks it off, it breaks cleanly every time.
Right away I do the tacky thing and ask Howard if anybody has ever sliced an artery in his class. He laughs and says no, just an occasional nick. He also advises Anita to choose a pattern that's small and manageable, since the class is only eight weeks long. She finds a calla lily pattern.
Let Your Imagination Soar
Behind me, Jeff Whiteman is working on an abstract piece. It's a rectangle consisting of different strips of colored glass. He goes back and forth about the colors, eventually picking clear, red, and mossy green. This is the second time he's taken the class, so he has a little bit of experience in knowing how the process works.
"It's kind of like putting a puzzle together," he tells me as he turns the red glass around and around, trying to decide if he wants the streaks of color to run horizontally or vertically.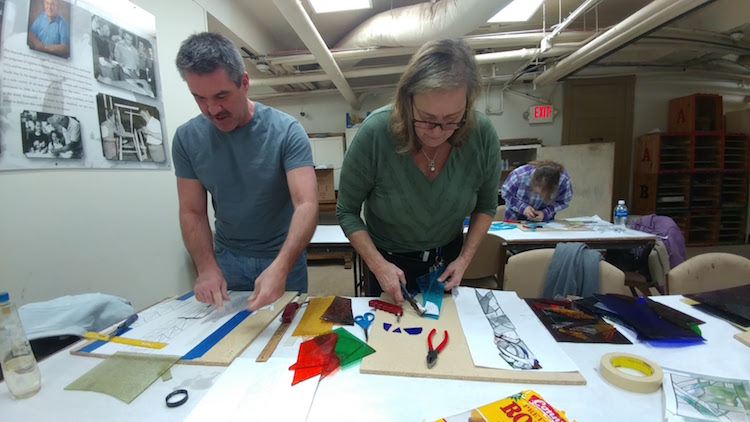 After the glass has been assembled in the chosen pattern, the artists grind the pieces to create a snug fit when they are soldered. Howard teaches the students the copper foil method. Both Frank Lloyd Wright and Louis Comfort Tiffany (yes, the lamp guy) used this method.
Beside me, Anita is learning to use the pistol grip glasscutter. The sound makes me think of fingernails on a chalkboard, and I cringe, but Howard says, "That's the sound you want to hear!"
"It's fun," she tells me. "I see myself doing this for a while."
Build Skills at Your Own Pace
Howard shows me a few projects that are nearing completion, including a lovely pineapple piece and a pair of 3D Christmas ornaments. I'm starting to feel terribly envious, and wish I'd had the guts to sign up for the whole eight weeks.
Howard says he always has students who are eager and talented, and many of them come back for another session.
I like the informality of the evening, the constant chit-chat and encouragement between artists. Some have chosen a geometric pattern, some a more fluid and abstract piece. One student is working on a sea turtle.
Enjoy a Supportive Learning Environment
Hands-on art has always been difficult for me. But I see right away that this is a judgment-free zone. As with all of Oglebay Institute's classes, stained glass students are free to take their projects in whatever direction suits them. I may be a bumbling artist, but this is one class I think I would enjoy, whether or not I turn out to be a secret stained glass genius.
Enroll in the Stained Glass Class
Stained Glass Class meets on Thursdays from 7-9 p.m. The spring session begins March 23 and meets once a week for eight weeks.  Students pay $120, which includes all instruction, tools and materials.  Members of Oglebay Institute receive a 15 percent discount.  Register online or by calling 304-242-7700.
Visit the Ohio Valley's Premier Public Arts Center
Housed in the historic Edemar Mansion,  Oglebay Institute's Stifel Fine Arts Center in Wheeling is a treasure trove for artistic expression and personal fulfillment.  With galleries, classrooms and performance space, the Stifel Center engages the community in creative pursuits.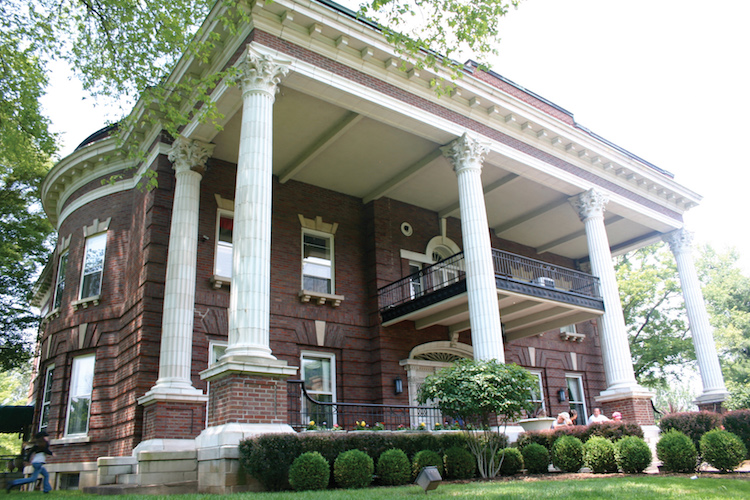 Classes for All Ages and Interests
The Ohio valley's premiere venue for art education, the Stifel Fine Arts Center offers a variety of classes in traditional and non-traditional mediums. People of all ages, interests and skill levels can take classes at the Stifel Fine Arts Center. Students work with up-to-date equipment and supplies. You'll receive guidance from expert instructors in a relaxed and creatively stimulating environment.
Some of the spring offerings include drawing, painting, furniture refinishing, jewelry making, knitting, photo editing, quilting, pottery and woodcarving.  Classes begin the week of March 19.  See the complete schedule at OIonline.com.