WHEELING, W.Va. (February 16, 2016) – -Oglebay Institute's Towngate Theatre will offer a staged reading of "No Man's Land" by Nobel Prize-winning playwright Harold Pinter at 8 p.m. Friday, March 4 at Towngate Theatre.  The performance is part of Towngate's Second Season, which enhances Wheeling's arts landscape by featuring literary programming, theatrical readings, poetry, improvisation and more.
A tantalizing and poetic play, "No Man's Land" explores a sense of being caught in a mysterious limbo between time present and time remembered, reality and imagination and life and death.  Michael Ramsay, president of Pittsburgh Playwrights Theatre, and Wheeling playwright Tom Stobart will read the lead roles. The performance is directed by community theater veteran Arlene Merryman. The cast also features Butch Maxwell and Lewis Willming.
Harold Pinter was a Nobel Prize-winning English playwright, screenwriter, director and actor. One of the most influential modern British dramatists, his writing career spanned more than 50 years. His best-known plays include The Birthday Party (1957), The Homecoming (1964) and Betrayal (1978), each of which he adapted for the screen.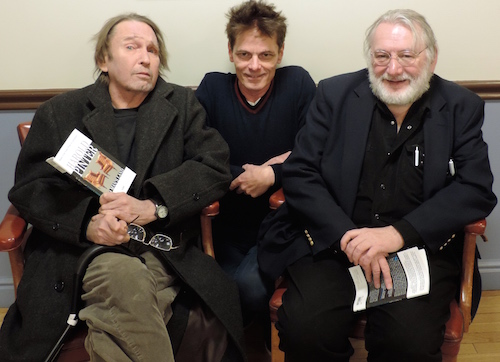 "No Man's Land" is set in 1975 in a large room with a bar at a house located in London, and over the course of two hours of tension undercut by comedic dialogue we get to know a wealthy man of letters, Hirst, a hard-up "poet," Spooner, and Hirst's two overprotective servants.
Since its premiere in 1975 and its acclaimed 2008 London revival, "No Man's Land" has been hailed as one of Pinter's indisputable modern classics.
Stobart, who reads the role of Hirst, says the play is "by turns, funny, scary, and resonantly poetic and a piece that will haunt and tantalize the memory."
Guests are invited to stay after the reading for coffee, cookies and mingling with the cast.
There is a nominal admission fee of $5. For more information, call 304-242-7700 or visit www.oionline.com.
Towngate Theatre is located in Wheeling's Centre Market district at 2118 Market Street.