WHEELING, W.Va. (February 22, 2016)- – Oglebay Institute invites schoolteachers and aspiring teachers from the tri-state area to attend free professional development workshops that explore various ways to engage students in the study of Shakespeare.
Prepared by the Folger Shakespeare Library, the workshop titled The First Folio Teaches Teachers: Shakespeare's Text Demystified gives teachers a better understanding of what the First Folio is and why it is important to the study of Shakespeare's plays. The first half of the workshop focuses on the Folio itself with hands on activities that can be taken into classrooms. The second half delves into the language of William Shakespeare using the text from the First Folio and introduces teachers to interactive techniques designed to connect all types of students with Shakespeare's language.
Two-hour and four hour sessions are available March 5 and March 19 at Oglebay Institute's Mansion Museum.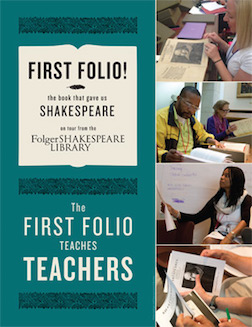 The curriculum is designed by Folger Education and has been tested with all kinds of teachers who teach all kinds of students in all kinds of schools across the country. Dr. Robert Harrison, West Virginia Reading Association immediate past president, and District 1 director Mary Kay Wensyel will instruct the workshops.
Harrison is a retired West Virginia educator with 46 years of service to the education profession. He participated in the Teaching Shakespeare Institute, sponsored by the Folger Shakespeare Library in Washington DC and the National Endowment for the Humanities. His doctoral dissertation was titled "The Recurring Author: William Shakespeare-A Case Study through Content Analysis." His study systematically described Shakespeare units in public school textbooks, and he presented his findings at an International Reading Research Symposium.
These professional development opportunities are offered in preparation for the Folger's nationally touring exhibit First Folio! The Book that Gave Us Shakespeare, which will be on display at Oglebay Institute's Mansion Museum May 9-June 12.
This special Folger exhibition is sending a First Folio—the first collection of Shakespeare's plays, printed in 1623—to all 50 states, Washington, DC, and Puerto Rico. Oglebay Institute was selected as the First Folio! host site for West Virginia and is the only venue in the Mountain State to display this rare book and exhibit.  A wide range of public humanities programs to complement the exhibit will also take place.
Professional development workshops are free. Advance registration is required. A box lunch is available for a $10. For more information and to register, visit www.oionline.com or call Oglebay Institute at 304-242-7272.