By Phyllis Sigal
Let's go down to good ol' T-A
And rustle up some snakes and salamanders
There's always something new to put into the stew …
That's as far as I got as I recently recalled (and sang) the Oglebay Institute Mountain Nature Camp theme song, "Good Ol' T-A"  – Terra Alta for the uninitiated — when something caught in my throat.
Maybe it was just a salamander … or the memories … causing the lump in my throat.
Oh, those summertime weeks with friends and campers and counselors back in the early- to mid-1970s. I'll never forget the two-holer outhouse and the Quonset hut and the field trips. (Back then, the campers could drive themselves all over tarnation and get back late, and no one asked any questions.)
Then there was the edible foods project my friend Nancy Kadar and I tackled one summer. We cooked dinner (poke weed was one of the dishes with sassafras tea to drink) for the whole camp one night. There were campfires. And walks around the lake — we actually heard a barred owl respond to our counselor's bird call one night! Except that it wasn't — it was another group's counselor on the opposite side of the lake doing the same thing. I could go on and on.
HISTORY
Mountain Nature Camp — tucked deep in the woods on a lake in Terra Alta, West Virginia — was founded by A.B. Brooks in 1929. Mature forests, open wetlands, and a myriad of species of birds, plants, and wildlife can be found on the property. Brooks, whose name is synonymous with Oglebay Institute, Oglebay Park, and nature in general, was an Oglebay Park naturalist and director of nature education for Oglebay Institute. He retired in 1942.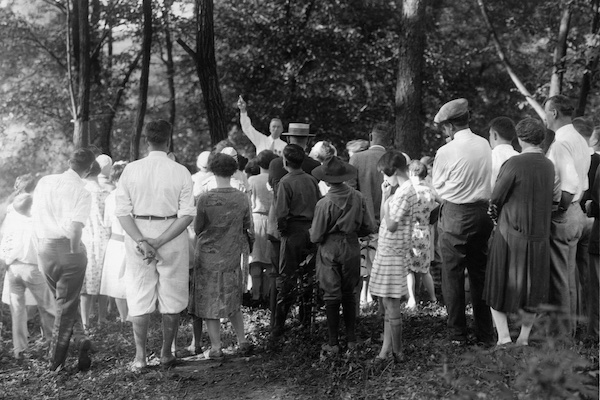 What Brooks started has endured for the past 90-plus years. Naturalists and nature enthusiasts have taught and attended the mountain camp for decades. It's a place to share the love of nature and environmental concerns with like-minded individuals. It's a place to smell the mountain air, to leave your technology behind, to get up for early bird walks, and stay out past bedtime for late-night owl prowls. It's a place to sit around the campfire with new friends and old friends who love nature as much as you do.
Once you've experienced T.A., it's a place that stays in your heart for the rest of your life.
THROUGH THE YEARS
From the Quonset hut and outhouses to a brand-new lodge and a bathhouse, some things have changed at Mountain Camp over nine decades.
Interestingly, when the new lodge was built in the early 2000s, the original A.B. Brooks Nature Center that had been located on what is now the site of the Schrader Environmental Education Center at Oglebay Park was incorporated as part of the construction — inside the lodge.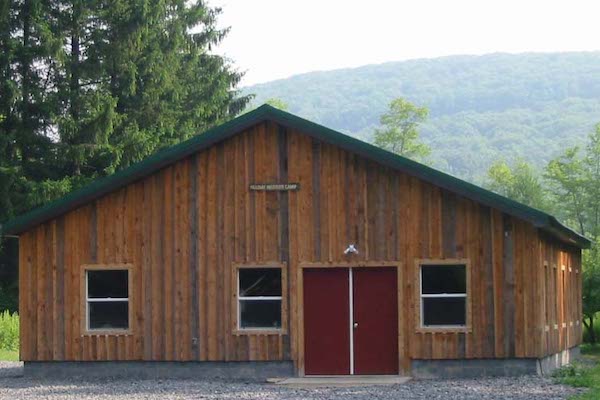 But, while much has changed, what has stayed the same is the core interest of the ecology of the nature ecosystem at Terra Alta and the dedication of nature-lovers. The original draw for A.B. Brooks was the study of the unique flora and fauna of the area.
That's still a draw. As is the strong tradition of camaraderie, commented Molly Haywood, director of the Oglebay Institute Schrader Center.
"There are plants and animals at Terra Alta like nowhere else," Haywood said. There's also "a mix of good people there," birders, botanists, artists, geologists, astronomers, naturalists, and more — she added.
As an adult, it's hard to find people interested in such things as birds, flowers, and nature, Haywood said, but having a group of people that love the outside and nature is what keeps bringing the campers back. Some go just for the love of learning. Some go for the food, she said. Bob Hauger's home cooking — the camp caretaker does double duty as camp chef — is always high on the list of pros when the evaluations come in at the end of the sessions.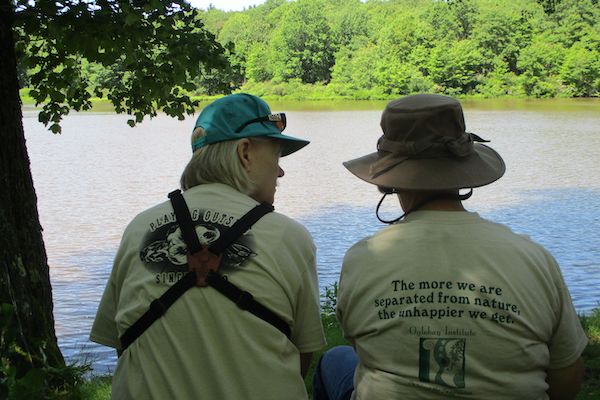 Campers at Terra Alta Lake.
FROM CAMPER TO DIRECTOR
Mary Grey started going to Mountain Nature Camp in the mid 1980s, she recalls. And now, she's in charge — she's been camp director for a handful of years.
"I've always liked nature. When I was a little kid, my dad took me to the woods to learn about flowers. I was not a downtown kid— I was a woods kid. He started to plant the seed."
In 1985, Grey, a substitute teacher at the time, started working at the A.B. Brooks Nature Center. Her boss, Bob Gingrich — then center director — sent her to Terra Alta to brush up on the basics so she could fill in for vacationing naturalist Bill Beatty.
"That place turned my life in a totally different direction," she said.
"I stayed a camper for many years, and learned a lot about birds," she said, noting, that camp is "just an escape. You can't have cell phones. No service, no TV. A landline for emergencies."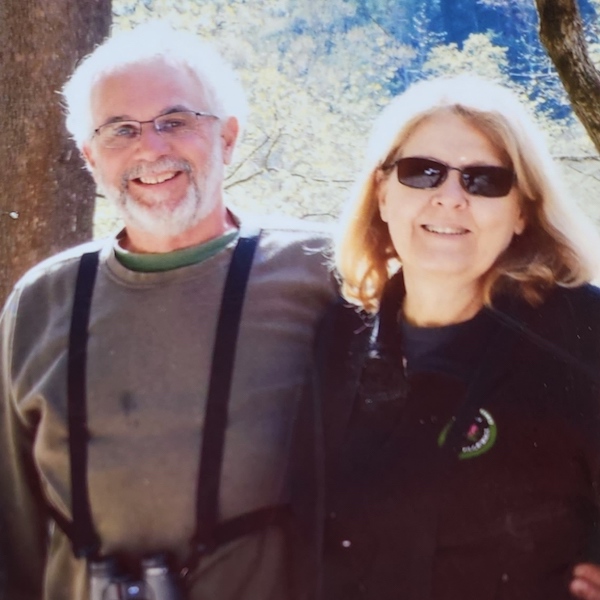 And now, as camp director, she designs all the programs and plans the camp field trips, shops with the cook, helps with the food, troubleshoots when there are problems — whatever needs to be done to allow things to run smoothly.
For Grey, it's a great place to get away from the real world … to "get back to your childhood, playing in the woods, having three home-cooked meals a day, and hanging out with people with the same interests. … We share what we've experienced and [they] understand the same things you do."
WHAT'S HAPPENING THIS YEAR
Campers are busy from daybreak — wake-up bell is at 6:30 a.m. — until long after dusk when the day concludes with a special program or campfire. A typical day in the life of a camper consists of a bird walk at 7 a.m.; breakfast at 8:30 a.m.; a 10 a.m. program followed by lunch at 12:30 p.m. The afternoon program begins at 2 p.m. with free time at 4 p.m. Dinner is around 6 or 6:30 p.m. The day is capped off with an 8:30 p.m. program or campfire. Some days, campers will pack their lunches and head out for a day-long field trip after breakfast.
Grey has lots of interesting things planned for this summer's session, set for June 18-24.
Mack Frantz, state zoologist with the West Virginia Department of Natural Resources, leads a program about fireflies. Campers will — weather permitting — check out what species live at Mountain Camp.
Paul Shaw, a bird guide and leader for the New River Birding Festival, as well as a moth expert for the New River Gorge National Park, will lead a moth study.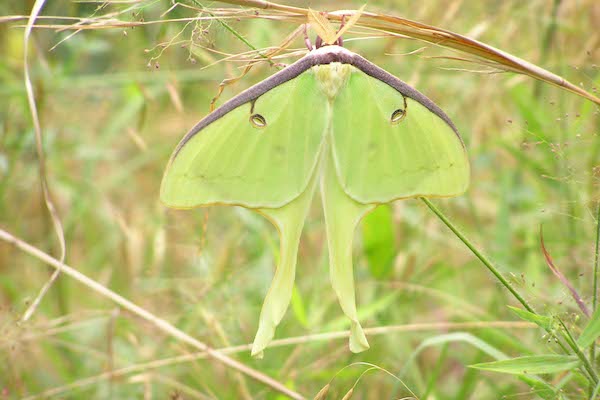 "We have a good variety [of moths] at camp," Grey said, "due to the fact we pretty much let nature do its thing with our 18 acres, and have for the last 90-plus years."
Two other experts — well-known local nature educator Bill Beatty, who will serve as botany specialist, and Larry Helgerman, the West Virginia state editor for Audubon's Christmas Bird Count, who will be the week's bird leader — will each teach a class as well as help in the field throughout the week.
Campers also can expect a trip to Alpine Lake for birdwatching and a hike. A long hike led by Beatty is expected to take place at Dolly Sods, and campers may visit Blackwater Falls and Canaan Valley.
Greg Park, former naturalist for the Schrader Center, will teach geology for two days as well as share some stories around the evening campfires.
Additionally, when Mountain Camp is not in session, Haywood hopes to offer short-term programming throughout the summer, such as a mushroom weekend, a bird weekend, or perhaps a general ecology weekend.
MODERNIZATION
"We continue to improve, modernize, and grow," Grey said.
"We'd like to raise enough money for small cabins on cement slabs," to accommodate those who don't enjoy tent camping, she said. Some campers choose to stay at the nearby, off-property Alpine Lodge at night — for real beds — and hang out at Terra Alta during the day.
The camp is considered "rustic," with the new Koehnline Lodge constructed in 2004. The new shower facilities were built in 2010.
Campers need to bring a tent, sleeping pad, sleeping bag, pillow, and blankets. The camp can provide cots upon request, but there are a limited number available.
MEMORIES FROM THE MOUNTAINS
When Grey thinks back on the first time she was a camper, she remembers hiking into the woods at dusk, just to "sit and listen."
"All of a sudden an evening choir of hermit thrush started singing. You want to talk about feeling nature inside your soul — it gives me tingles thinking of it now," Grey said recently.
Andy Hoffman, formerly of Wheeling and Fairmont, was introduced to Terra Alta Mountain Camp by way of his parents, Joe and Caroline Hoffman, both of whom were very active with Oglebay Institute. As soon as he and his siblings, Holly and Wally, were old enough, they were sent to Junior Nature Camp, and then "it was off to good ol' TA." He eventually taught at TA's High School Ecology and Backpacking camps.
Hoffman says the OI nature camps put him on the path that led to his 25-year career as a biologist with the Alaska Department of Fish and Game. Hoffman received a biology degree from West Liberty and a master's degree in environmental science at Washington State University.
He also points to many mentors he met at TA that helped him along his career path.
"I met Greg Eddy the first year I attended TA, and we connected right away. During the field trips, we were often in the same car in the caravans across the West Virginia hills. He shared his interests and expertise with me in a variety of areas including geology, botany (ferns in particular), and birding. When I started college at West Liberty, I discovered that there was a familiar face on campus. Greg took me under his wing and took me on many birding trips," Hoffman shares.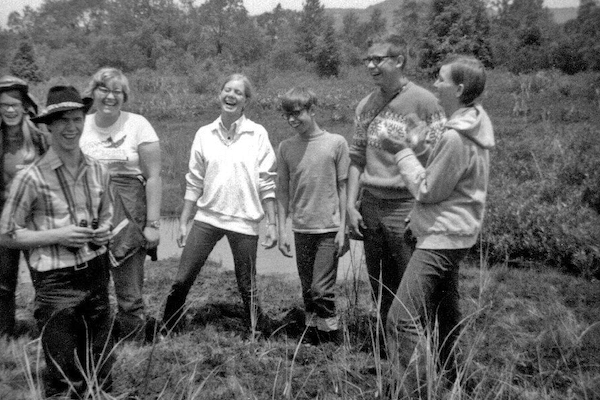 "Jay Buckelew is another mentor that I met at TA and continued contact [with] after camp. Jay was instrumental in putting together the first breeding bird survey of West Virginia," Hoffman said. "For the years I was in college at West Liberty I would visit Jay at Bethany College where he was a professor of biology. Whenever I visited, he would introduce me to his students and other professors as his 'colleague' even though I was a 'green-behind-the-ears' college kid.  During those years, also did the Christmas Bird Counts with Jay around Bethany."
"Bill Beatty is another one of those special people that I met at nature camps. … I connected with Bill at the Brooks Nature Center and became an intern there. In addition to leading nature walks and answering questions at the Nature Center, Bill and I would spend hours exploring the more remote areas of the park in search of flora and fauna rarities," he said.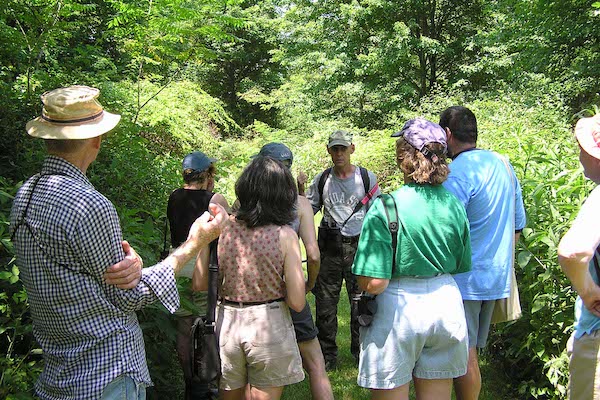 And it was at the urging of Beatty, as well as a couple of other camp connections, that eventually reconnected Hoffman with good ol' TA.
"It was somewhat like coming back to a childhood home. Things were the same and at the same time different. The Quonset hut was gone, being replaced by a new modern kitchen/dining room, and the outhouses were replaced with indoor showers and flush toilets! Definite improvements while still rustic, but not nearly as rustic as my memory served. But the traditions were still in place … everyone got a place in the schedule to clean the outhouses, set up for meals, and clean up after meals. Speaking of meals, the food was outstanding, keeping with the tradition of TA and good food," he said.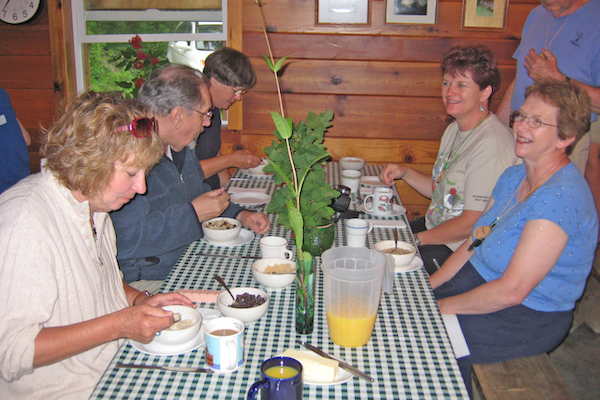 "When I arrived and started to meet people everyone was very welcoming and all were very knowledgeable about various areas of natural history. One thing I noticed was that everyone was 'older' than I remember the campers being. Turned out that there was one teenager and most of the rest were my age or older. As we assembled for campfire the first night and began introductions, I learned there were many of the campers that had been coming regularly for decades. Some of the 'old timers' had been there over 30 years! … There was one couple that was from my era, returning after over 40 years. We were able to reminisce and tell some of the stories of the 'good old days.'"
Hoffman noted that the TA day always started with a bird walk and ended with time around a roaring campfire. That has not changed.
"The day always ended with a campfire to recap the day and sing many of the traditional songs I remembered. Alas, one of the sentinel 'four oaks' is gone but campfire continues under the branches of the remaining three oaks. I appreciated that the campfires and the campfire building process was taken seriously. My goals in coming to camp were to rekindle memories and friendships, meet new like-minded people and to continue learning about the world around me. These goals were well met," Hoffman recalls fondly.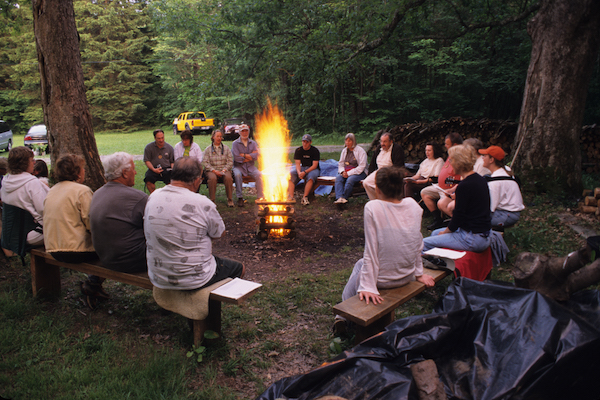 That "one couple" Hoffman reminisced with about "the good old days" was Nancy and Ladd Masek of Uniontown, Pa.
"We can't exactly remember how we came to know about TA," Nancy said. The couple was involved in the Sierra Club, the Audubon Society, and the Western Pennsylvania Conservancy. "Somehow we ended up signing up for nature camp at TA — summer of 1975 is our best guess. Ladd and I were dating and planning to be married the following year. We slept in tents and ate in the Quonset hut. I remember the food was excellent! We took field trips to a swamp to see sundew plants and a cave called Hell Hole. We went bird watching every day," she said.
"A special man, Forest Buchanan, especially influenced us, and we enjoyed his company and loved hearing his stories told around the campfire at night. Ladd had purchased a new camera that we were going to take on our 13-month honeymoon trip backpacking through 27 countries in Europe and the Middle East in 1976-77. Forest took time to give Ladd pointers on using it."
In 2022, as Nancy's 80th birthday was approaching, she told Ladd she wanted to go back to camp. While she wasn't up for sleeping on the ground anymore, they stayed at the Alpine Lake Resort at night, but participated in daily camp activities.
"That was our first time back since 1975, which made it pretty special," Ladd added. "[The] Quonset hut was replaced by a new lodge, showers had a major upgrade, but it was still had a familiar feel — still rustic," he said.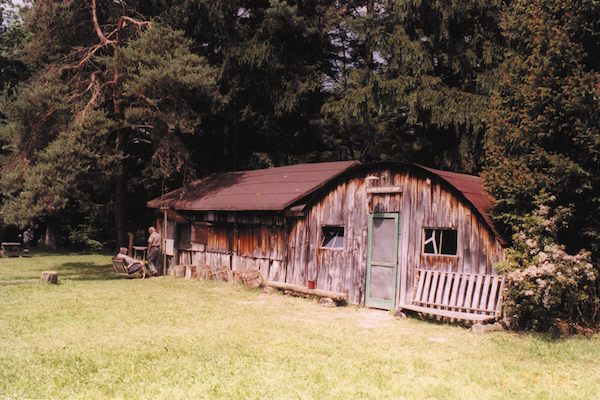 "It was good to be back enjoying nature and the wonderful people who were
there. We are happiest when we are outdoors. The food was still excellent!
We have many happy memories again," Nancy said.
MORE MEMORIES
In 2019, Haywood compiled a book for the 90th anniversary of Mountain Nature Camp. Lots of campers from different decades shared their memories from the mountains. Here are a few.
From Cindy Slater: "TA has become a multitude of great memories or traditions for every generation that has ever been there. The memories stay in your headband the love grows in your heart without even realizing it is happening. TA is such a treasure because of the eclectic group of people I'm so privileged to have met or know, the amount of education and life lessons learned, and most of all the friendships that have blossomed and lasted for days, months, years and lifetimes. It is a place you can go to rejuvenate your soul. I am so grateful for my folks because they introduced and shared with us the importance, love, and knowledge of nature."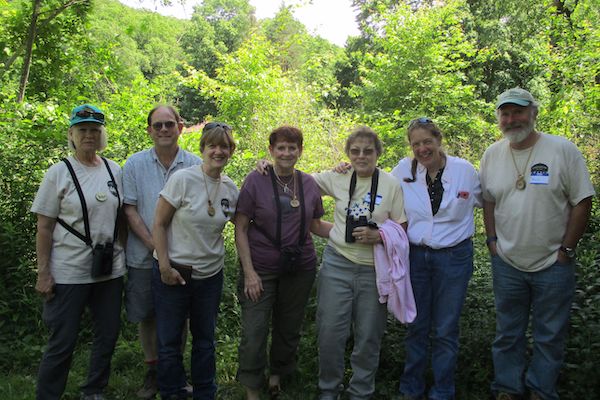 From Amy Keitzer-Wallace: "There is so much to love about TA … As a camper, I remember the wonderful trips to Blackwater Falls and Canaan Valley and Dolly Sods and Spruce Knob. Many times, I have tried to explain camp to my friends back home. They just don't get it. My camp friends get it and they have the same problems explaining it to their friends back home. We are among generations of friends that know what it is to spend time with folks in the great outdoors and end up being friends forever."
From Jocelyn Eikenburg: "TA is a treasure because of the people involved in it, and because it's such a special little corner in this world, where we can retreat from our lives and commune with nature. You cannot put a price tag on that. As climate change becomes more of a concern, it is more critical than ever to have environmental education that helps people understand and appreciate the value of our natural world, and TA plays a critical role in that."
From Mary Edith Sambuco: "It's hard to say what my fondest memories are — there are so many. The evening campfires rate right up at the top. Living outdoors is wonderful and waking up to all the birds we don't hear at home. Seeing old friends and making new ones is always a treat. And the programs and classes are so interesting. I often wonder what life would have been like had I not discovered TA. Where else could you stand in the woods with a group of people in a storm and listen to an enthusiastic teacher talk about mosses af it weren't pouring rain and thundering? I could go on and on."
THIS TIME WITH NO TEARS …
Let's finish out that camp song!
Let's go down to good ol' T-A
And rustle up some snakes and salamanders
There's always something new to put into the stew.
You never dare to ask what they added to it last.
 
It's not far, a hundred miles or so
You'll never find the key although you look both high & low.
Nobody cares what time it is. We'll stay until the snow.
We won't get home until morning
Down at ol' T.A. HEY!
For information about Mountain Nature Camp, visit www.oionline.com/camps/mountaincamp or call the Schrader Center at 304-242-6855.