This weekend, Oglebay Institute's Towngate Theatre opens its 52nd season with "Future, Here," an original play by Wheeling native Jeremy F. Richter and directed by PD Gregg.
Set in Future, a village run by Society, "Future, Here" follows the final meeting of five children who have grown up as members of an institutional initiative to produce "appropriately adapted young citizens."
Their only connection to the outside world has been through a smartphone given to them upon their arrival 12 years ago, and their only human connection has been with each other, once a day in the evening for a limited time. Now that they're 18, each will be relocated to a new residence, but none of them know where.
The production features a wealth of youthful talent: Mecca Collins, Stephanie Ebarb, David Gaudio, Clare Seibert and Dailey Ward.
Existing in a Parallel Reality
"Future, Here" was originally scheduled to be staged back in July as part of the Parcel Players' season. Unfortunately, the COVID-19 pandemic forced its cancellation. Although standards related to public gatherings have since been clarified, it is still a challenge to produce a live show.
"All performers must maintain social distancing or be masked," Gregg said. "When it became clear that we would not be able to stage the play we had planned to do in September because of the COVID restrictions, "Future, Here" seemed like a perfect replacement."
At first, PD and Jeremy thought the play would need to be revised in order to feel contemporary.
"But each time I went to work, it felt forced," Jeremy said. "I'm fortunate that "Future, Here" is an easy show to produce in a variety of ways. Earlier this month, a company produced the show virtually and it translated really well. After seeing the virtual production and how well that environment fit into the world of the show, I couldn't see masks posing any dramaturgical issues."
PD describes Society and the village of Future as a "parallel reality." If the audience will be wearing masks, why not the performers?
Relating to the Pandemic Experience
Although the play was written prior to the pandemic, the themes of isolation, social injustice, and impending doom are incredibly relevant today, PD said. "It should give the audience a lot to think about."
Actor Mecca Collins feels a kinship with the worldview her character, Actor 1, possesses.
"She is blunt and has a lot of rage surrounding the topic of injustice in society," Mecca said. "I relate to her because I, too, am fed up with all of the injustice in the world and feel almost helpless in the matter. Which is why, I think, my character and I are both upset."
PD said the play calls for the actors to use their actual names in lieu of character names, which has perhaps added motivation to their portrayals. In fact, Mecca said she's discovered a powerful truth throughout the rehearsal process.
"Simply being aware of the injustice in Society did nothing for my character. Action needs to take place in order for change to happen and I believe that will stick with me for the rest of my days."
Jeremy said it's always rewarding to hear how actors respond to their participation in "Future, Here."
"I do hope they leave the process with a connection to and fulfillment from the script and role. I'm proud to say that I've met nearly half of the casts that have performed "Future, Here." I've learned something from each of them, and hope that they've learned something about themselves, their communities, their politics and perspective as well."
Bringing "Future, Here" Home
Tim Thompson, OI's director of performing arts, is pleased to carry on founder Hal O'Leary's mission of opening doors for artists of all backgrounds, including playwrights. He recalled how the recently departed Tom Stobart was Towngate's "playwright in residence" during the 1980s.
"Towngate produced and Hal directed six of Tom's plays in 12 years from 1980-1992. It was a magical time at Towngate," Tim said. "Now we have Jeremy Richter. In 2014, we produced his adaptation of 'A Christmas Carol,' which broke attendance records. It's the right time for 'Future, Here.' And I want to continue to produce his plays–as many as possible. Jeremy is a great playwright, just like Tom. He learned from Tom."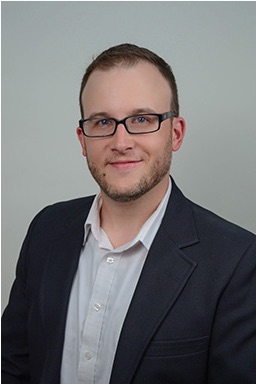 Although Jeremy has had more than a few large-scale opportunities throughout his career, he said he feels a great deal more comfort and familiarity with hometown productions of his work.
"They better facilitate risk-taking and collaboration," he said. "While each of those major-city productions were special, they all carried an amount of pressure that inevitably took some of the joy out of the process: to sell tickets, to get a favorable response, to see a glimpse of my original intention that got me to write the script in the first place."
Those feelings may still exist locally, but there's less uncertainty because Jeremy knows the community and the community knows him.
"The process becomes more about a mutual journey and less about making or leaving an impression," he said. "It's more cathartic and in tune with the creation and communion of the arts. A writer's dream may reach for the famed lights of Broadway, but the aspiration is to have a home that allows you to create and develop your craft alongside fellow artists."
Will People Come to See the Play?
Ever since the pandemic struck, Tim said he has made an effort to postpone instead of cancel as many events and productions as possible. He and his staff are going above and beyond to ensure the theater is prepared for both the performers and audience.
"We have an excellent housekeeper, Dominique McAvoy, who is amazing at keeping us sanitized and safe," Tim said. "We will monitor people who come in by taking temperatures and mandating masks. Our audience has been sectioned off for social distancing. We can have 50 in the audience with 166 seats."
His only concern is one shared by performers and artists around the country: Will people come to see the play?
"I really hope so," Tim said. "Everyone involved has been working very hard and director PD Gregg has assembled a very talented cast."
"My thanks to OI, Tim, PD and the cast of Towngate's 'Future, Here,'" Jeremy added. "Buy a season ticket subscription and support your hometown artists!"
Get Tickets
You can see "Future, Here" at 8pm September 18, 19, 25 & 26 or 3pm September 20. Tickets are $12.50/$11 OI members/$6.25 students.  Purchase tickets online or call 304-242-7700.
The 2020-21 community theater season at Towngate is sponsored by Unified Bank.