Oglebay Institute's Stifel Fine Arts Center in Wheeling presents "Tin is the New Black." The exhibition features professional artists working in repurposed printed lithographed metal and continues through June 22.
Unique and colorful, the exhibit explores the imaginative stories that discarded objects can tell. Twelve artists from eight states transform used metal from its original purpose and form – a container, sign, toy or can – into vibrant, and often nostalgic, works of art.
Giving New Life to Discarded Objects
Each artist has a distinct style, finds inspiration in different ways and tells an interesting story of becoming attracted to, or, in some cases, "obsessed with," using repurposed metal as an artistic medium. But all of the artists find joy in taking items that have been thrown away and giving them new life.
"I often find myself wondering about the person who made these materials, who used them, who held them. I like to think that a part or energy of that person is still contained in these things, and now it's transferred into the artwork. I'm giving that discarded piece of metal, or that old object, a new life, a different life," said award-winning, Wheeling-based artist Robert Villamagna.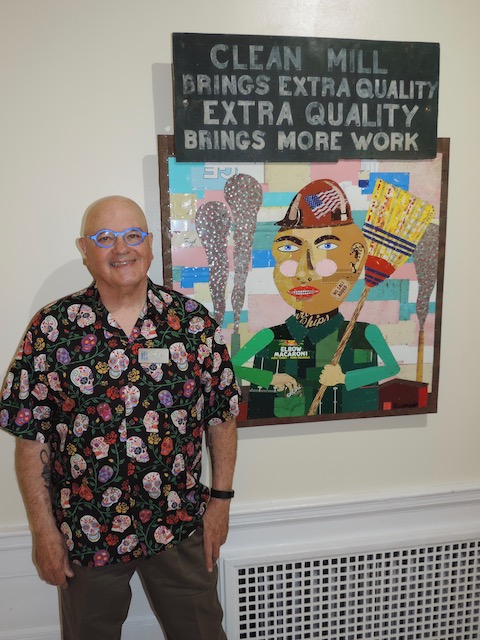 Villamagna served as guest curator for the show and is a featured artist, too. His work has been exhibited at numerous galleries. Five of his works are in the State of West Virginia Permanent Collection. In 2016 he was named West Virginia Artist of the Year. While Villamagna recently retired from West Liberty University, where he was an assistant professor of art, he remains director of the University's Nutting Gallery.
Discover 12 Artists from Eight States
In addition to Villamagna, other featured artists include: Alea Bone of Portland, Oregon; Rand Carlson of Tucson, Arizona; Jenny Fillius of Seattle, Washington; Kim Fox of Pittsburgh; Charlotte Mansur of Brandenton, Florida; Leslie Stuart Matthews of Villanova, PA; Nia Michaels of Seattle; Emily Pratt of Portland; Loran Scruggs of Port Townsend, Washington; Dave Yoas of El Sobrante, California and Kim Young of Richmond, Virginia.
You Can Sew Metal, Too?
Tin artists get their materials from flea markets, dumpsters, second hand stores and the like. Their tools aren't brushes and pallets. They use tinsnips, hammers and nails. They cut, weld, pound and even sew metal. Yes, artist Leslie Stuart Matthews actually sews the metal in her pieces.
"After several years of working with repurposed tin I am now focused on sewing printed cans. Being able to quilt with metal is very satisfying. I have recently started to add bits of photographs and fabric. I am excited to see where this takes me," she said.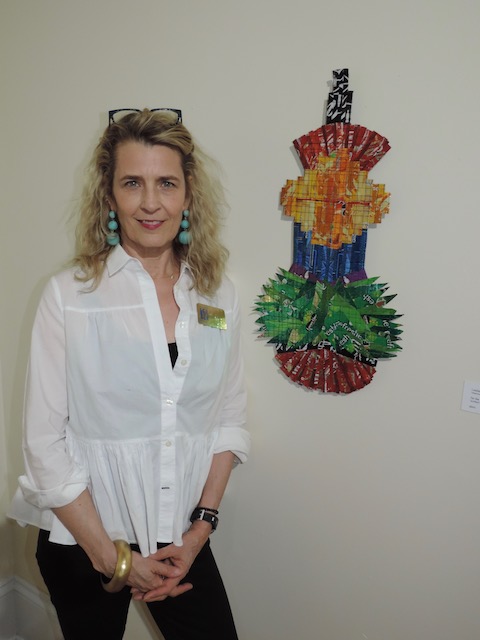 With a style and technique different than Matthews, artist Kim Fox specializes in creating patchwork tin quilts. After moving back from Florida to her native Western Pennsylvania, Fox reclaimed her roots and started to explore the regional arts and crafts with a more rural bent. She began working with vintage tins and salvaged wood and "patchworking" the tin in a way that felt like quilting. Currently, she is researching traditional quilting and the stories behind the patterns.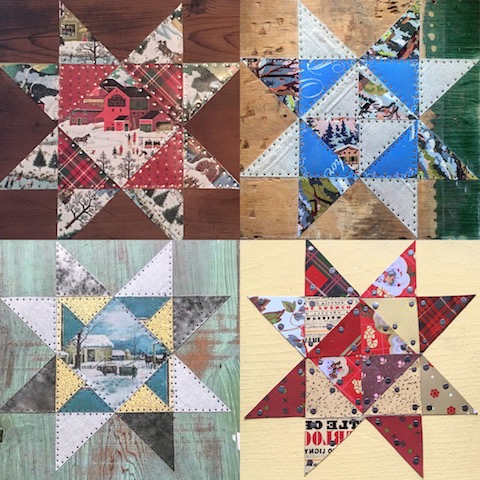 Rust, Dents & Scratches, Oh My!
What attracts the artists to tin as a medium? Some love the intricate patterns and bright colors. Others love the rust, dents and scratches. Sometimes pictures and words inspire an idea for a piece.
"I am very passionate about working with these materials, especially those items that show use, wear and rust. I love stuff with character," Villamagna said.
Loran Scruggs finds the color and glints of shine on printed tin and bottle caps "joyous." "Labels and advertising iconography are often brightly colored with simple words and images very much like children's educational toys," he said. "My work references childhood, as that was a time of the most play. Play is a time of being in the moment, no past or future worries, a time of joy."
Diverse Themes Intrigue the Viewers
Narratives found in Villamagna's work come from his own life experiences, as well as stories that the materials themselves may suggest. "Some of these visual narratives are true, some exaggerated, some silly and others may be total fantasy. Most of my works are my response to the world around me, which may include the environment, the political climate, tolerance or our treatment of our fellow man. These 'response works' are an outlet for me, and prevent me from throwing bricks at the television screen."
Alea Bone strives to "create an edgy and irreverent version of a new American folk art." Her mixed-media assemblages, made primarily from bottle caps and beer cans, "blur the lines between the sacred and the profane, striking a balance somewhere between the raw intuitive and fine art."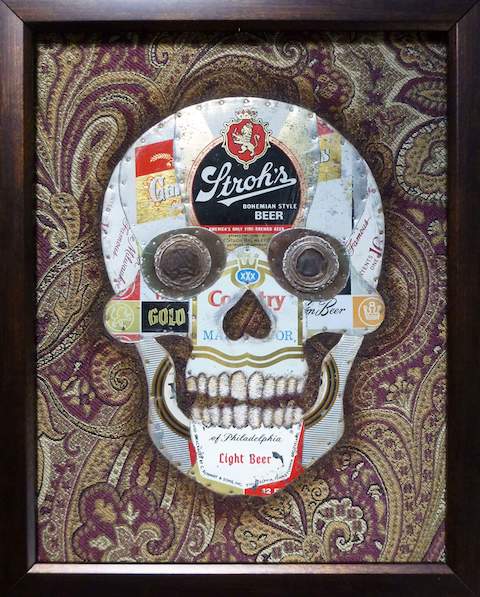 An editorial art director and cartoonist for 30 years, Rand Carlson said his tin collage work is a "recycled material extension" of his work in political cartooning and landscape painting.
Limitless Possibilities Abound.
Inspiration is only limited by the artists' imaginations.
"Anything can trigger an idea – an overheard expression, a story, something I see on the street or the tin itself, literally anything," said Jenny Fillius.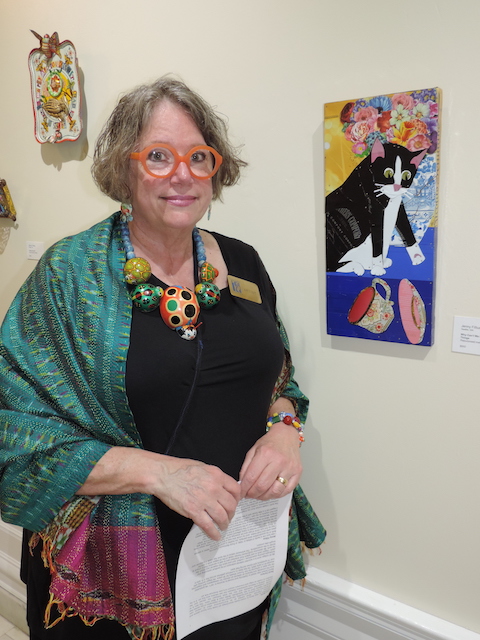 In 2013, Charlotte Mansur took a workshop with Villamagna, where he introduced her to repurposed tinwork.  Then, she began using her background in found objects and collage to develop her own approach to "painting" with tin. "I work as if the small tin pieces were brush strokes of color. The small pieces of tin are my pallet," she said.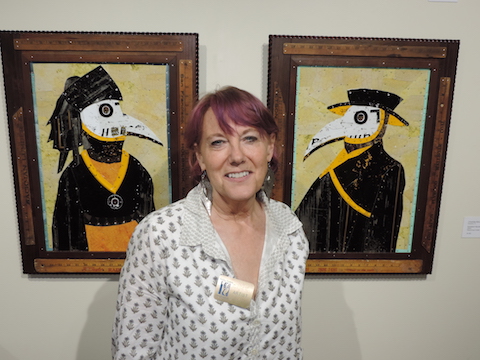 Hand-stamped tin nicho boxes, popular in Mexican folk art, inspire Dave Yoas.  A three-dimensional display box, similar to a shadow box, a nicho box serves as a portable shrine to important figures, such saints and loved ones, and provides a stage-like setting for a significant image.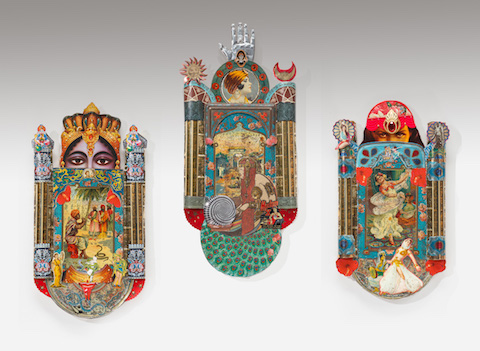 While many of the pieces in the exhibit are bright, cheerful and often humorous, others evoke melancholy. For example, Nia Michaels incorporates somber Civil War-era tintype photos in her work.
"By combining appropriated commercial imagery from the past into something new and by casting strangers, long dead, into new identities, I am drawn to the seemingly endless possibilities and stories that I can coax from these small pieces of metal," she said.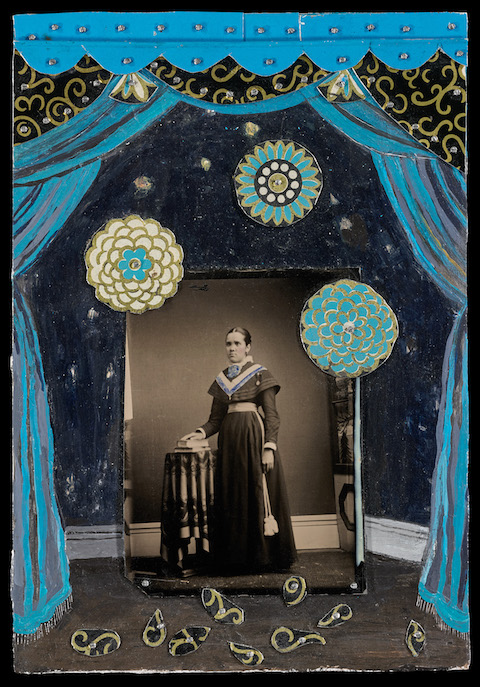 See this Show!
"Tin is the New Black" brings a sense of nostalgia to the viewer. From old advertising signs to metal toys from childhood to product containers, cans and bottle caps, the deconstructed objects create a reflection of our past. You can view the show through June 22. See it free of charge from 9 a.m. – 5 p.m. Monday through Friday and 10 a.m. – 4 p.m.  Evening hours are dependent on classes and special events.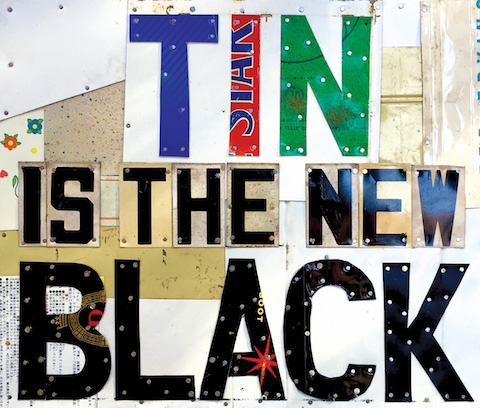 United Bank sponsors Oglebay Institute's changing art exhibition season. The season brings prestigious artwork from around the nation into our community as well as showcases work from outstanding local artists.
For more information, visit OIonline.com or call the Stifel Fine Arts Center at 304-242-7700.
Discover a treasure trove of artistic expression and personal fulfillment at the historic Stifel Fine Arts Center. The Stifel features galleries, classrooms and performance space, too!  Artists, emerging artists, art lovers, students, educators and families gather here to connect and engage in creative pursuits.