ACTOR SPOTLIGHT: BRENDAN SHEEHAN
The Ohio Valley is full of talented people who give their time to the arts and enrich our lives with their gifts. At Towngate Theatre, we are lucky to have a large number of these talented people share their creative skills with us. People of all ages and backgrounds gather here to create and experience art onstage.
Towngate's season opener, Tennessee Williams' The Glass Menagerie, brings just such talent.
One of the actors in the production is Brendan Sheehan. A Wheeling native, Brendan is making his debut performance on the Towngate Stage in The Glass Menagerie. He plays the role of Tom.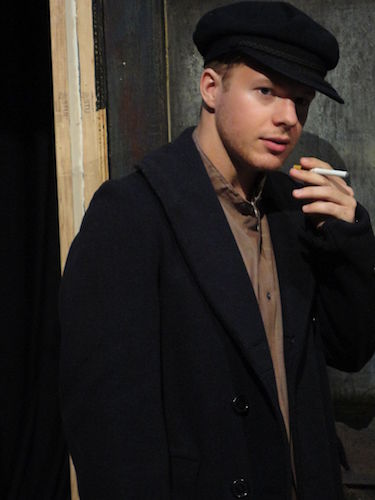 Brendan previously played the role of Caliban in Ohio University Eastern's production of William Shakespeare's The Tempest.
A postal worker during the day, Brendan said that he was drawn to auditioning for The Glass Menagerie.
"It is a play that I have always enjoyed," Brendan said.
Brendan noted that he feels connected to the characters, especially the role he is playing, Tom. Tom is an artist who supports his family but dreams of better things.
"Being at the age that I am now, the character of Tom, his difficulties with his family and desire to leave, and the pressure to stay is sometimes very present in my own life," Brendan said.
In addition to Brendan playing the role of Tom, three other fantastic actors round out the cast. Jamie Stout plays Laura, Tom's excruciatingly shy daughter who has withdrawn from the outside world. Cathie Spencer plays Amanda, Laura and Tom's overbearing mother. And Michael Wylie plays the role of Jim O'Connor.
While The Glass Menagerie premiered on Broadway in 1945, the play and its universal themes have tremendous relevance in today's world.
"I have a lot of sympathy for these characters. And I feel that the play remains present and important even though it is an older work," Brendan said.
You too can experience The Glass Menagerie, one of the most famous plays of modern theater at Towngate.
Get Tickets
The show will be staged September 16-18 and 23-24. Tickets are on sale now. Purchase in advance at OIonline.com or by calling 304-242-7700. You can buy tickets at the door, too. Admission is $12.50/$11 OI members.